Left: Both parts of the Great East Window. Right: The left-hand lights.
Great East Windows, Romsey Abbey, Hampshire, by James Powell and Sons, dedicated in 1890. The stonework of the original Norman windows here had been replaced in the late thirteenth century, in the then-fashionable early Decorative style to allow more light into the church. The Victorians subsequently filled them with this very densely patterned and dark glass, which to a large extent undid this benefit. However, close to, the colours are magnificent. The two windows have a complementary theme: "To the One who sits on the throne [on the left] and to the Lamb [on the right] be blessing and honour and glory and might" (Revelation 5: 13). [Click on all the images to enlarge them.]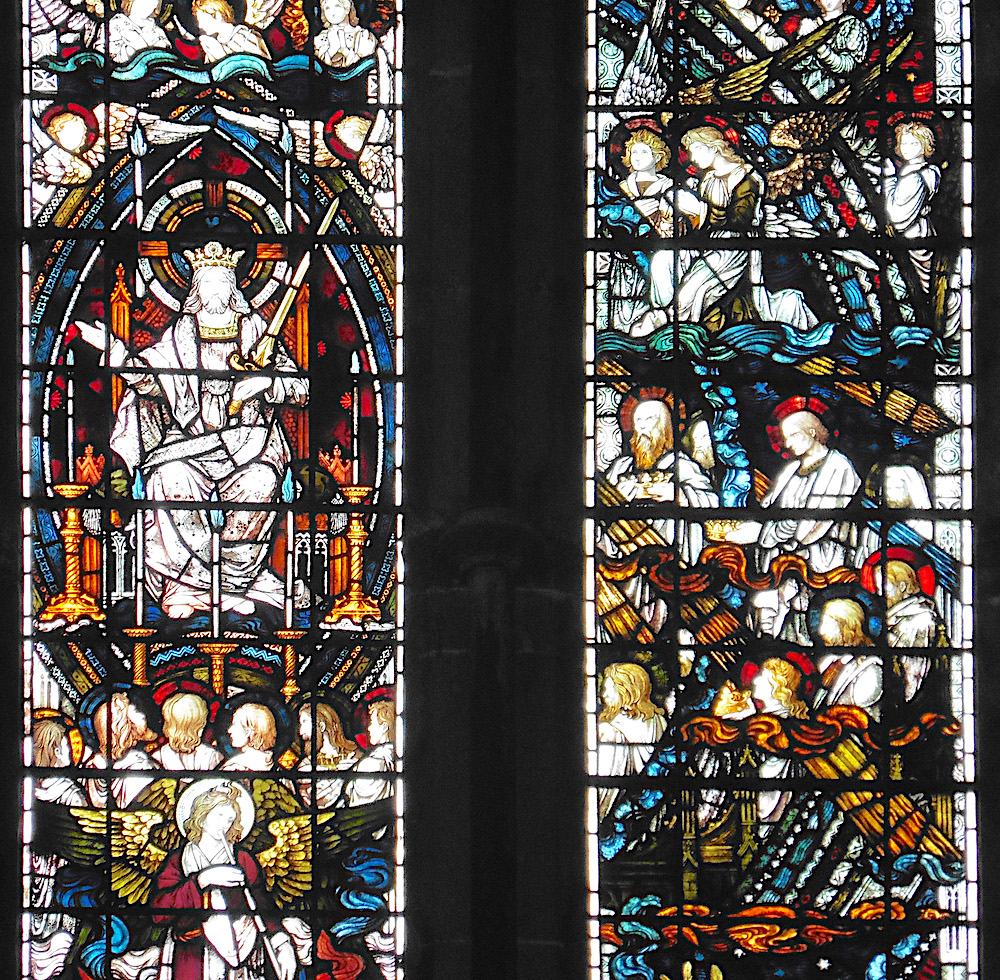 Left to right: (a) Upper part of central and right-hand panels: Christ in majesty enthroned above a rainbow, with angels and saints adoring him. (b) Trumpeting angel below Christ in the central panel. (c) Symbols of two of the evangelists in the lower right-hand panel: the eagle for St. John the Evangelist and the ox for St Luke.
The contemporary newspaper report describes it thus: The subject of the window ... is taken from the Revelation of St John, and represents Christ enthroned in glory. This is from a painting by the Dutch artist Van Eycke. Our Lord is represented enthroned amidst the figurative seven candlesticks, and surrounded by a halo of glory,(a mandorla) whilst grouped around are the 24 elders, clad in white raiment, casting down their golden crowns at his feet. The figure of the angel "with voice as of a trumpet" is admirably expressed, and there are typical illustrations of the four winged beasts. The lion and man are in the left side panel, and the eagle and ox in the right.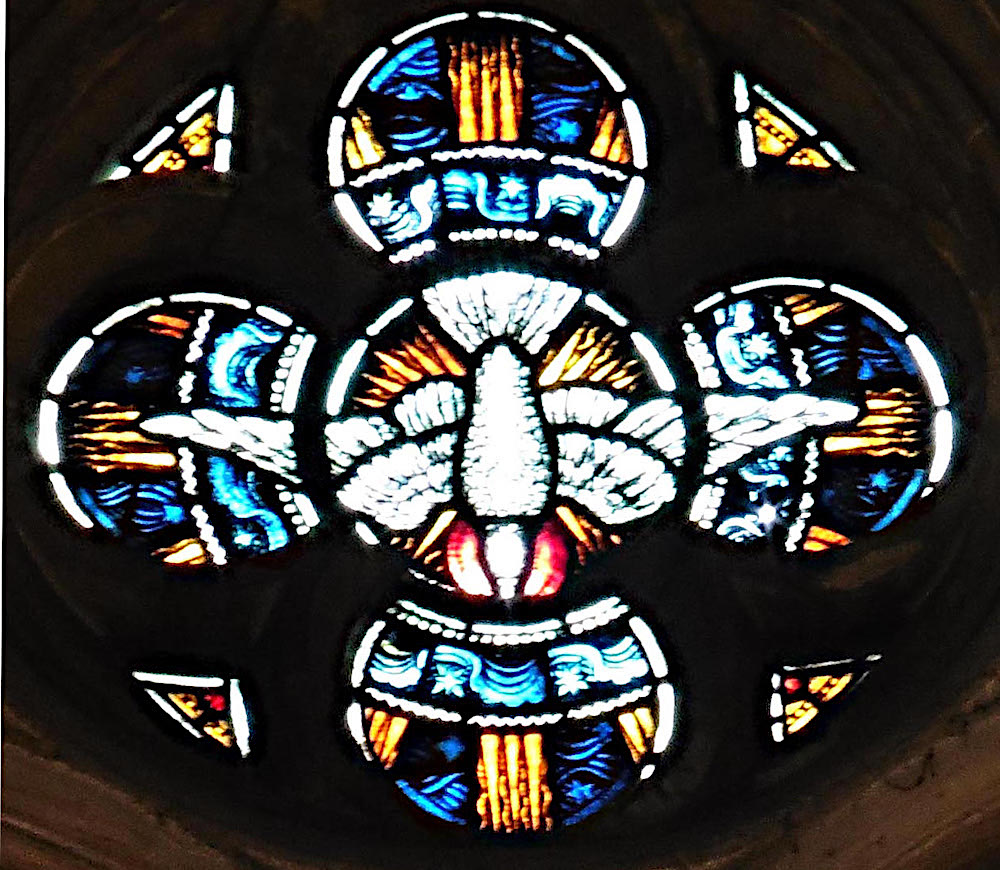 In the top roundel, the Holy Spirit in the form of a dove flies downwards past little four-winged putti.
These windows were given in memory of Palmerston's step-son William Cowper-Temple, later Lord Temple of Mount Temple, whose mother, Emily Lamb, had married Lord Palmerston. He had died in 1888. This side of the window (as you look from the chancel) was inspired by the Temple family name: "Therefore are they before the throne of God and serve him day and night in his temple" (Rev. 7:15) and "Ye are the temple of the living God."
Photographs and text by parish historian Liz Hallett; perspective correction, captions and formatting by Jacqueline Banerjee. You may use these images without prior permission for any scholarly or educational purpose as long as you (1) credit the photographer and (2) link your document to the Victorian Web or cite it in a print one.
Related Material
Bibliography
Eberhard, Robert. "Stained Glass Windows at Romsey Abbey, Hampshire." Church Stained Glass Windows. Web. 29 May 2019.
Hallett, Elizabeth. Romsey Abbey, the First 1100 Years (a chronological history), 2015 (available from Romsey Abbey, price £15, or via The Parish Office, parishoffice@romseyabbey.org.uk
---
Created 29 May 2019