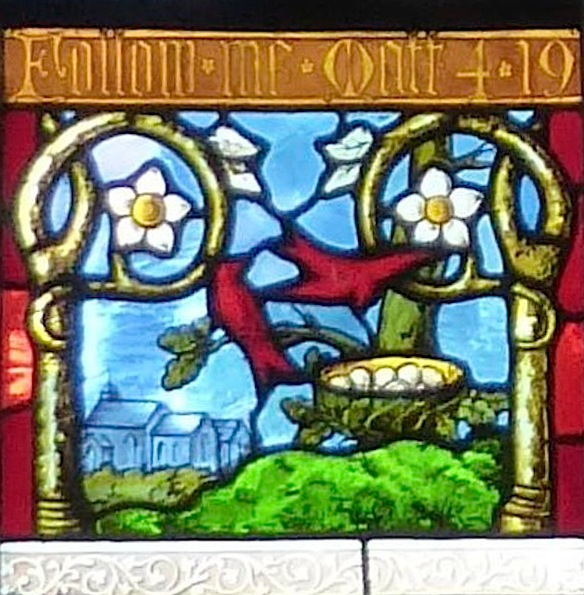 George Caleb Hedgeland (1825-98), son of the architect John Pike Hedgeland (1792-1873), was popular in the 1850s. In contrast to Pugin and those who were influenced by him, Hedgeland remained an artist painting on glass. Martin Harrison describes him as "easily the most interesting of the pictorialists still operating in the 1850s," and rightly says that he "deserves to be much better known" (36). His most acclaimed work was the great west window of Norwich cathedral, of 1853.
Writing to advise on the choice of stained-glass designer for the windows of Glagow Cathedral, Charles Winston, then considered the "greatest antiquarian authority on stained glass in the country" (Cheshire 12), wrote of him:
What I should advise is to employ a glass-painter who is really an artist.... At present there is but one man whom I can think of recommending. He is George Hedgeland, of No. 2, Grove-place, St John's Wood.... , he has sent a piece of glass to the Hyde park Exhibition, decidedly the best piece of English glass there.... It is only necessary to see his designs to perceive the enormous superiority of an artist over the herd of glass-Wrights. His figures are intelligible, and many of them beautiful — Greek in character, but strictly in accordance with the ornament.... I should be most dishonest if I did not declare my conviction that Hedgeland is your man [22-23]
Hedgeland's was rather a brief career, at least in England: selling up his studio in London because of poor health, he emigrated to Australia in 1860, and settled there. It does seem to have improved his health: according to genealogy records, he married in 1866, and lived into his seventies. He died in Ryde, New South Wales, in 1898. His windows went out of fashion in England and were often replaced (this includes his windows for Glasgow Cathedral), but in those we can still see the colours remain vibrant and fresh today, and his distinctive style is eye-catching. One of the best examples is the east window at Halifax Minster (1854). — Jacqueline Banerjee.
Jesus College, Oxford University
St James, Weybridge
Norwich Cathedral
Sources
Cheshire, Jim. Stained Glass and the Victorian Gothic Revival. Manchester: Manchester University Press, 2004.
"George Caleb Hedgeland." Our Family History. Web. 23 June 2014.
"George Hedgeland (fl. c. 1850-59)." The Stained Glass Museum. Web. 23 June 2014.
"Great Day on Nineteenth-century Stained Glass." Vidimus (issue 21, "News"). Web. 23 June 2014.
Harrison, Martin. Victorian Stained Glass. London: Barrie and Jenkins, 1980.
Winston, Charles. Memoirs illustrative of the Art of Glass-Painting. London: John Murray, 1865. Internet Archive. Contributed by the Philadelphia Museum of Art, Library. Web. 23 June 2014.
---
Last modified 28 July 2016