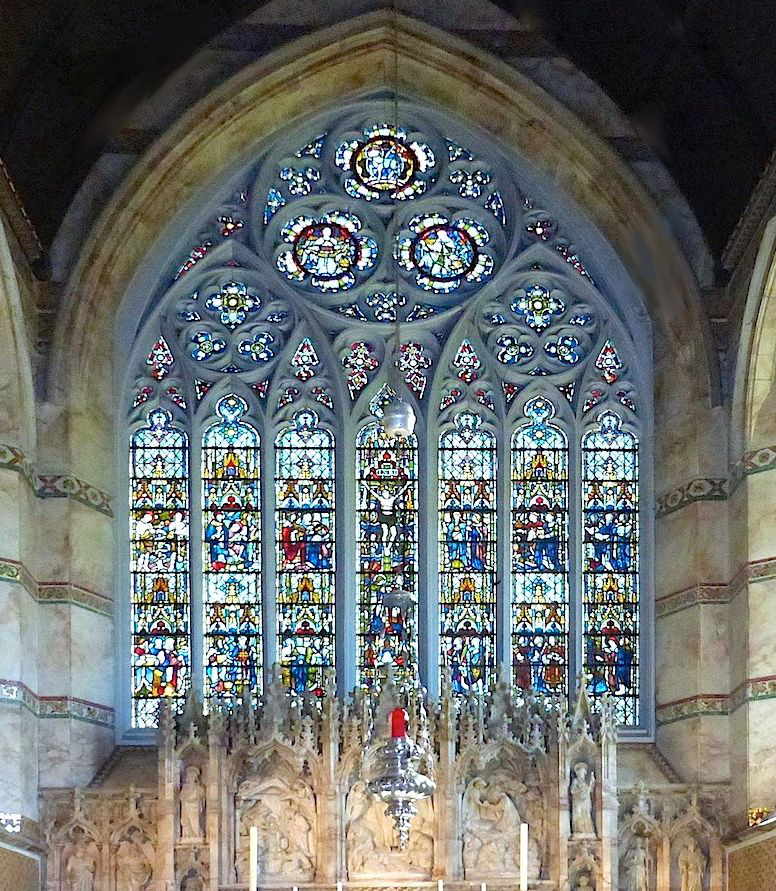 The east window of St James' Church, Weybridge is a seven-light window designed by Charles Hardgrave (1848-1920) and local artist Ada Currey (1852-1913). It was installed in 1889, in the final stages of the redecoration of the chancel by James Powell & Sons, Whitefriars (see Eberhard). The lower part is slightly obscured by the magnificent, richly carved marble reredos. But the two together both add immeasurably to what the church's "Welcome" leaflet calls "a lavish example of High Victorian architecture."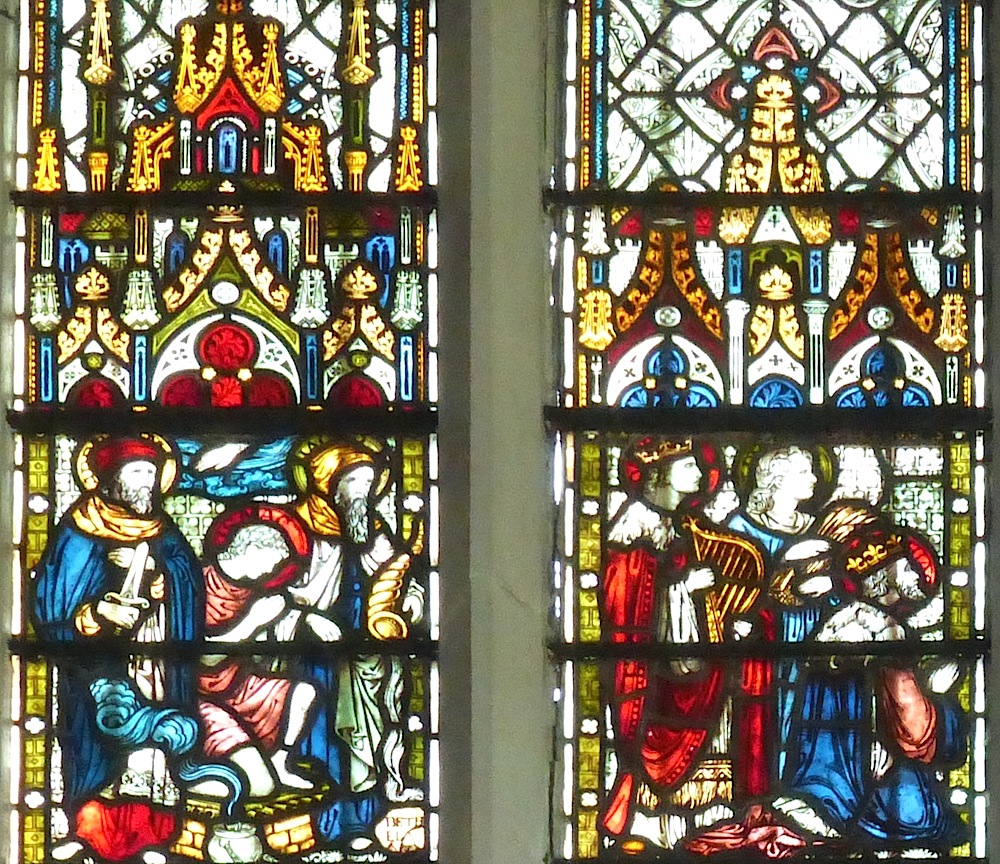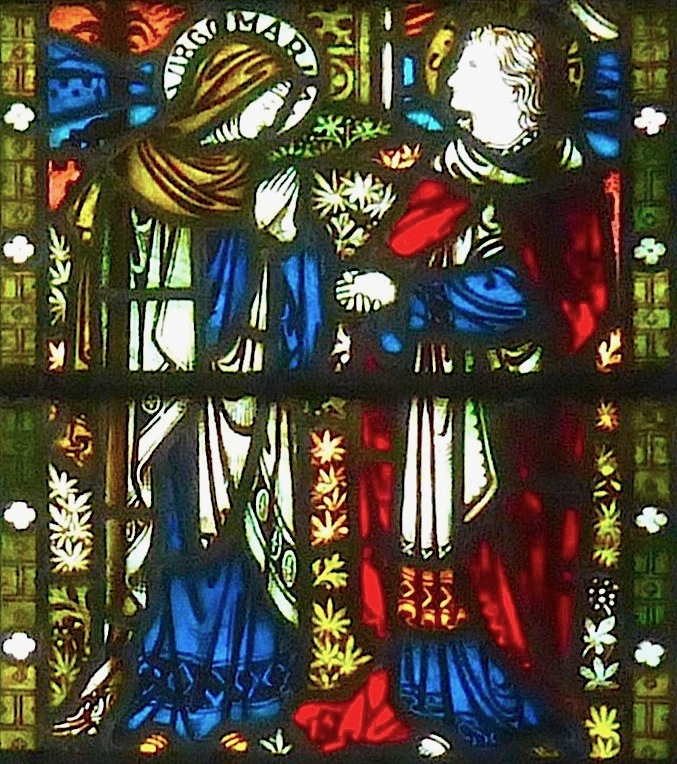 Close-ups of details. Left: To the left of the crucifixion scene, this detail shows figures from the Old Testament. Right: The Virgin Mary and St John at the foot of the cross.
The Old Testament figures shown here are, from left to right, an obedient Abraham, prepared to sacrifice an equally obedient Isaac, and Jacob with a cornucopia; then King David with his harp, Ruth with a sheaf of corn, and King Solomon, kneeling. The window is complex, with deep colours and considerable detail, including architectural detail, so that the figures are set against rich backgrounds.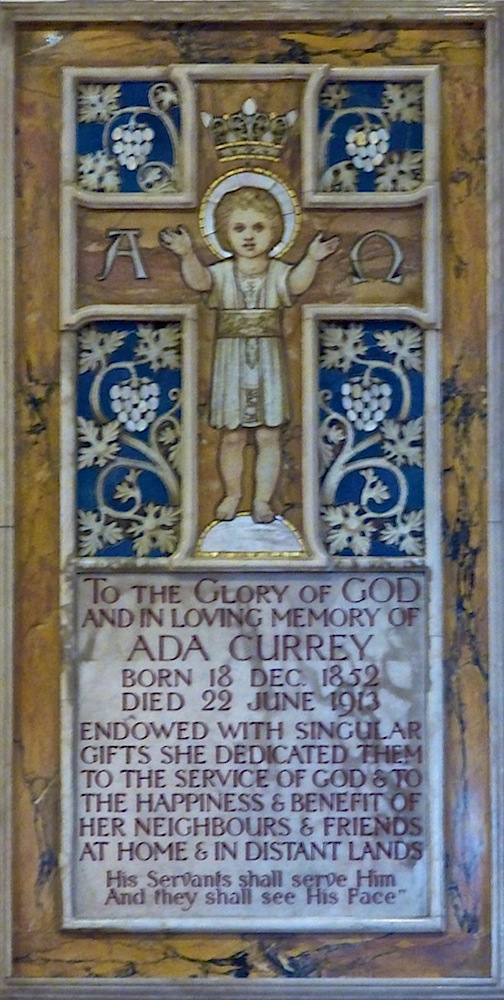 Ada Currey's memorial on the north wall of the church.
Ada Currey's part role here is unlikely to have been minor. Her memorial in the church refers to her gifts as bringing happiness not only to those close to her, but to those in "distant lands" as well. Indeed, the firm's records show that she was commissioned to design for churches in Ireland, Scotland and France in addition to many nearer home (see "Powell's Opus Sectile Locations"). Helping to design the east window of her own parish church, where, the church leaflet tells us, she taught in the Sunday School, must have been especially rewarding for her.
Photograph and text by Jacqueline Banerjee. You may use these images without prior permission for any scholarly or educational purpose as long as you (1) credit the photographer and (2) link your document to this URL in a web document or cite it in a print one. [Click on all the images to enlarge them and see more detail.]
References
Eberhard, Robert. "Stained Glass Windows at St James, Weybridge, Surrey." Church Stained Glass Windows. Web. 2 August 2014.
"Powell's Opus Sectile Locations." Compiled by Dennis Hadley. Tiles and Architectural Ceramics Society. Web. 2 August 2014.
"Welcome to St James' Parish Church, Weybridge, Surrey." Leaflet available from the parish office.
---
Last modified 2 August 2014