Photographs © Carole Moody, 2022. [You may use these images without prior permission for any scholarly or educational purpose as long as you (1) credit the photographer and (2) link your document to the Victorian Web or credit it in a print document. Click on the images for larger pictures.]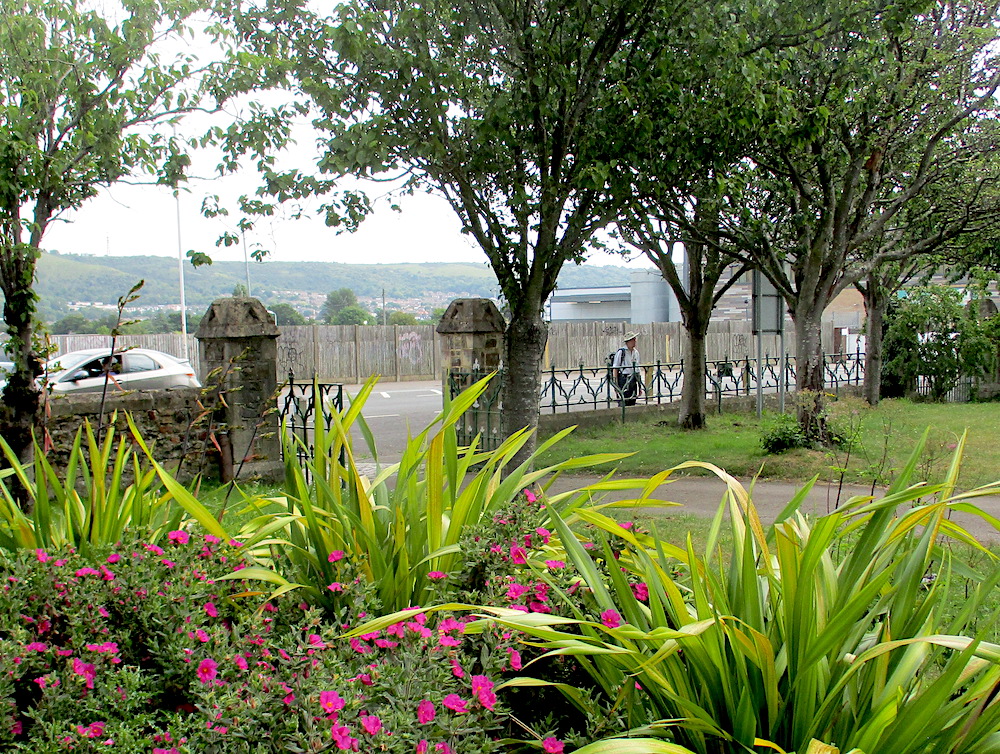 The cemetery gates: looking out from the cemetery to Cheriton Road.
Cheriton Road Cemetery, Folkestone. By the 1850s, the churchyard at Folkestone's parish church was becoming too full; it was finally closed for burials in 1857. A new cemetery had been prepared by then beside the Cheriton Road, and this opened in 1857, taking its first burial even before the churchyard had closed (see Bishop 125 and 145, and "Cheriton Road Cemetery"). Like other new cemeteries of this time, it was pleasantly arranged with walks and shrubs; and, as in many other cases, it was extended toward the end of the Victorian period (in 1891) by about half as much again. The chapel and mortuary at this large cemetery proved too difficult to maintain, and were demolished in the 1960s. But a number of fine Victorian monuments remain, to some of the more distinguished Victorians.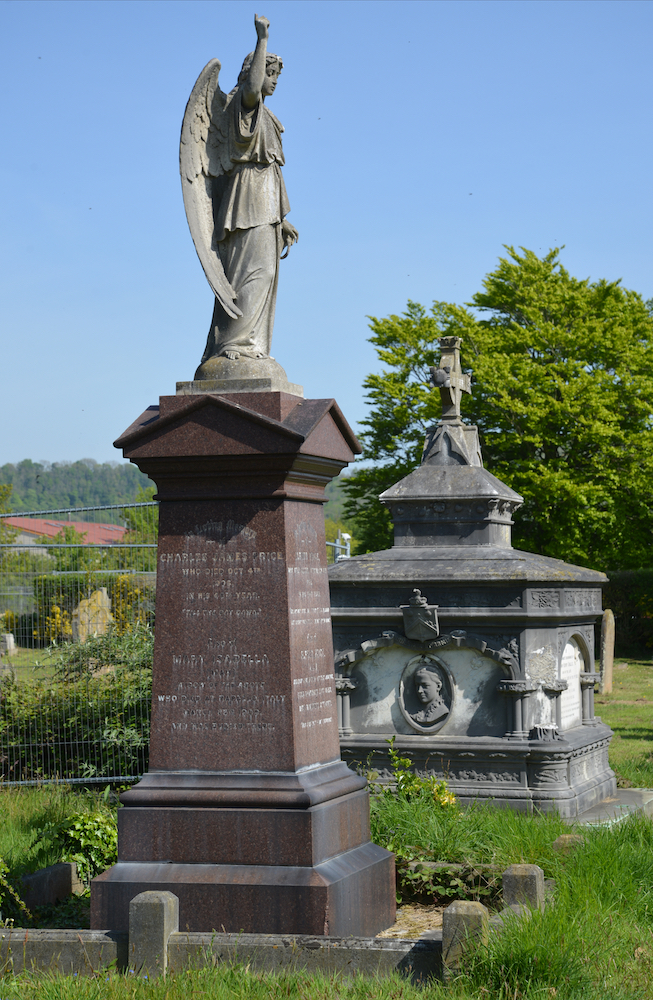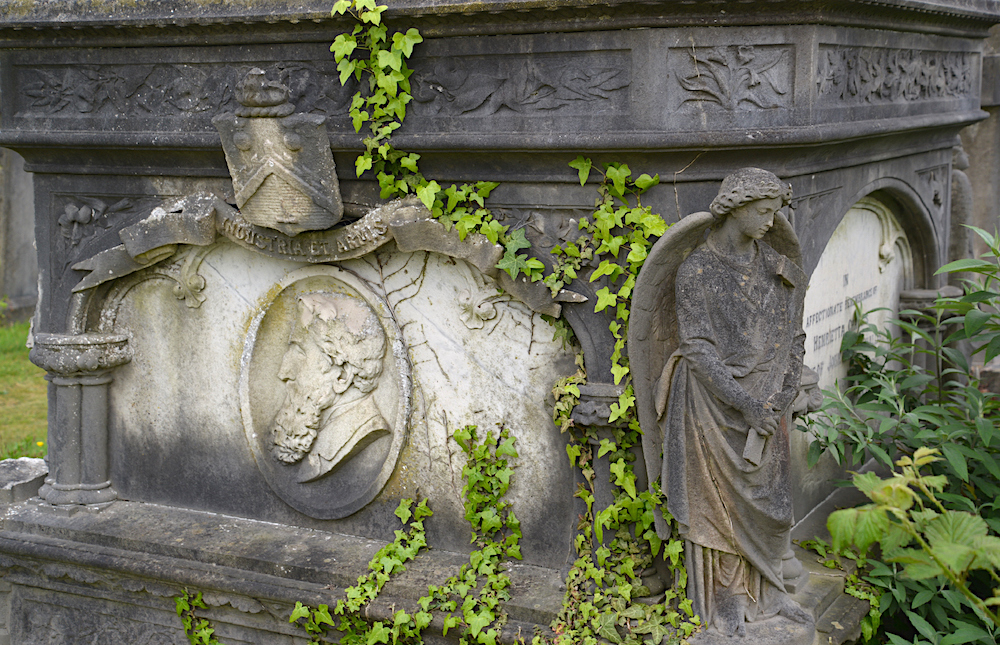 Left: Monument to the Price family, and tomb-chest of John Henry Challis and his wife Henrietta, ornamented with an elevated cross. Right: Portrait medallion of Challis on one side of the tomb-chest, and one of the carved angels that also adorn it.
One such monument is to the Price family. Apart from the fact that he was a man of "independent means," not a great deal is known about the head of the family, Alfred Price (1810-1892). But his monument, watched over by an angel, as seen on the left above, is one of the most prominent and impressive ones.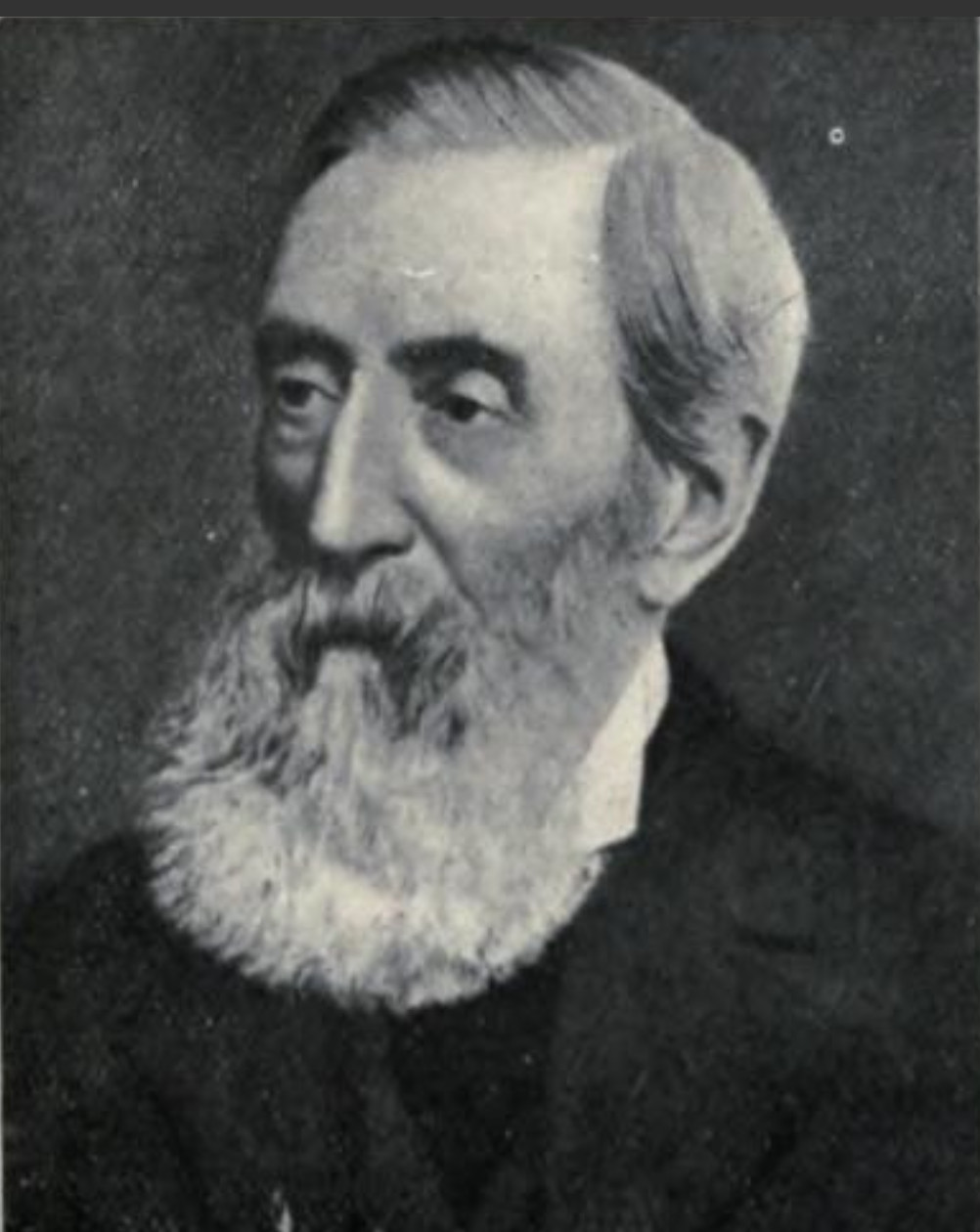 Portrait of John Henry Challis (source: Dallen 23,
scanned by the present author).
Its neighbouring tomb, more individual in its design, and more elaborate in its sculptural work, is that of another well-heeled Victorian. In fact, John Henry Challis (1806-1880) amassed a considerable fortune. He went out to Australia in 1829 and made this fortune in the wool trade and by dealing with other commodities, and also in his role as a landowner. He returned to England in 1855, marrying here in about 1878. Challis died while visiting Mentone on 18 February 1880, but his body was brought back to Folkestone, where he had been living in his retirement. The relief medallion carved on the other side of the tomb-chest shows his wife, Henrietta.
Challis made his mark on posterity by leaving much of his money as the Challis Bequest to the University of Sydney, which has a statue of him in its Great Hall (see Macmillan). Challis was the institution's largest benefactor, at least up until the publication of Robert Dallen's book about the university, published in 1914 (see p. 23). His name is remembered there in several ways, not least because of the Challis Professorships funded by his endowment.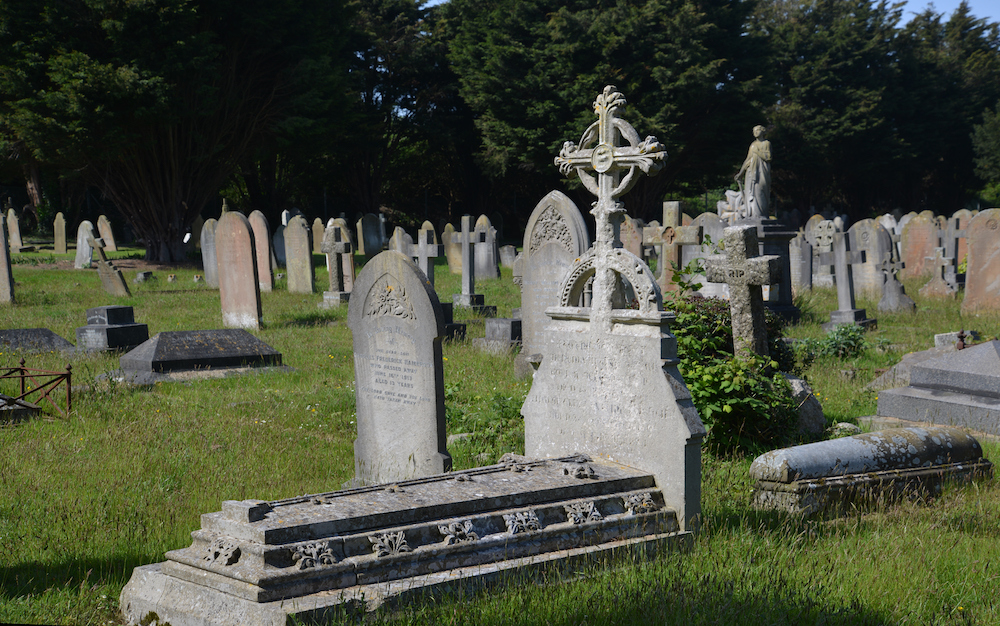 The grave of Sir Arthur Hunt.
Among the others buried here is Sir Henry Arthur Hunt (1810-1889), whose grave is less lofty, but decoratively and tastefully carved. Hunt was a civil engineer and surveyor of the first rank, whose services were much in demand by the government and railway companies, among many others. M. H. Port describes him as "an assiduous and economically minded public servant, advising the minister on a wide range of matters including the comparative merits of schemes for the erection of new public buildings and selection of the most suitable sites." His activities ranged from estimating the cost of the new Palace of Westminster, selecting sites for major public buildings like Natural History Museum and the Royal Courts of Justice, and surveying for railway companies like the London Brighton and South Coast, and the District and the Metropolitan Railways. The list of major projects in which he played an essential part is a long one.
These are just two of the people of distinction buried here. Carole Moody of the Friends of Old Folkestone Cemetery writes,
We also have the grave of Jessie Landseer, sister to Edwin and an artist in her own right; John James Wilson who painted local seascapes but was widely known; John Porter who worked on the frescoes at Osborne House, Isle of Wight: and Herbert Hogg who designed for Crown Derby — all of whom have grave stones. In other areas of life we have Mary Pechey-Phipson, an early female doctor and one of the Edinburgh seven; Stephen Court who searched for the North West passage; Charles Calverley, poet; Bithia Croker, Anglo-irish author — and quite a few others.
Cheriton Road is also the last resting place of the stained glass designer, William Warrington, but, sadly, although his grave plot is now marked out, it has no headstone.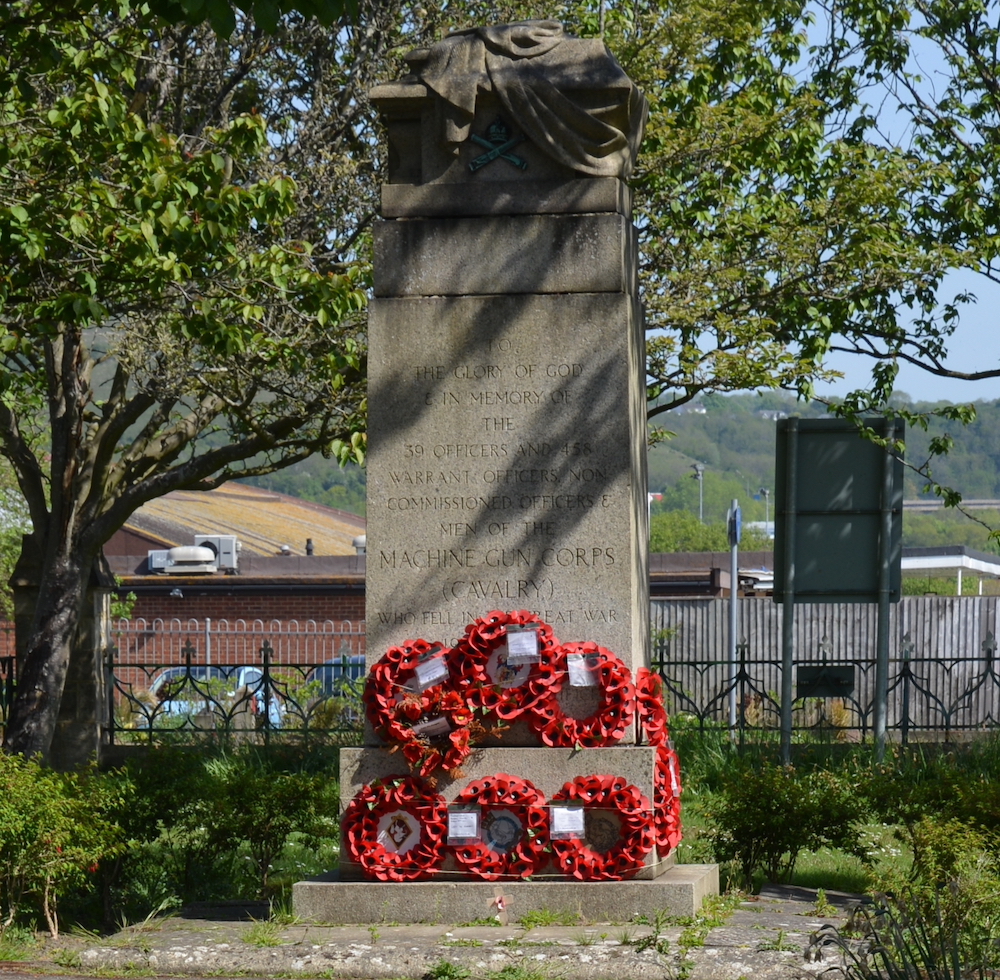 Left: The Kurfürst Memorial, by the notable German sculptor, Eduard Lürssen. Right: The Machine Gun Corps (Cavalry) memorial, by an unknown sculptor.
There are two listed memorials at the cemetery. One is Victorian, and rather unusual: it is not a war memorial, rather, it memorialises "the tragic sinking of the SMS Grosser Kurfürst<.span> ... in the English Channel in 1878 and the profound impact this event had on the people of Folkestone." The ship had gone down on its maiden voyage during a training manoeuvre, and many were drowned ("up to 284 of the 500 men on board," according to "Exploring Kent's Past"), with the people of the seaside town of Folkestone doing all they could to help the rescue effort and survivors. The sculptor was a well-known German one, Eduard Lürssen (1840-1891), and the listing text describes the monument as featuring "high-quality carvings of iconography associated with the German Imperial Navy."
Carole Moody mentions that "the military are also well represented, with three VCs, John Commerell, Mark Walker and William Kerr." The other listed memorial here is a later one. This is indeed a war memorial, dating from after the First World War: this is to the memory of the Machine Gun Corps (Cavalry), and the listing text describes it as "well-executed" and "an eloquent witness to the fallen from this particular unit and, more generally, the important role that the machine gun played in the First World War and its subsequent prominence in the popular memory of the conflict."
According to the Friends of the cemetery, as many as 26,550 people are buried here, and several hundred more are commemorated on family headstones. There must be many, many more stories to tell about them, and the Friends, a dedicated band of volunteers formed in 2016, have taken on the challenge of researching them. They have already done wonders, not only by improving the grounds, and restoring headstones and their inscriptions, but also by uncovering a number of these individual histories.
Bibliography
"Alfred Price." Find a Grave. Web. 4 July 2022.
Bishop, C. H. Folkestone: The Story of a Town. Revised ed. Ashford, Kent: Headley Bros., 1982.
"Cheriton Road Cemetery." Find a Grave. Web. 4 July 2022.
Dallen, Robert B. The University of Sydney, Its History and Progress. Sydney: Angus & Robertson Ltd., 1914. Internet Archive. Contributed by Robarts Library, University of Toronto. Web. 4 July 2022.
"Exploring Kent's Past." Kent County Cuncil. Web, 9 July 2022.
fofc.uk (Friends of Old Folkestone Cemetery). Web. 4 July 2022.
Macmillan, David S. "Challis, John Henry (1806-80)." Australian Dictionary of Biography. Web. 4 July 2022.
"Memorial to the Crew of the German Warship SMS Grosser Kurfürst." Historic England. Web. 9 July 2022.
Port, M. H. "Hunt, Sir Henry Arthur (1810–1889), surveyor." Oxford Dictionary of National Biography. Online ed. Web. 4 July 2022.
"War Memorial to the Machine Gun Corps (Cavalry)." Historic England. Web. 4 July 2022.
---
Created 4 July 2022