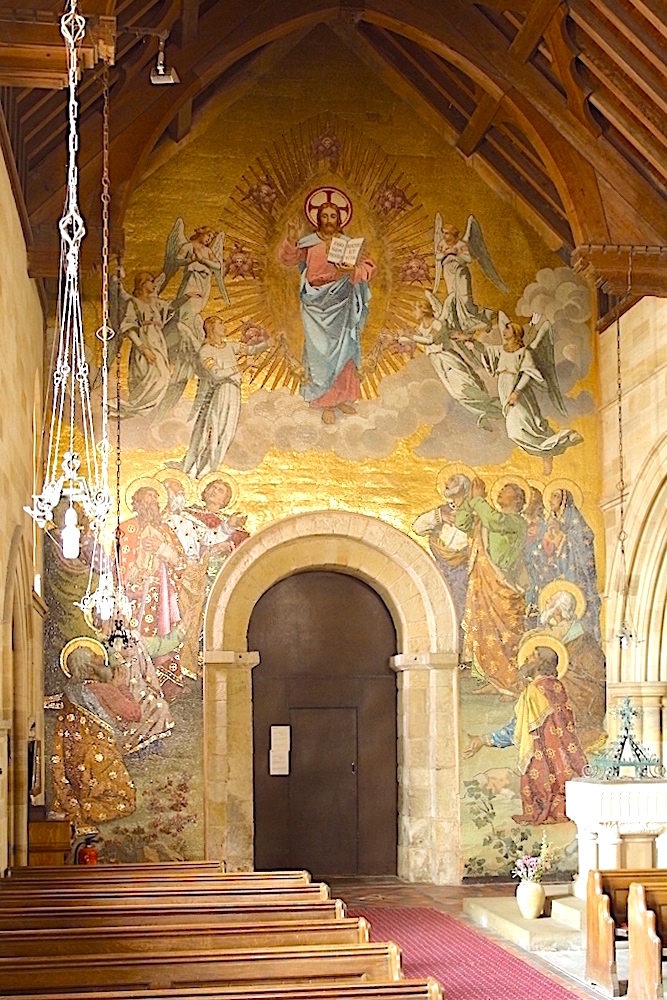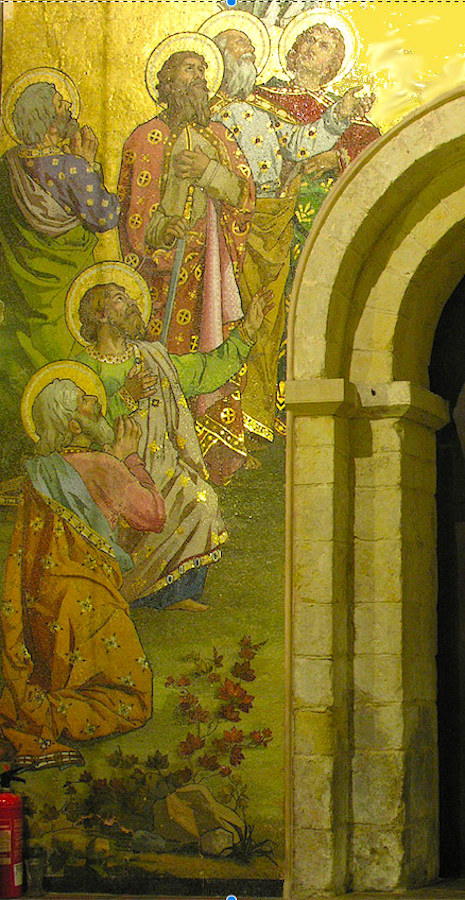 The Ascension in St Andrew's, Kirby Grindalythe, a Grade II* listed church in the East Riding of Yorkshire. The church was restored in 1872-75 by G. E. Street, and in about 1903, under the supervision of Charles Harrison Townsend, the west wall was entirely covered by this "amazing" mosaic (Pevsner and Neave 580). It was supplied by the Venice and Murano Glass and Mosaic Co., which Teresa Sladen describes as "an offshoot of the firm owned by Salviati" (89) — though he appears to have severed ties with it by now. The designer is identified in the listing text of the church only as "an unknown Italian artist." As for Townsend, he had had previous experience with mosaics, for example, with the large pastel mosaic over the main entrance of his Horniman Museum in Forest Hill, London. [Click on the images to enlarge them.]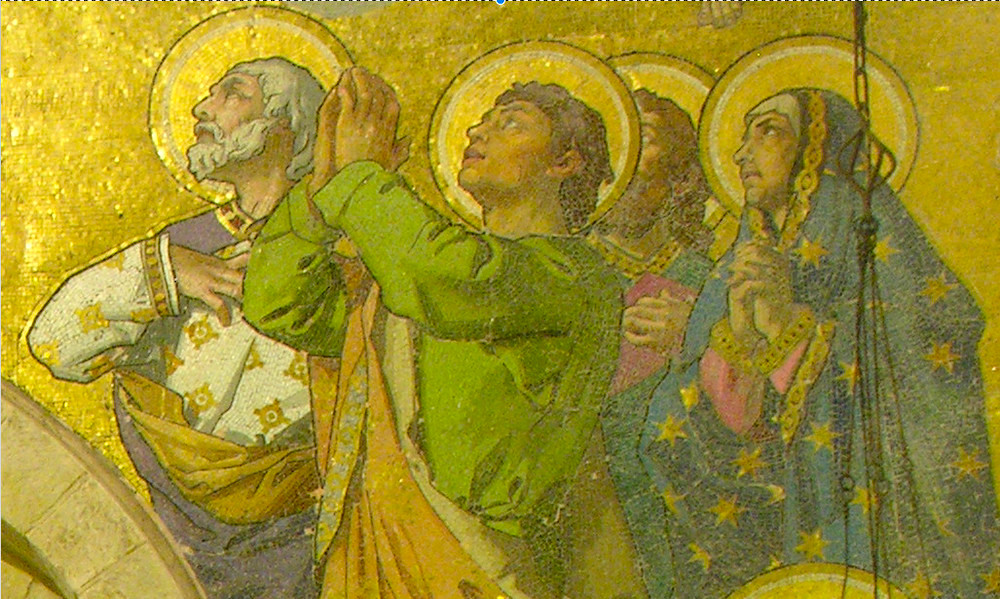 Such decoration was typical of church enrichment in the late nineteenth and early twentieth centuries, when the Arts and Crafts movement was in full swing. Other examples can be found St Bartholomew's Church, Brighton. However, the placing of the mosaic on the west wall is unusual: it was more common to have a mosaic in the chancel, or over the chancel arch (where G. F. Watts's Venetian glass mosaic can be seen, in St James the Less, Pimlico). But perhaps the west wall is the best place for such an ambitious mosaic, which lends itself to a two-tier arrangement. Another possibility: Rita Wood, who took the two close-ups, disagrees with the idea that the mosaic "crushes everything else" in the church (Pevsner and Neave 580), pointing out that after all "you only see it on the way out." This may suggest another reason for its less prominent location.
St Andrew's was fortunate to be under the patronage of the wealthy and eccentric Sir Tatton Sykes, 5th Baronet (1826-1913), who had a special interest in church building, church restoration and decoration. According to John Pinfold, "he reputedly spent £1.5 million in east Yorkshire on this object during his lifetime."
Photograph top left by Nigel Coates, via Wikimedia Commons on the Creative Commons license. Close-ups by Rita Wood. Commentary by Jacqueline Banerjee You may use these images too without prior permission for any scholarly or educational purpose as long as you (1) credit the photographer and (2) link to this URL in a web document or cite it in a print one.
Bibliography
"Church of St Andrew." Historic England. Web. 2 April 2020.
Pevsner, Nikolaus, and David Neave. Yorkshire and the East Riding. New Haven and London: Yale University Press, 2002.
Pinfold, John. "Sykes, Sir Tatton, fourth baronet (1772–1863), landowner and racehorse breeder." Oxford Dictionary of National Biography. Online ed. Web. 2 April 2020.
Sladen, Teresa. "Byzantium in the Chancel: Surface Decoration and the Church Interior." In Churches 1870-1914, the Victorian Society's journal, Studies in Victorian Architecture & Design. Vol. III. 2011. 81-99.
---
Created 2 April 2020