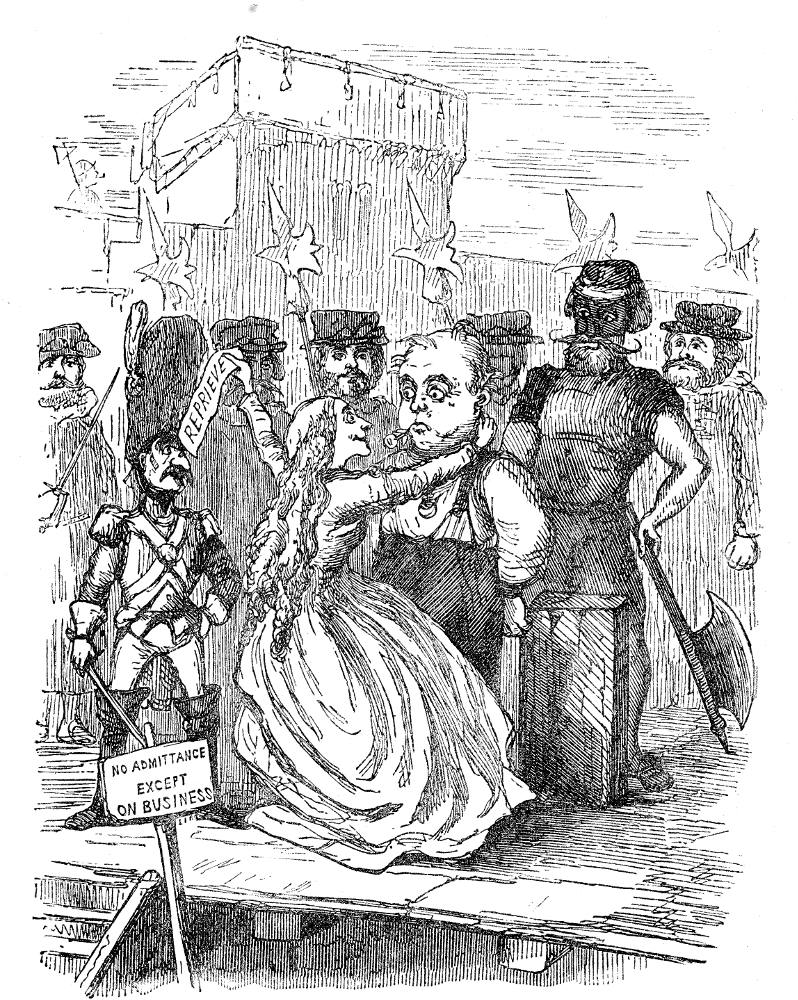 Angelica Arrives Just in Time
W. M. Thackeray
1855
Wood engraving, probably by William Linton
11.7 cm high by 8.9 cm wide (4 ½ by 3 ½ inches), vignetted
Thirty-third illustration for The Rose and The Ring, p. 359.
Scanned image and text by Philip V. Allingham.
[You may use this image without prior permission for any scholarly or educational purpose as long as you (1) credit the person who scanned the image and (2) link your document to this URL in a web document or cite the Victorian Web in a print one.]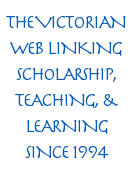 Passage Illustrated: Angelica Rescues Bulbo in the Nick of Time
Angelica ran, and ran, and ran, and ran. She ran up Fore Street, and down High Street, and through the Market-place, and down to the left, and over the bridge, and up the blind alley, and back again, and round by the Castle, and so along by the Haberdasher's on the right, opposite the lamp-post, and round the square, and she came — she came to the Execution place, where she saw Bulbo laying his head on the block!!! The executioner raised his axe, but at that moment the Princess came panting up and cried 'Reprieve!' 'Reprieve!' screamed the Princess. 'Reprieve!' shouted all the people. Up the scaffold stairs she sprang, with the agility of a lighter of lamps; and flinging herself in Bulbo's arms, regardless of all ceremony, she cried out, 'Oh, my Prince! my lord! my love! my Bulbo! Thine Angelica has been in time to save thy precious existence, sweet rosebud; to prevent thy being nipped in thy young bloom! Had aught befallen thee, Angelica too had died, and welcomed death that joined her to her Bulbo.'
'H'm! there's no accounting for tastes,' said Bulbo, looking so very much puzzled and uncomfortable that the Princess, in tones of tenderest strain, asked the cause of his disquiet.
'I tell you what it is, Angelica,' said he, 'since I came here yesterday, there has been such a row, and disturbance, and quarrelling, and fighting, and chopping of heads off, and the deuce to pay, that I am inclined to go back to Crim Tartary.'
'But with me as thy bride, my Bulbo! Though wherever thou art is Crim Tartary to me, my bold, my beautiful, my Bulbo!'
'Well, well, I suppose we must be married,' says Bulbo. 'Doctor, you came to read the Funeral Service — read the Marriage Service, will you? What must be, must. That will satisfy Angelica, and then, in the name of peace and quietness, do let us go back to breakfast.'
Bulbo had carried a rose in his mouth all the time of the dismal ceremony. It was a fairy rose, and he was told by his mother that he ought never to part with it. So he had kept it between his teeth, even when he laid his poor head upon the block, hoping vaguely that some chance would turn up in his favour. As he began to speak to Angelica, he forgot about the rose, and of course it dropped out of his mouth. The romantic Princess instantly stooped and seized it. 'Sweet rose!' she exclaimed, 'that bloomed upon my Bulbo's lip, never, never will I part from thee!' and she placed it in her bosom. And you know Bulbo couldn't ask her to give the rose back again. And they went to breakfast; and as they walked, it appeared to Bulbo that Angelica became more exquisitely lovely every moment. [Chapter XI, "What Gruffanuff did to Giglio and Betsinda," pp. 361-362]
Comment: Classic Pantomime Blending Traditional and Contemporary Elements
Violence in pantomime is mitigated by most of it being the mere possibility of violence (such as the royal death warrant here) or sheer slapstick: nobody really gets hurt. The instigator of Prince Bulbo's execution is the devious Gruffanuff, in league with the Captain of the Guard, Hedzoff. The Princess Angelica persuades her father, King Padella, to issue a reprieve (seen prominently in the present illustration) as the wrong prince is about to meet his fate at the hands of the mustachioed, black-faced executioner. Thackeray suggests that, since he is supported by a unit of Beefeaters, the scene is set on Tower Green in the Tower of London, site of numerous executions in the Tudor period.
The scene is still well within the first section of the Pantomime, and exhibits some of the following features: a storyline pitting good against evil; slapstick comedy; colourful, eccentric costumes; and a storyline derived from a fairy tale or nursery story. The writer here has improvised a fairy tale which he has based on traditional archetypes. Thackeray follows the binary pattern established by Joey Grimaldi: an extended opening based on classical mythology or a traditional European fairy tale, and a spectacular closing "transformation scene." Among the stock figures of Italian Commedia dell' Arte whom Thackeray employs in his "Fireside Pantomime for Great and Small Children" (287) we find the lovers, the comic Pantaloon, and agents such as Hedzoff. What we see most in Thackeray's "Pantomime" cartoons, however, is simply broad physical comedy, such as Princess Angelica's interrupting the execution of Prince Bulbo with a rose in his mouth. After she picks up the rose and they go to breakfast, Bulbo remarks upon Angelica's becoming 'more exquisitely lovely every moment" (362), the first of a number of transformations which wrap up the pseudo-fairytale.
Materials Related to Mid-Century British Pantomime
Thackeray's Other Six Full-Page Illustrations
Bibliography
Furniss, Harry. The Rose and The Ring; or, The History of Prince Giglio and the Prince Bulbo. William Makepeace Thackeray's Christmas Books. With illustrations by the author and Harry Furniss. The Harry Furniss Centenary Edition. London: Macmillan and Co., 1911. Pp. 287-428.
Fletcher, Kathy. "Pantomime, Burlesque, and Extravaganza." Victorian Britain: An Encyclopedia. Ed. Sally Mitchell. Garland Reference Library. New York and London, 1988. Pp. 574-575.
Titmarsh, M. A. [W. M. Thackeray].The Rose and The Ring. London: Smith, Elder, 1855.
---

Victorian
Web

Visual
Arts

Illus-
tration

William M.
Thackeray

Next
Created 1 August 2022