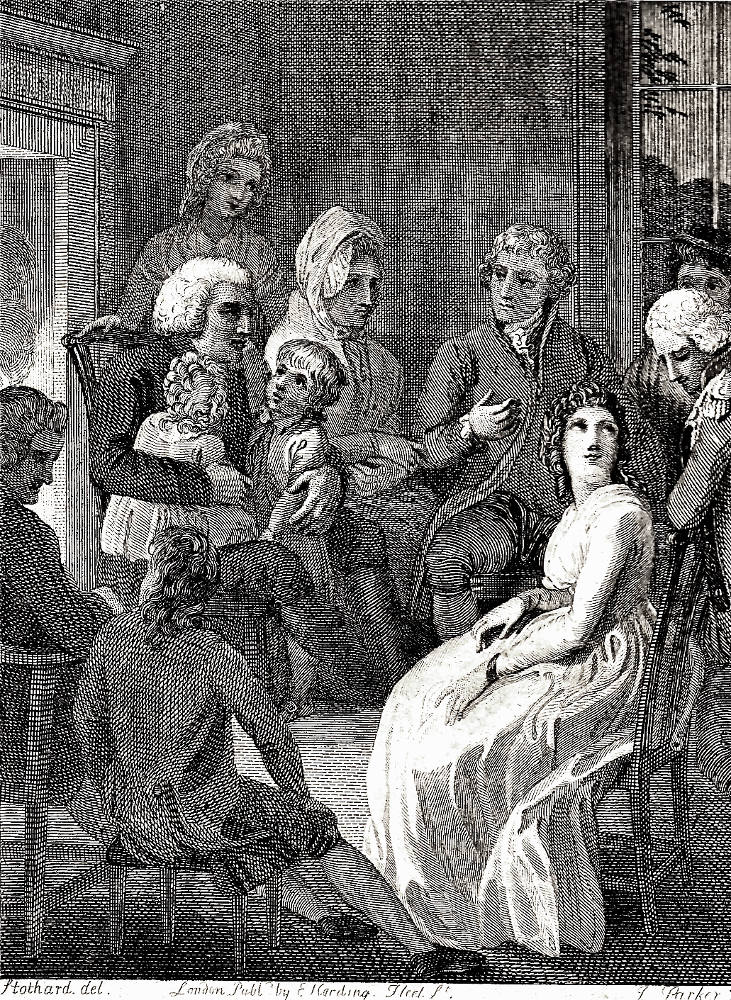 My two little ones sat upon each knee, the rest of the company by their partners
Artist: Thomas Stothard
1792
Copper-engraving
11.5 cm high by 8.9 cm wide
Source: Oliver Goldsmith, The Vicar of Wakefield, facing page 214.
[Click on image to enlarge it and mouse over text for links.]
Scanned image and text by Philip V. Allingham.
[You may use these images without prior permission for any scholarly or educational purpose as long as you (1) credit the photographer and (2) link your document to this URL in a web document or cite the Victorian Web in a print one.]
Passage Illustrated: The Primrose family fortunes restored
Soon after this we were called to a very genteel entertainment, which was drest by Mr. Thornhill's cook. And it may not be improper to observe with respect to that gentleman, that he now resides in quality of companion at a relation's house, being very well liked and seldom sitting at the side-table, except when there is no room at the other; for they make no stranger of him. His time is pretty much taken up in keeping his relation, who is a little melancholy, in spirits, and in learning to blow the French- horn. My eldest daughter, however, still remembers him with regret; and she has even told me, though I make a great secret of it, that when he reforms she may be brought to relent. But to return, for I am not apt to digress thus, when we were to sit down to dinner our ceremonies were going to be renewed. The question was whether my eldest daughter, as being a matron, should not sit above the two young brides, but the debate was cut short by my son George, who proposed, that the company should sit indiscriminately, every gentleman by his lady. This was received with great approbation by all, excepting my wife, who I could perceive was not perfectly satisfied, as she expected to have had the pleasure of sitting at the head of the table and carving all the meat for all the company. But notwithstanding this, it is impossible to describe our good humour. I can't say whether we had more wit amongst us now than usual; but I am certain we had more laughing, which answered the end as well. One jest I particularly remember, old Mr. Wilmot drinking to Moses, whose head was turned another way, my son replied — 'Madam, I thank you.' Upon which the old gentleman, winking upon the rest of the company, observed that he was thinking of his mistress. At which jest I thought the two miss Flamboroughs would have died with laughing. As soon as dinner was over, according to my old custom, I requested that the table might be taken away, to have the pleasure of seeing all my family assembled once more by a chearful fireside. My two little ones sat upon each knee, the rest of the company by their partners. I had nothing now on this side of the grave to wish for, all my cares were over, my pleasure was unspeakable. It now only remained that my gratitude in good fortune should exceed my former submission in adversity. [Chapter XIII, "The Conclusion," pp. 213-214]
Commentary
Just when the Primrose family seems completely overwhelmed by their reversals of fortune, once again Mr. Burchell (now revealed as the wealthy Sir William Thornhill) intervenes to resolve the problems — and effect a final scene of multiple marriages. He rescues Sophia Primrose, and reveals that her sister, Olivia, is not dead after all. The oldest son, the scholarly George, now marries the heiress Arabella as they had originally intended before the loss of the Primrose investments prompted her father to break he engagement and cancel the wedding. Moreover, Sir William marries Sophia and passes judgment upon his scapegrace nephew, Squire Thornhill, that he must settle a suitable maintenance upon Olivia as she is legitimately married to him. Finally, the happiness of the family is complete when the thousands of pounds in investments are restored to Dr. Primrose, the focal point of Stothard's final illustration.
The harmonious family gathering, with Dr. Primrose and his two youngest children on his knee (centre), shows order restored and virtue triumphant — and the dead daughter restored to life. No wonder, then, that young Charles Dickens responded with such sentiment to the Goldsmith novella that he eventually based one of his own Christmas Books on The Vicar of Wakefield, although he made modest changes in the cast and produced a far more complicated plot for The Battle of Life (1846). The other figures in the Stothard composition are Mrs. Primrose (right of her husband) and Sir William. Arabella is seated prominently in the lower right, beside George Primrose in uniform. The focal point of the English family, the hearth, is immediately adjacent to the be-wigged Anglican clergyman.
Related Illustrations by George Cruikshank (1832)
Bibliography
Goldsmith, Dr. [Oliver]. The Vicar of Wakefield. A Tale. Illustrated by Thomas Stothard. London: Sammells and Ritchie for E. Harding, Fleet-Street; and J. Good, New Bond-Street, 1792.
Peter Nahum at The Leicester Galleries. "William Mulready RA (1786-1863). Collection of 19 drawings & 9 etchings for Oliver Goldsmith's The Vicar of Wakefield (England, c. 1840)." http://www.leicestergalleries.com/19th-20th-century-paintings/d/william-mulready/48046
---

Victorian
Web

Visual
Arts

Illus- tration

Thomas
Stothard

Next
Last modified 6 March 2018