Summary of
A Mystery in Scarlet
In early 1886, Phiz illustrated the fiction serial A Mystery in Scarlet for the first eighteen numbers of the London Miscellany, a short-lived venture edited and largely written by James Malcolm Rymer, the subtly radical creator of the Dracula precursor Varney the Vampyre, or, the Feast of Blood (1845-7) and Sweeney Todd (The String of Pearls, 1846-7). Rymer composed A Mystery in Scarlet, the magazine's first leading serial, under his frequent pseudonym "Malcolm J. Errym." A regular employee of Chartist publishers Edward Lloyd and G.W.M. Reynolds and the son-in-law of the radical publisher and polemicist William Carpenter, Rymer was a far cry from Dickens at the time of his and Phiz's final break.
In illustrating A Mystery in Scarlet, Phiz employs the satirical eye that made his Pickwick iconic and creates dynamic crowd scenes, as he did in illustrating his final Dickens collaboration, A Tale of Two Cities. The mid-eighteenth-century costumes of A Mystery in Scarlet's early Hanoverian characters are reminiscent of the later-eighteenth-century dress that Phiz recreated for Dickens's novel about the French Revolution. The medium in which the illustrations are engraved is wood engraving, which was common for the "penny dreadfuls" that Rymer produced in the 1850s and 1860s. Possibly, Phiz failed to complete one commissioned illustration, as the ninth installment alone includes no illustration. Alternately, the illustration's omission may have been due to Rymer or another London Miscellany collaborator's error.
The plot of A Mystery in Scarlet is as follows. During the reign of King George II, a dutiful royal guardsman, Captain Weed Markham, commits an assassination at royal command—or, rather, thinks he does. He saves the life of his red-coated victim, who identifies himself only as "a Mystery in Scarlet," but eventually divulges that he is a secret, eldest legitimate son of King George I, and therefore Great Britain's rightful king. Markham must decide what to do with this secret, while striving to assist the Mystery's daughter Bertha, falling in love with her, and preventing his own assassination by the paranoid, scheming George II and his sycophantic valet Norris.
The supporting cast includes the gallant Marquis of Charlton, his beloved Lady Agnes Bellair, her highwayman brother, their father General Thomas Bellair, the beleaguered Queen Caroline, and the rebellious, seditious, and potentially parricidal Frederick, Prince of Wales. Torn between habitual duty to the false king and his growing sense of justice, Markham transforms himself from a passive subject to an active citizen, but carefully avoids the catastrophic evil of regicide.
How can we tell that Phiz was the illustrator of A Mystery in Scarlet? At the end of the first number of The London Miscellany, a "Notice to Subscribers" announced that "a high class of illustrations" is assured because the editor has "made permanent arrangements with PHIZ" and other famous artists (12). Later numbers credit specific serials' illustrations to Phiz: among them, the generic "urban mysteries" sketch collection London Revelations (44). In 1906, Victorian journalist Thomas Power O'Connor declared in his periodical T.P.'s Weekly that Phiz was the illustrator of A Mystery in Scarlet, a serial "treating of King George II" and published "in the London Miscellany," about 1867. In the twenty-first century, the penny fiction scholar and collector John Adcock has attributed the illustrations ofA Mystery in Scarlet to Phiz. Finally, on account of the strong stylistic similarities between these illustrations and Phiz's established oeuvre, his biographer Valerie Browne Lester has expressed "no doubt whatsoever" that they are "very obviously by Phiz". — Rebecca Nesvet, Associate Professor of English, University of Wisconsin, Green Bay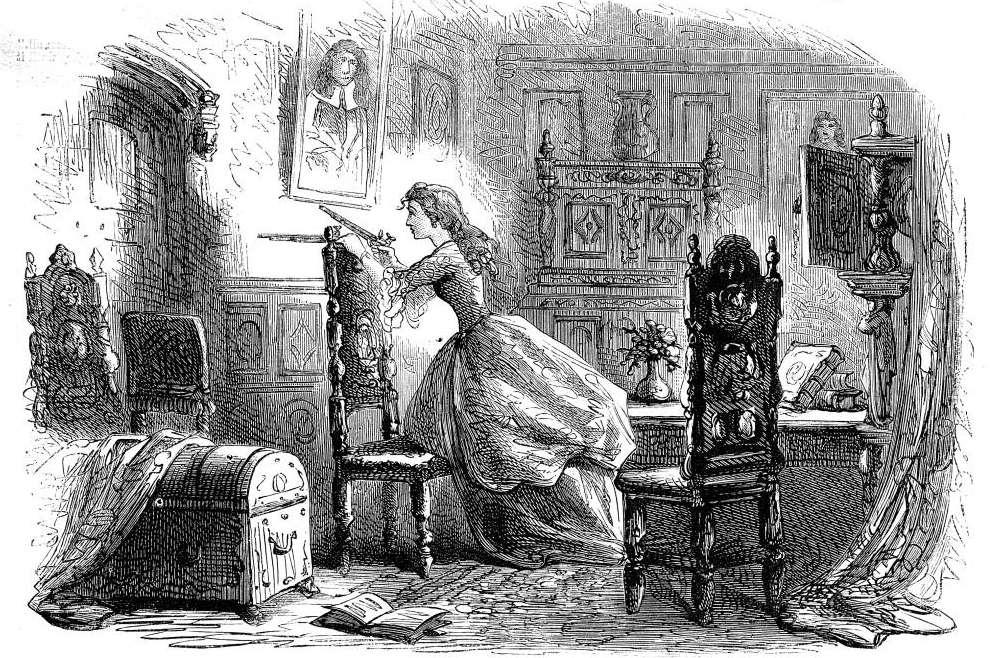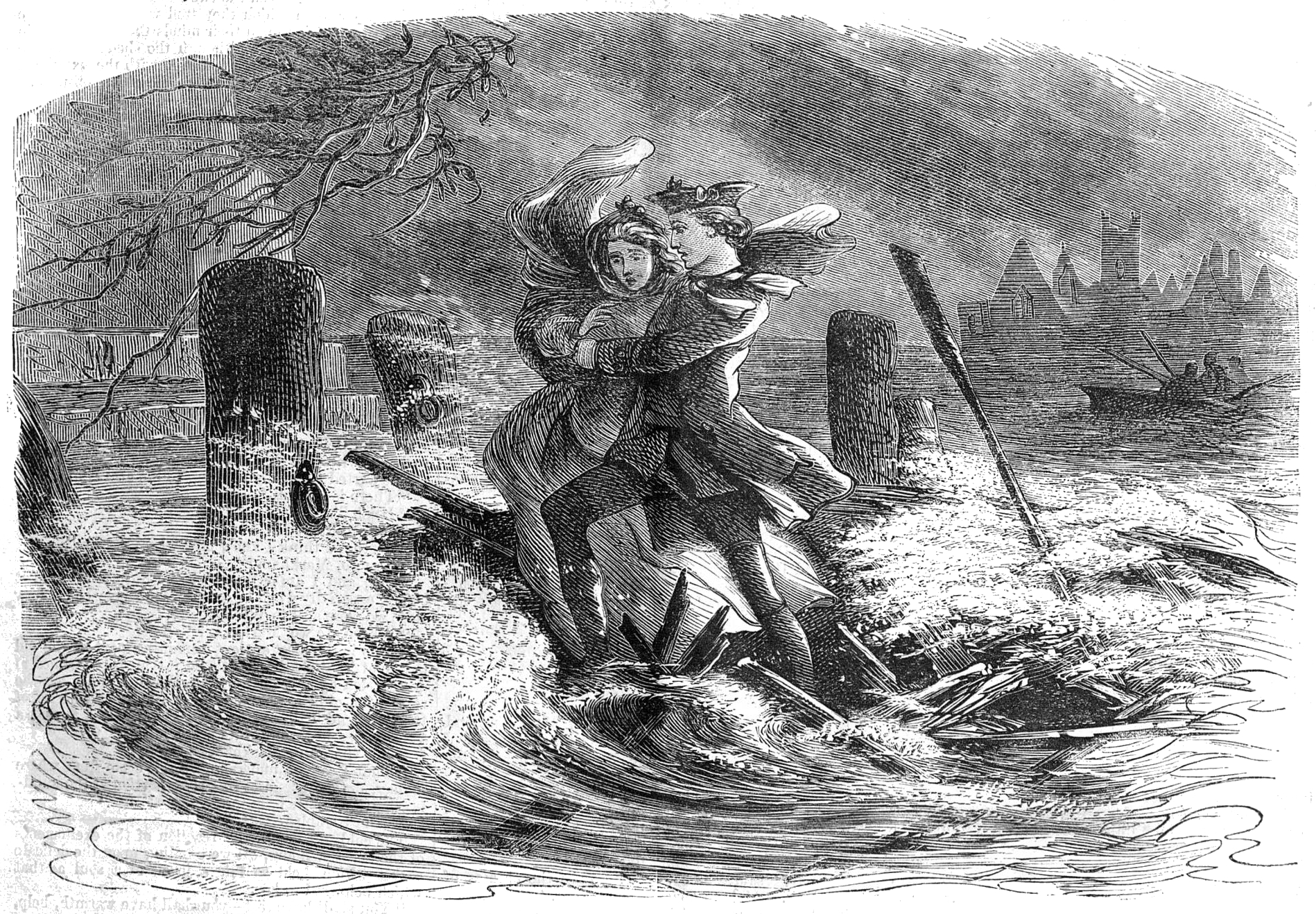 The Plates
Bibliography
Adcock, John. "The London Miscellany." Yesterday's Papers. 21 June 2012. [retrieved 28 June 2018].
Errym, Malcolm J [James Malcolm Rymer]. A Mystery in Scarlet, leading serial of The London Miscellany, ed. James Malcolm Rymer, 1, no. 1-18 (1866). From the copy in the collection of the Wells Library, Indiana University, Bloomington. Courtesy Lilly Library, Indiana University, Bloomington.
Lester, Valerie Browne. Email to Rebecca Nesvet. 4 August 2018.
O'Connor, Thomas Power. "Author Found." T.P.'s Weekly 9 (7 June, 1907): 732.
Rymer, James Malcolm (as "Malcolm J. Errym"). A Mystery in Scarlet. Serialized in The Queen's Magazine, vol. 1, no. 1-18 (1866).
Stevenson, Robert Louis. "Popular Authors." Scribner's Magazine. 4 July 1888: 122-8.
---
Last modified 12 July 2019