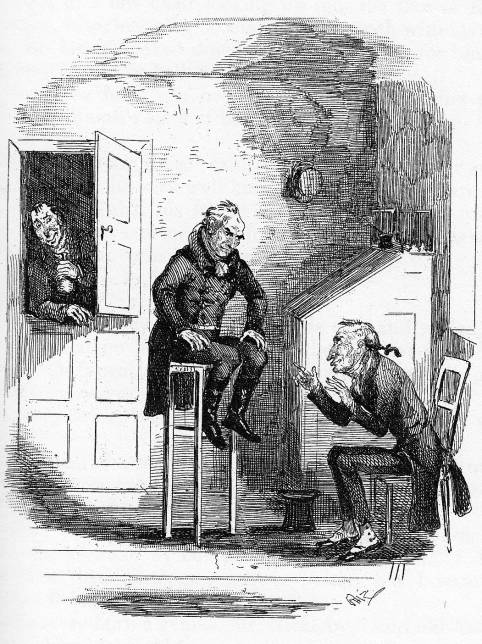 The Consultation [between Arthur Gride and Ralph Nickleby]
Phiz (Hablot K. Browne)
Dickens's Nicholas Nickleby
June 1839
steel engraving
Source: J. A. Hammerton, The Dickens Picture-Book, p. 165.
Image scan and text by Philip V. Allingham.
[You may use this image without prior permission for any scholarly or educational purpose as long as you (1) credit the person who scanned the image and (2) link your document to this URL.]
Dickens and Phiz begin to utilize Newman Noggs as more than a mere accessory to Ralph Nickleby, placing him in the position of an eavesdropper on the conspiratorial conversation between the covetous, grasping, aged moneylender, Arthur Gride, and the scheming Ralph Nickleby in this forty-seventh chapter, "Mr. Ralph Nickleby has some confidential Intercourse with another old Friend. They concert between them a Project, which promises well for both" (Part 15, June 1839). The plot the two are concocting involves Gride's intention to marry the beautiful Madeline Bray, not out of lust but greed, for if she marries her husband will come into a substantial property (twelve-thousand pounds). Nickleby agrees to apply pressure to her father by offering to wipe out Bray's debt if he consents to the unequal marriage. Phiz suggests the seventy-five-year-old Gride's malignant disposition by his misshapen, over sized head. The particulars of his dress, however, Phiz neglects since Dickens has provided a detailed description of these:
He wore a grey coat, with a very narrow collar, an old-fashioned waistcoat of ribbed black silk, and such scanty trousers as displayed his shrunken spindle-shanks in their full ugliness. The only articles of display or ornament in his dress, were a steel watch-chain to which were attached some large gold seals; and a black ribbon into which, in compliance with an old fashion scarcely ever observed in these days, his grey hair was gathered behind. His nose and chin were sharp and prominent, his jaws had fallen inwards from loss of teeth, his face was shrivelled and yellow, save where the cheeks were streaked with the colour of a dry winter apple; where his beard had been, there lingered yet a few grey tufts which seemed, like the ragged eyebrows, to denote the badness of the soil from which they sprung. The whole air and attitude of the form was one of stealthy cat-like obsequiousness; the whole expression of the face was concentrated in a wrinkled leer, compounded of cunning, lecherousness, slyness, and avarice.
Such was old Arthur Gride, in whose face there was not a wrinkle, in whose dress there was not one spare fold or plait, but expressed the most covetous and griping penury, and sufficiently indicated his belonging to that class of which Ralph Nickleby was a member. Such was old Arthur Gride, as he sat in a low chair looking up into the face of Ralph Nickleby, who, lounging on the tall office stool, with his arms upon his knees, looked down into his; a match for him, on whatever errand he had come.
Reference
Hammerton, J. A. The Dickens Picture-Book. London: Educational Book, 1910.
---

Victorian
Web

Nicholas
Nickelby

Illus-
tration

Phiz

Next
Last modified 9 May 2009