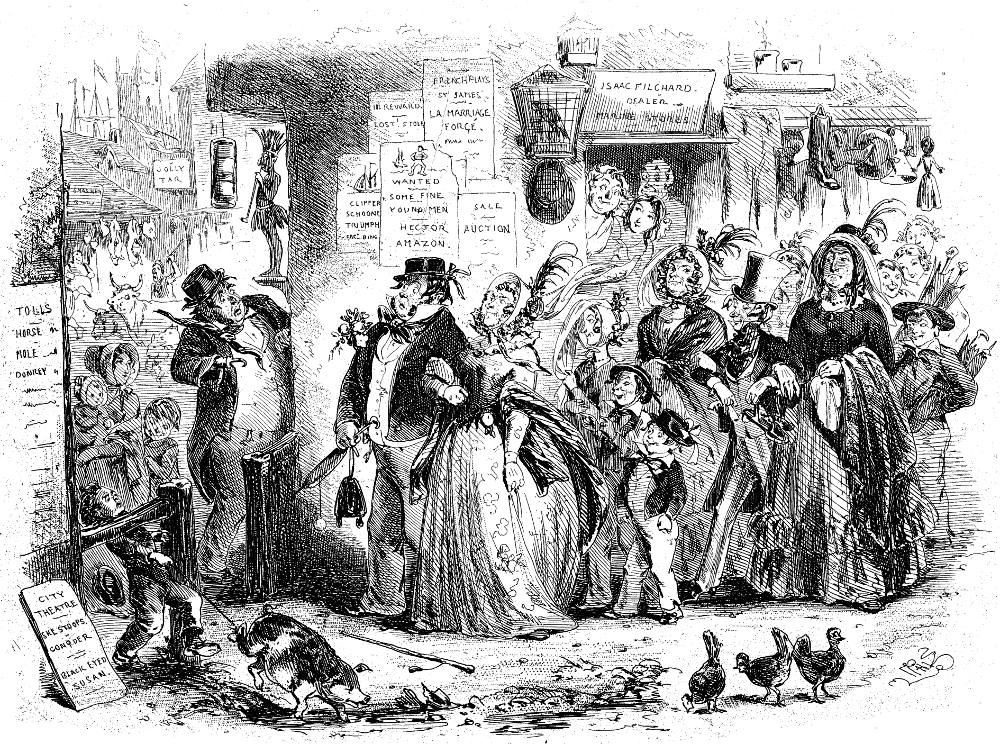 Another Wedding from the final instalment (April 1848) in Dombey and Son, Wholesale Retail & for Exportation (Parts 19-20), and published by Bradbury and Evans in volume form on 12 April 1848. 4 ½ x 5 ½ inches (11.3 cm high by 15.7 cm wide), vignetted. Facing 499, Vol. II. [Click on the images to enlarge them.]
Passage illustrated: Cuttle sees Bunsby in his place, married to Mrs MacStinger
These peaceful scenes, and particularly the region of Limehouse Hole and thereabouts, were so influential in calming the Captain, that he walked on with restored tranquillity, and was, in fact, regaling himself, under his breath, with the ballad of Lovely Peg, when, on turning a corner, he was suddenly transfixed and rendered speechless by a triumphant procession that he beheld advancing towards him.
This awful demonstration was headed by that determined woman Mrs. MacStinger, who, preserving a countenance of inexorable resolution, and wearing conspicuously attached to her obdurate bosom a stupendous watch and appendages, which the Captain recognised at a glance as the property of Bunsby, conducted under her arm no other than that sagacious mariner; he, with the distraught and melancholy visage of a captive borne into a foreign land, meekly resigning himself to her will. Behind them appeared the young MacStingers, in a body, exulting. Behind them, two ladies of a terrible and steadfast aspect, leading between them a short gentleman in a tall hat, who likewise exulted. In the wake, appeared Bunsby's boy, bearing umbrellas. The whole were in good marching order; and a dreadful smartness that pervaded the party would have sufficiently announced, if the intrepid countenances of the ladies had been wanting, that it was a procession of sacrifice, and that the victim was Bunsby.
The first impulse of the Captain was to run away. This also appeared to be the first impulse of Bunsby, hopeless as its execution must have proved. But a cry of recognition proceeding from the party, and Alexander MacStinger running up to the Captain with open arms, the Captain struck. [Chapter 60, "Chiefly Matrimonial," vol 2, p. 499-500]
Commentary from Michael Steig
Detail of the old salts and the victorious bride: Another Wedding
Among the forty illustrations which Phiz developed for the nineteen-month serialisation this illustration is unusual in its panormamic effect, for it is just one of three illustrations that Phiz has oriented vertically. In contrast to the book's thirty-seven horizontally-oriented illustrations, Another Wedding celebrates the closure of the various plot lines. Michael Steig in his lengthy analysis of this comic illustration notes its connection to the main plot of Dombey and his failed marriage as it exemplifies in the triumph of the aggressive widow, Mrs. MacStinger, "the woman-as-predator theme" (109). She had set her cap on her principal lodger at Brig Place, Captain Cuttle, but must settle for his his phlegmatic comrade, Captain Jack Bunsby. In particular, Steig considers in detail the implications of the large-scale, horizontal plate's many embedded texts as the artist's comments on the conclusion of the novel:
It is one of only three horizontal plates in the novel, and it clearly parallels the first one (the second is the dark plate of Carker's flight) in showing a wedding procession with the bride and groom at its head walking arm in arm, observed by casual onlookers in the background. Phiz's mastery of the crowded scene is by now evident, as each of the twenty-three human faces has its own distinct expression, and yet the composition and handling of shading focuses attention upon the main actors in the comedy.
Sol Eytinge, Junior's portrait of the victorious bride and the solemn groom: Mrs. MacStinger and Bunsby (1867).
Individual details either reflect the main idea of capture and imprisonment — or worse — or comment upon some aspect of the marriage. And at least one may refer directly back to Edith: the poster, "Wanted/Some Fine/Young Men/Hector/Arnazon," recalls the amazon statuette which symbolized Edith's dominance in "Mr. Carker in his hour of triumph," as the detail, "Medusa," referring to Mrs. MacStinger, was echoed in Dickens' subsequent description of Edith. A further link with other strands in [108/109] the novel is the poster for Black-Eyed Susan, a play by Douglas Jerrold about the marriage of a jolly sailor. We should remember that Susan Nipper (a name not unlike MacStinger in import) has often been described as possessing black eyes, and in taking over and marrying the malleable Toots she has matched Mrs. MacStinger's capture of Bunsby, if somewhat more benignly. Several animals are emblems for Jack Bunsby in his present woefull state: the cows and sheep being led through the street (a procession which mirrors the main subject much as the funeral does in "Coming home from Church"), and the carcasses of animals (including two detached hearts) hanging up outside Smashem the butcher's next to the jolly Tar, suggest that the capture is to be followed by a slaughter, at least symbolically; the pig, tethered by the hind leg and striving to escape his little owner, reflects Bunsby's present state of mind; and the caged birds over the hung up sailor's hat predict his future state as a married man. The chickens, on the other hand, are probably a humorous reference to the party of women following in the train of the happy couple.
But this is not all. Among various other posters, the list of turnpike tolls for horse, mule, and donkey suggests that Bunsby is henceforth a servile beast. "She Stoops to Conquer — recalling that initially Bunsby managed Mrs. MacS. rather than the other way around — and "La Mariage [sic] Force" hardly require comment, while other posters use naval imagery: the "Wanted" poster already described, and one reading "Clipper/ Schooner/Wasp" (cf. MacStinger) on one steel, "Clipper/Schooner/Triumph" — appropriate in a different way — on the other. Finally, as the ultimate emblem of Jack Bunsby's fall and capture, his walking stick, symbol of masculine authority (it is much in evidence in the plate Solemn reference is made to Mr. Bunsby), ingloriously sits in the muddy street, while he is allowed to hold only that symbol of female authority, Mrs. MacStinger's umbrella (cf. Mrs. Camp), and her reticule [in Dickens's next major novel, Martin Chuzzlewit].
In claiming that Another Wedding is a parody of other marriages in the novel (and especially of Dombey's), I do not mean to diminish the comic power of the Bunsby-MacStinger subplot. But I am suggesting that without this and certain other illustrations, the links between comic and serious story strands and the dominance of the woman-as-predator theme would not be as readily evident. Browne seems to have invented the emblematic details to illustrate this theme, but it is probable that Dickens also stressed the theme to him. In the passages describing Bunsby's wedding, the text repeatedly refers to capture, sacrifice, and victims, and to the danger of all women: "The Captain saw ... a succession of man-traps stretching out indefinitely — , a series of ages of oppression and coercion, through which the seafaring line was doomed" (ch. 60, p. 609). [Chapter 4, 108-10]
Jane Rabb Cohen exhibits a similar interest in this concluding plate which underscores the comic aspect of the domineering female theme in a scene which acts as an antidote to the somewhat dreary associations of the previous engraving, Let Him Remember it in that room, years to come:
After coping graphically with such complex dramatic situations, Browne must have welcomed the relief of a straightforward comic situation featuring Mrs. MacStinger. In his portrayal of this humorous harridan, especially her pursuit and capture of Bunsby, the artist appropriately reverts to more common and less serious artifacts. The ironic title of the scene in which both protagonists first appear, The Midshipman is boarded by the enemy (XXXIX, facing p. 558), is sharpened by the popular scenes on the wall; one, entitled 'Medusa,' shows a ship foundering in a storm (doubtless after Gericault's famed The Raft of the Medusa, which toured England in 1820); the other depicts two ships in battle. Another wedding, the concluding illustration in the book (whose title, oblong form, and design invite comparison to Edith's wedding). . . , contains even more blunt comments by the artist, by means of tattered, crudely lettered theatrical posters on the back ground wall advertising plays like She Stoops to Conquer and La Marriage Force (LX, facing p. 856) . . . . In the MacStinger-Bunsby nuptials, Browne also exploits the simple poster to dramatize Dickens's portrayal of love throughout Dombey as a perpetual contest, as Steig has suggested, in which the woman — not just Mrs. MacStinger and Edith, but also Florence, Polly, Susan, Mrs. Chick, and even Mrs. Pipchin, Miss Tox, and Alice — usually wins. [Cohen, 99]
The other four vertically oriented, full-width plates in
Dombey and Son

:
Related Material, including Other Illustrated Editions of
Dombey and Son
Scanned image and text by Philip V. Allingham. [You may use this image without prior permission for any scholarly or educational purpose as long as you (1) credit the person who scanned the image and (2) link your document to this URL in a web document or cite the Victorian Web in a print one.]
Bibliography
Dickens, Charles. Dombey and Son. With illustrations by  H. K. Browne. The illustrated library Edition. 2 vols. London: Chapman and Hall, c. 1880. Vol. II.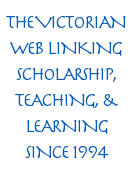 __________. Dombey and Son. Illustrated by Hablot Knight Browne ("Phiz"). The London Edition, Volume 4. London: Caxton & Ballantyne, 1901.
__________. Dombey and Son. Illustrated by Hablot K. Browne ("Phiz"). 8 coloured plates. London and Edinburgh: Caxton and Ballantyne, Hanson, 1910.
__________. Dombey and Son. Illustrated by Hablot K. Browne ("Phiz"). The Clarendon Edition, ed. Alan Horsman. Oxford: Clarendon, 1974.
__________. Dombey and Son. Illustrated by Sol Eytinge, Jr., and engraved by A. V. S. Anthony. 14 vols. Boston: Ticknor & Fields, 1867. III.
__________. Dombey and Son. Illustrated by Fred Barnard. 61 wood-engravings. The Household Edition. 22 vols. London: Chapman and Hall, 1877. XV.
_________. Dealings with the Firm of Dombey and Son: Wholesale, Retail, and for Exportation. Illustrated by Harry Furniss. The Charles Dickens Library Edition. London: Educational Book Company, 1910. IX.
Hammerton, J. A. "Chapter 16: Dombey and Son."The Dickens Picture-Book. The Charles Dickens Library Edition.Illustrated by Harry Furniss. 18 vols. London: Educational Book Co., 1910. Vol. 17, 294-337.
Kitton, Frederic George. Dickens and His Illustrators: Cruikshank, Seymour, Buss, "Phiz," Cattermole, Leech, Doyle, Stanfield, Maclise, Tenniel, Frank Stone, Landseer, Palmer, Topham, Marcus Stone, and Luke Fildes. Amsterdam: S. Emmering, 1972. Re-print of the London (1899) edition.
Lester, Valerie Browne. Ch. 12, "Work, Work, Work." Phiz: The Man Who Drew Dickens. London: Chatto and Windus, 2004, pp. 128-160.
Steig, Michael. Chapter 4. "Dombey and Son: Iconography of Social and Sexual Satire." Dickens and Phiz. Bloomington & London: Indiana U. P., 1978. 86-112.
Vann, J. Don. Chapter 4. "Dombey and Son, twenty parts in nineteen monthly installments, October 1846-April 1848." Victorian Novels in Serial. New York: Modern Language Association, 1985. 67-68.
---
Created 8 August 2015

Last modified 21 January 2021