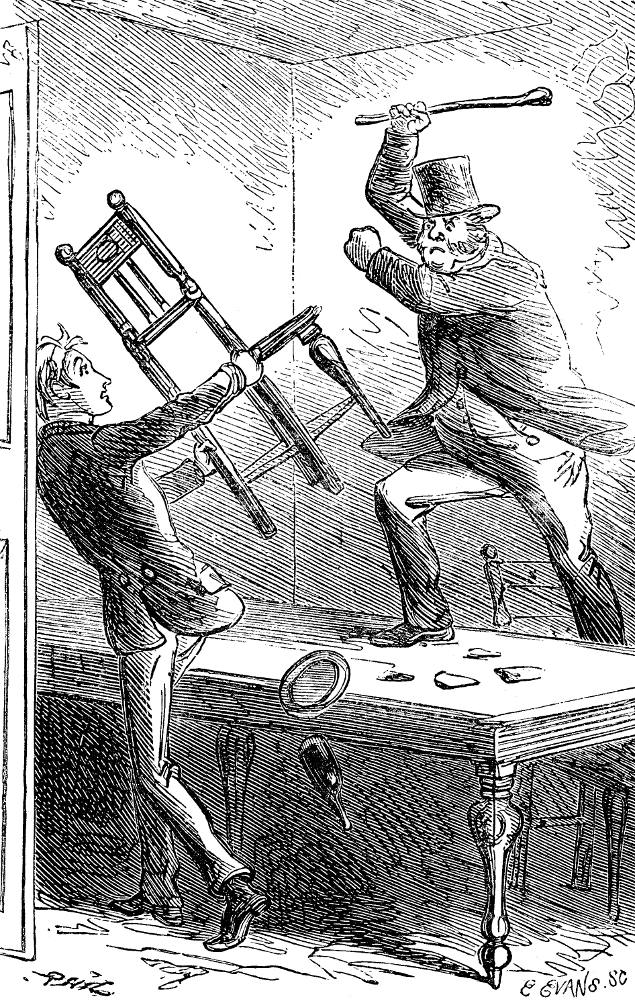 He very quickly placed a chair beside the table and mounted upon it.
Phiz
Engraver: Edmund Evans (1826-1905)
1862
Steel-engraving
Framed engraving 12.8 cm (5 inches) high by 8.2 cm (3 ¼ inches) wide
Charles Lever's A Day's Ride; or, The Romance of Life, Chapter XI, facing p. 116 (1862; rpt., 1882).
Scanned image, sizing, caption, and commentary by Philip V. Allingham.
[You may use this image without prior permission for any scholarly or educational purpose, as long as you (1) credit the person who scanned the image, and (2) link your document to this URL in a web document or cite the Victorian Web in a print one.]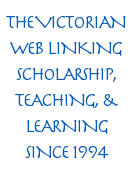 Passage Illustrated: A Jealous Husband Attacks Potts
There was a large table in the room, and I intrenched myself at once behind this, armed with a light cane chair, while I screamed murder in every language I could command. Failing to reach me across the table, my assailant tried to dodge me by false starts, now at this side, now at that. Though a large fleshy man, he was not inactive, and it required all my quickness to escape him. These manoeuvres being unsuccessful, he very quickly placed a chair beside the table and mounted upon it. I now hurled my chair at him; he warded off the blow and rushed on; with one spring I bounded under the table, reappearing at the opposite side just as he had reached mine. These tactics we now pursued for several minutes, when my enemy suddenly changed his attack, and, descending from the table, he turned it on edge; the effort required strength. I seized the moment and reached the door; I tore it open in some fashion, gained the stairs, the court, the streets, and ran ever onward with the wildness of one possessed with no time for thought, nor any knowledge to guide; I turned left and right, choosing only the narrowest lanes that presented themselves, and at last came to a dead halt at an open drawbridge, where a crowd stood waiting to pass. [Chapter XI, "A Jealous Husband," 116]
Commentary: Algernon Sydney Potts embroiled in a scene from Domestic Farce
The narrator-protagonist has just landed at Ostend, the port of entry to the Continent, and, like the foolish, naieve young Romantic he is, has offered his protection to a young lady in deep mourning who has just arrived at the same inn from the channel steamer on which both were passengers. Mistakenly, he believes what the waiter tells him, that this person is Miss Herbert, whom he met in England, and who is now travelling on her own to Brussels.
Although he has not seen her face behind the veil, Potts has convinced himself that this is the young woman with whom he smitten. Through the waiter he sends her a note offering her his protection on the railway journey since the party from Brussels who was to meet her has not arrived. He composes various versions of his offer of protection, and sends one by way of the hotel waiter to the woman whom he has mistaken for Miss Herbert. Then suddenly an irate, middle-aged Englishman arrives, demanding to know why Potts (who now styles himself "Pottinger," but which the jealous husband continually confuses for "Porringer") has dared to write thus to his wife. This burly figure named Christopher Jopplyn has just arrived by the 9:40 train from Brussels to collect his wife, and has intercepted Potts's romantic epistle. Thus, Lever sets up a classic farcical scene of cross-purposes and misinterpreted intentions in the manner of a French farce.
In Phiz's illustration, having pursued Potts around the table, the irate husband climbs over it in order to cudgel the terrified youth. He is much as Lever describes him, "a large, red-faced, stern-looking man in a suit of red-brown tweed" (114). We learn later from the captain of the channel packet who rescues Potts that Jopplyn is a railway contractor, "sensible on every point except his jealousy" (118). The artist positions the characters in such a way that readers will tend to identify themselves with the terrified young man in the foreground rather than his assailant. Rather than throwing the chair at the irate husband, Potts attempts to ward off the blow. To contribute to the simple plate's kinetic energy Phiz has caught a plate and bottle in mid-flight.
Relevant Illustrations of This Scene from Other Editions (1860 and 1894)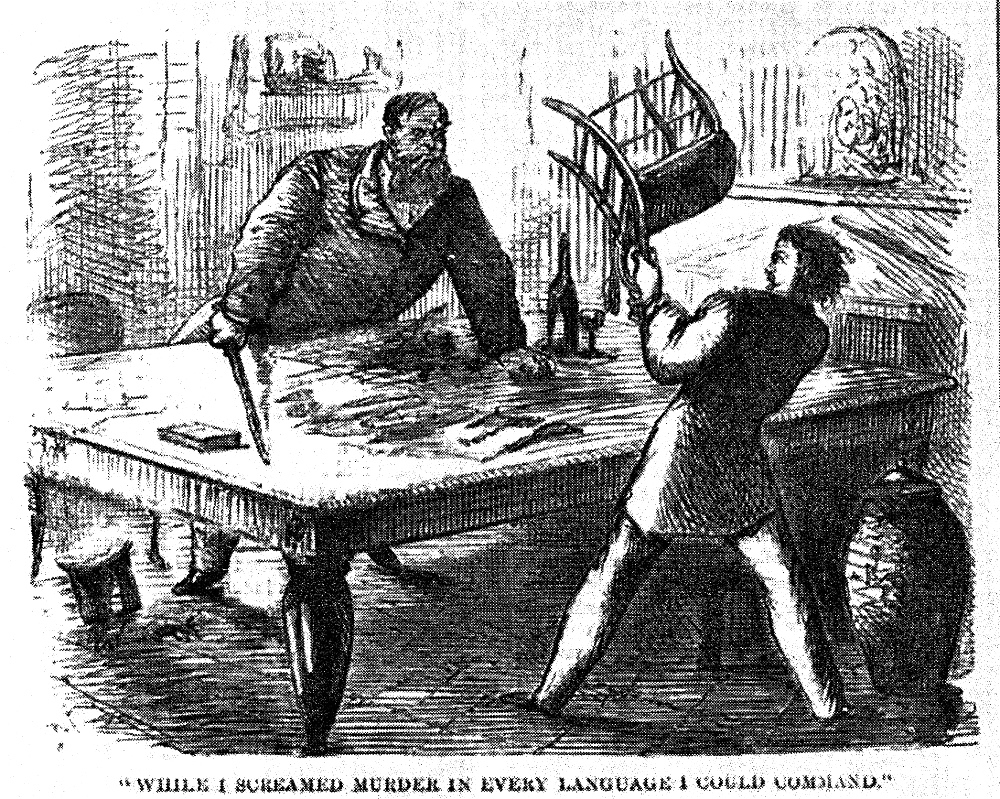 Left: Newman's earlier illustration emphasizes the contrast between the enormous husband and the dimnutive Potts in "While I screamed murder in every language I could command." (13 October 1860). Right: William Cubitt Cooke's treatment of the farcical us more realistic: A jealous husband (1894)
Related Serial Illustrations
Bibliography
Lever, Charles. A Day's Ride; A Life's Romance. Illustrated by John McLenan. Harper's Weekly: A Journal of Civilization. Vols. IV and V (18 August 1860 through 13 April 1861) in 35 weekly parts.
_______. A Day's Ride; A Life's Romance. Illustrated by "Phiz" (Hablot Knight Browne). London: Chapman and Hall, 1863, rpt. Routledge, 1882.
_______. The Daltons and A Day's Ride. Illustrated by Hablot Knight Browne ('Phiz'). Vol. VI of Lever's Works. New York: P. F. Collier, 1882; rpt. from Chapman and Hall, 1852.
_______. A Day's Ride: A Life's Romance.  Illustrated by Hablot Knight Browne ('Phiz'). Vol. XIV of Lever's Works. New York: Peter Fenelon Collier, 1900. rpt. from Chapman and Hall, 1863.
_______. A Day's Ride: A Life's Romance. Illustrated by William Cubitt Cooke. Boston: Little, Brown, 1904.
Lever, Charles James. A Day's Ride; A Life's Romance. http://www.gutenberg.org//files/32692/32692-h/32692-h.htm
Stevenson, Lionel. Dr. Quicksilver: The Life of Charles Lever. New York: Russell & Russell, 1939, rpt. 1969.
Sutherland, John. "Charles Lever." The Stanford Companion to Victorian Fiction. Stanford, Cal.: Stanford U. P., 1989. 372-374.
---

Victorian
Web

Illustra-
tion

Phiz

A Day's Ride

Next
Last modified 21 June 2022