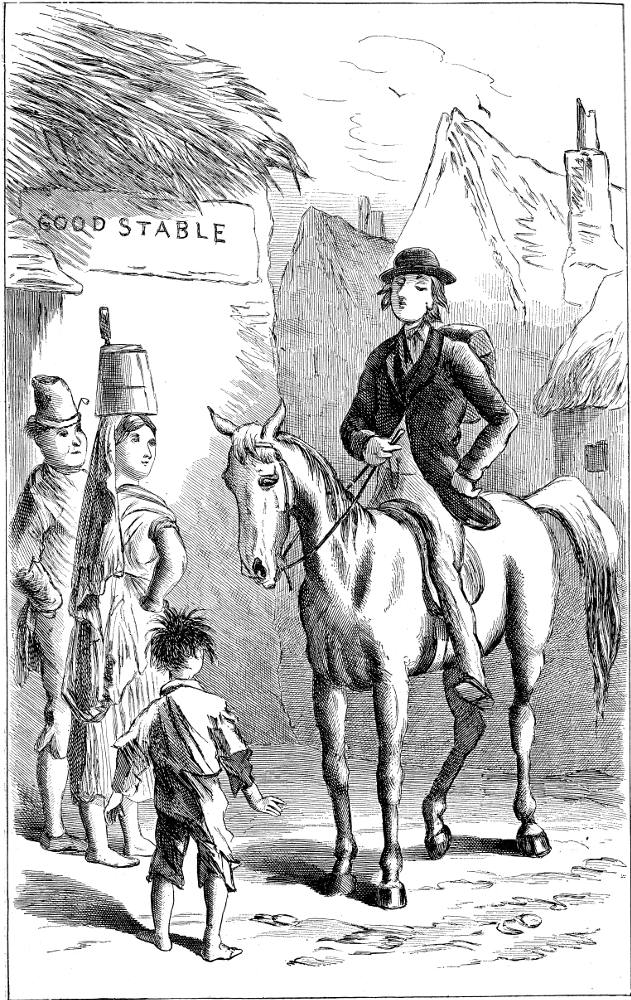 Frontispiece, "I rode into the little stable yard of the 'Lamb'."
Phiz
Engraver: Edmund Evans (1826-1905)
1862
Steel-engraving
Framed engraving 12.7 cm (5 inches) high by 8.3 cm (3 ¼ inches) wide
Charles Lever's A Day's Ride; or, The Romance of Life, Frontispiece (1862; rpt., 1882).
Scanned image, sizing, caption, and commentary by Philip V. Allingham.
[You may use this image without prior permission for any scholarly or educational purpose, as long as you (1) credit the person who scanned the image, and (2) link your document to this URL in a web document or cite the Victorian Web in a print one.]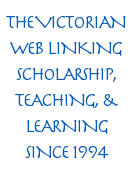 Passage Illustrated
The sun was near its setting, as I rode down the little hill into the village of Ashford, a picturesque little spot in the midst of mountains, and with a bright clear stream bounding through it, as fearlessly as though in all the liberty of open country. I tried to make my entrance what stage people call effective. I threw myself, albeit a little jaded, into an attitude of easy indifference, slouched my hat to one side, and suffered the sprig of laburnum, with which I had adorned it, to droop in graceful guise over one shoulder. The villagers stared; some saluted me; and taken, perhaps, by the cool acquiescence of my manner, as I returned the courtesy, seemed well disposed to believe me of some note.
I rode into the little stable-yard of the "Lamb" and dismounted. I gave up my horse, and walked into the inn. I don't know how others feel it, — I greatly doubt if they will have the honesty to tell,—but for myself, I confess that I never entered an inn or an hotel without a most uncomfortable conflict within: a struggle made up of two very antagonistic impulses, — the wish to seem something important, and a lively terror lest the pretence should turn out to be costly. Thus swayed by opposing motives, I sought a compromise by assuming that I was incog.; for the present a nobody, to be treated without any marked attention, and to whom the acme of respect would be a seeming indifference.
"What is your village called?" I said, carelessly, to the waiter, as he laid the cloth.
"Ashford, your honor. 'T is down in all the books," answered the waiter.
"Is it noted for anything, or is there anything remarkable in the neighborhood?" [Chapter II, "Blondel and I Set Out," 16]
Commentary: Introducing the Young Gentleman on Horseback — Algernon Sydney Potts
In the story's opening paragraph, the first-person narrator announces himself as "even I — A. S. P." Phiz reinforces the centrality of the narrator-protagonist by making him the dominant figure in the frontispiece: the fashionably dressed British "outsider" who rides into the Irish village of Ashford at dinner time as if he owns the place. Potts is precisely of the class and lineage that Lever himself boasted: Anglo-Irish, resident of Dublin, descendant of commercial class English bourgeoisie. Potts's father, however, does not wish his son to become a mere pharmacist as he and his forebears have been, despite the fact that his son would actually like to become a chemist, or, more properly, an "alchemist."
Potts's romantic and chivalric tastes, acquired from reading the works of Hoffman, the Grimms, and Musaeus, make him yearn to become an adventurer or an explorer in "the newer worlds of Australia and America" (Chapter I, "I Prepare to Seek Adventures," 5), but he eventually settles upon Europe as more convenient, and more aligned with his recent interest in the German Romantics. Initially, Potts finds himself cloistered as a student at Trinity College, Dublin, the butt of many adolescent pranks and practical jokes. From this tedious arrested childhood he is suddenly liberated by a legacy of a hundred pounds. His journey through life — his "romance" — begins with his renting a horse at three half-crowns a week so that he can participate in the rural sports of the aristocracy (hunting and racing), as he has experienced these in the sporting-prints in Dublin's shop windows.
Thus, Phiz begins with Potts not as an undergraduate at Trinity, but as a fashionably attired youth on a "cream-coloured palfrey" (Chapter II, "Blondel and I Set Out," 11). He assumes the manner and posture of "a peer's eldest son" at whatever village he puts up in, affecting to be a Pre-Raphaelite painter or Romantic poet. As the frontispiece suggests, Potts is a poser, sitting (fittingly) astride a retired circus horse — a performer atop a performer, so to speak. In the illustration, two denizens of the village do indeed cooly "stare" (16) at the supercilious youth who thinks of himself as having the demeanour of a person "of some note." But nobody salutes him, and the ragged urchin that Phiz has inserted into the foreground studies the horse, but not the rider.
Related Serial Illustrations
N. B.: A Ride for a Day, Instalment No. 2, 18 August 1860 (Chapter 2, p. 522), has no illustrations.
Bibliography
Lever, Charles. A Day's Ride; A Life's Romance. Illustrated by William Newman. Harper's Weekly: A Journal of Civilization. Vols. IV and V (18 August 1860 through 13 April 1861) in 35 weekly parts.
_______. A Day's Ride; A Life's Romance. Illustrated by "Phiz" (Hablot Knight Browne). London: Chapman and Hall, 1863, rpt. Routledge, 1882.
_______. The Daltons and A Day's Ride. Illustrated by Hablot Knight Browne ('Phiz'). Vol. VI of Lever's Works. New York: P. F. Collier, 1882; rpt. from Chapman and Hall, 1852.
_______. A Day's Ride: A Life's Romance.  Illustrated by Hablot Knight Browne ('Phiz'). Vol. XIV of Lever's Works. New York: Peter Fenelon Collier, 1900. rpt. from Chapman and Hall, 1863.
Lever, Charles James. A Day's Ride; A Life's Romance. http://www.gutenberg.org//files/32692/32692-h/32692-h.htm
Stevenson, Lionel. Dr. Quicksilver: The Life of Charles Lever. New York: Russell & Russell, 1939, rpt. 1969.
Sutherland, John. "Charles Lever." The Stanford Companion to Victorian Fiction. Stanford, Cal.: Stanford U. P., 1989. 372-374.
---

Victorian
Web

Illustra-
tion

Phiz

A Day's Ride

Next
Last modified 25 March 2022