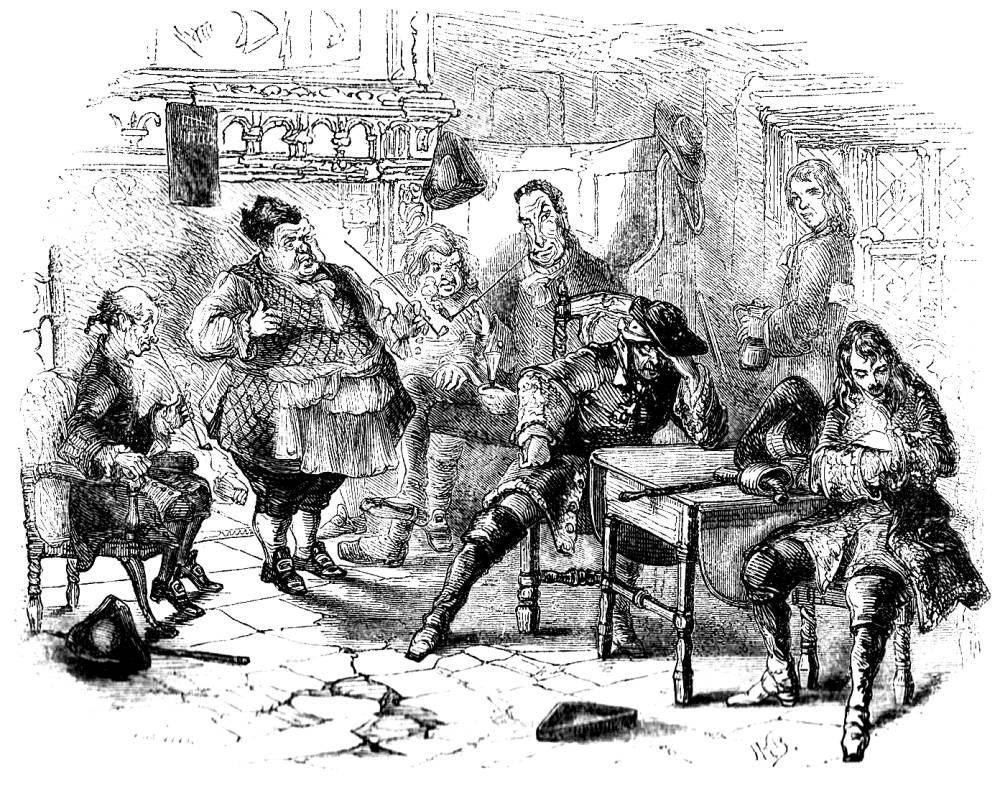 An Unsociable Stranger — second illustration for the novel, Chap. I, by Hablot Knight Browne (Phiz). 13 February 1841 (instalment 1). 3 ¾ x 4 ½ inches (9 cm by 11.5 cm), vignetted, from instalment 44 in Master Humphrey's Clock, and published in Dickens's Barnaby Rudge, in the 1849 Bradbury and Evans two-volume edition: 233. Running head: "Master Humphrey's Clock" (232).
Passage Illustrated: The Stranger and the Village Worthies
The sturdy landlord had a large pair of dull fish-like eyes, and the little man who had hazarded the remark about the moon (and who was the parish-clerk and bell-ringer of Chigwell, a village hard by) had little round black shiny eyes like beads; moreover this little man wore at the knees of his rusty black breeches, and on his rusty black coat, and all down his long flapped waistcoat, little queer buttons like nothing except his eyes; but so like them, that as they twinkled and glistened in the light of the fire, which shone too in his bright shoe-buckles, he seemed all eyes from head to foot, and to be gazing with every one of them at the unknown customer. No wonder that a man should grow restless under such an inspection as this, to say nothing of the eyes belonging to short Tom Cobb the general chandler and post-office keeper, and long Phil Parkes the ranger, both of whom, infected by the example of their companions, regarded him of the flapped hat no less attentively.
The stranger became restless; perhaps from being exposed to this raking fire of eyes, perhaps from the nature of his previous meditations — most probably from the latter cause, for as he changed his position and looked hastily round, he started to find himself the object of such keen regard, and darted an angry and suspicious glance at the fireside group. It had the effect of immediately diverting all eyes to the chimney, except those of John Willet, who finding himself as it were, caught in the fact, and not being (as has been already observed) of a very ready nature, remained staring at his guest in a particularly awkward and disconcerted manner.
"Well?" said the stranger. [Chapter the First, 234]
Commentary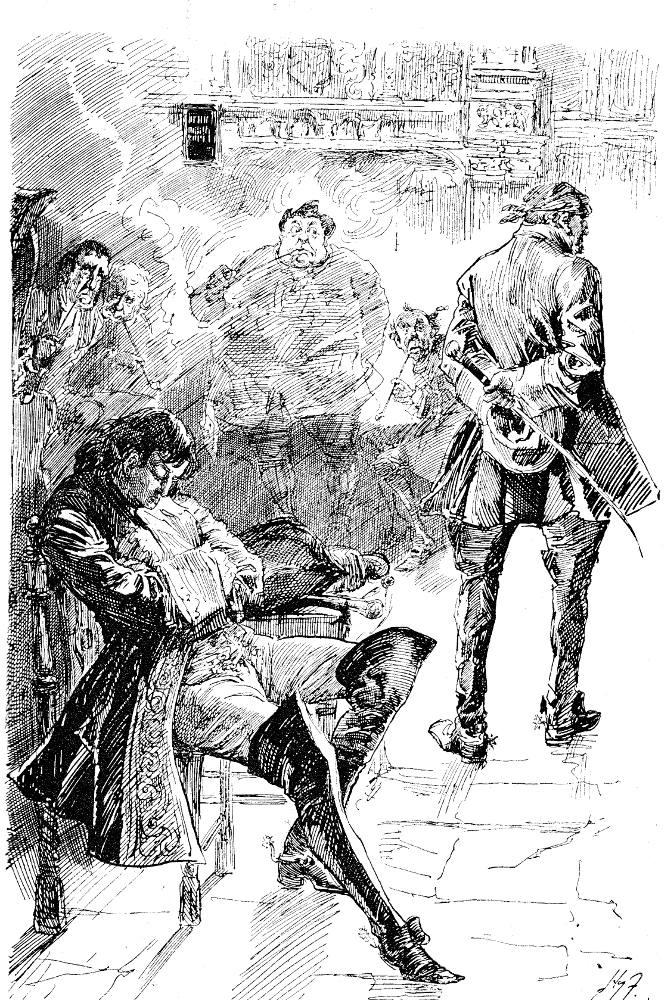 Harry Furniss's revision of the fireside scene foregrounds the dozing stranger: Strangers at the Maypole Inn (1910).
Following Cattermole's initial architectural study, The Maypole, Phiz must people the setting with interesting characters, focus on the mysterious stranger, introduce Joe Willet's conflict with his pig-headed father, and set the scene for Solomon Daisey's narrative about the Haredales, the noble family who live nearby, at The Warren. To signal to the reader that the publican, John Willet, is an unsympathetic, narrow-minded, dictatorial parent, Phiz presents the landlord as repulsively fat and physically distorted, and his son, the adolescent Joe, as a comely representative of the rising generation with whom enlightened, Victorian readers should identify.
The name of him upon whom the spirit of prophecy thus descended was John Willet, a burly, large-headed man with a fat face, which betokened profound obstinacy and slowness of apprehension, combined with a very strong reliance upon his own merits. It was John Willet's ordinary boast in his more placid moods that if he were slow he was sure; which assertion could, in one sense at least, be by no means gainsaid, seeing that he was in everything unquestionably the reverse of fast, and withal one of the most dogged and positive fellows in existence — always sure that what he thought or said or did was right, and holding it as a thing quite settled and ordained by the laws of nature and Providence, that anybody who said or did or thought otherwise must be inevitably and of necessity wrong. [Chapter the First, 231]
This expository illustration, then, marks the entrance into the narrative of the landlord of The Maypole, the ultra-conservative John Willet, who behaves under his own roof with his dutiful but chafing son as a domestic despot. In addition to making the landlord physically repulsive, Phiz suggests by his stance and phlegmatic expression something of his obstinacy, a quality that in a milder form the illustrator implies in the posture and expression of his son, Joseph, "a broad-shouldered strapping young fellow of twenty" (234).
The other significant figures are John Willet's cronies, whom Phiz presents as village characters (Phil Parkes, the ranger; Solomon Daisy, the parish clerk and bell-ringer of Chigwell; and Tom Cobb, a chandler and keeper of the post office), and the dour, enigmatic stranger in his sixties, "wrapped in a loose riding-coat with huge cuffs ornamented with tarnished silver lace and large metal buttons, . . . wearing a hat flapped over his face, which was still further shaded by the hand on which his forehead rested" (232). Phiz signifies his unsociable, truculent nature by his shading his with his hat and turning away from the rest of the patrons. Although he has yet to remove his hat, this outsider in the plate resembles Dickens's concluding description of him:
The stranger took off his hat, and disclosed the hard features of a man of sixty or thereabouts, much weatherbeaten and worn by time, and the naturally harsh expression of which was not improved by a dark handkerchief which was bound tightly round his head, and, while it served the purpose of a wig, shaded his forehead, and almost hid his eyebrows. If it were intended to conceal or divert attention from a deep gash, now healed into an ugly seam, which when it was first inflicted must have laid bare his cheekbone, the object was but indifferently attained, for it could scarcely fail to be noted at a glance. His complexion was of a cadaverous hue, and he had a grizzly jagged beard of some three weeks' date. Such was the figure (very meanly and poorly clad) that now rose from the seat. [233]
Related Scene from the Cattermole Sequence: Tailpiece for Chapter XXV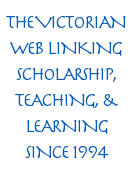 Relevant Illustrations for this Novel (1841 through 1910)
Scanned image and text by Philip V. Allingham. [You may use this image without prior permission for any scholarly or educational purpose as long as you (1) credit the person who scanned the image and (2) link your document to this URL in a web document or cite the Victorian Web in a print one.]
Bibliography
Dickens, Charles. Barnaby Rudge in Master Humphrey's Clock. Illustrated by Phiz and George Cattermole. 3 vols. London: Chapman and Hall, 1841; rpt., Bradbury and Evans, 1849.
________. Barnaby Rudge — A Tale of the Riots of 'Eighty. Illustrated by Fred Barnard. The Household Edition. 22 vols. London: Chapman and Hall, 1874. VII.
---
Last modified 28 November 2020