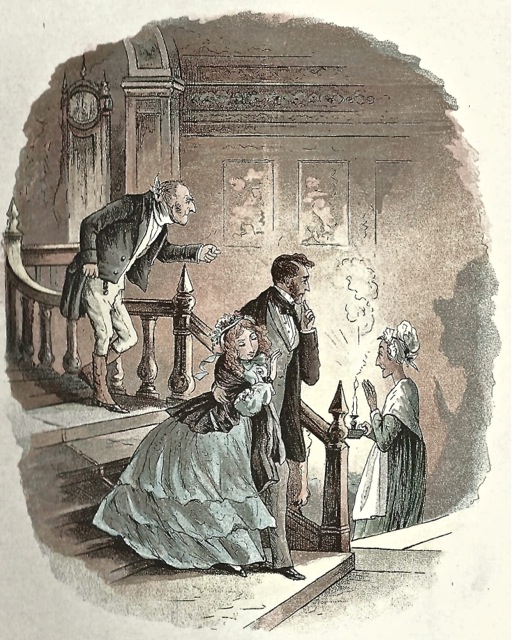 Flora's Tour of Inspection
Phiz (Hablot K. Browne)
April 1857
Illustration for Charles Dickens's Little Dorrit, Part XVII (Book 2, Chapter 23).
Source: Authentic Edition (1901), colourized frontispiece.
The book was published in the customary twenty monthly parts, December 1855 through June 1857, by Bradbury and Evans with a blue wrapper and forty plates designed by Phiz.
Image scan and text by Philip V. Allingham.
[You may use this image without prior permission for any scholarly or educational purpose as long as you (1) credit the person who scanned the image and (2) link your document to this URL in a web document or cite the Victorian Web in a print one. ]
Passage Illustrated
Affery was excusing herself with "Don't ask nothing of me, Arthur!" when Mr. Flintwinch stopped her with "Why not? Affery, what's the matter with you, woman? Why not, jade!" Thus expostulated with, she came unwillingly out of her corner, resigned the toasting-fork into one of her husband's hands, and took the candlestick he offered from the other.
"Go before, you fool!" said Jeremiah. "Are you going up, or down, Mrs. Finching?"
Flora answered, "Down."
"Then go before, and down, you Affery," said Jeremiah. "And do it properly, or I'll come rolling down the banisters, and tumbling over you!"
Affery headed the exploring party; Jeremiah closed it. He had no intention of leaving them. Clennam looking back, and seeing him following three stairs behind, in the coolest and most methodical manner exclaimed in a low voice, "Is there no getting rid of him!" Flora reassured his mind by replying promptly, "Why though not exactly proper Arthur and a thing I couldn't think of before a younger man or a stranger still I don't mind him if you so particularly wish it and provided you'll have the goodness not to take me too tight."
Wanting the heart to explain that this was not at all what he meant, Arthur extended his supporting arm round Flora's figure. "Oh my goodness me,' said she. "You are very obedient indeed really and it's extremely honourable and gentlemanly in you I am sure but still at the same time if you would like to be a little tighter than that I shouldn't consider it intruding."
In this preposterous attitude, unspeakably at variance with his anxious mind, Clennam descended to the basement of the house; finding that wherever it became darker than elsewhere, Flora became heavier, and that when the house was lightest she was too. Returning from the dismal kitchen regions, which were as dreary as they could be, Mistress Affery passed with the light into his father's old room, and then into the old dining-room; always passing on before like a phantom that was not to be overtaken, and neither turning nor answering when he whispered, "Affery! I want to speak to you!" — Book the Second, "Riches," Chapter 23, "Mistress Affery makes a conditional Promise respecting her Dreams," p. 591-592.
Commentary
Although Little Dorrit does not appear in it, the picture offers a study of some of the novel's principal characters: at the top of the staircase, insulting his wife, Jeremiah Flintwinch, Mrs. Clennam's confidential servant (left); on the landing, the middle-aged, bourgeois couple, quondam sweethearts, Flora Finching and Arthur Clennam (centre); descending from the landing, candle in hand, Affery Flintwinch, Mrs. Clennam's highly anxious maid. The illustration also exemplifies what one might term "The Marriage Plot" of the novel, although this illustration, appearing as the tinted frontispiece of the Authentic Edition (1901), is something of a red herring since Amy Dorrit rather than the flirtatious Flora Finching eventually marries Arthur. Flora's plans for the merchant-prince's rescuing her from the Patriarchal mansion and the Gorgon of Mr. F.'s Aunt collapse as precipitously as the Clennam fortunes and the Clennam mansion itself. Certainly James Mahoney's dark wood-engraving of this same "tour" in the 1873 Household Edition leaves much to be desired when one compares it to Phiz's sharply delineated figures in his 1857 steel engraving.
Pertinent Diamond and Household Edition Illustrations, 1863-73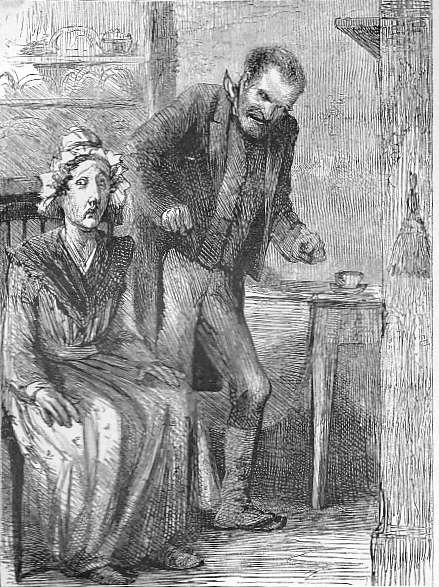 Left: Felix Octavius Carr Darley frontispiece for the fourth "Household" Edition volume (1863), Closing in — Book II, Ch. XXX. Right: Sol Eytinge, Junior's study in contrasts, Mr. and Mrs. Flintwinch (1867). [Click on the images to enlarge them.]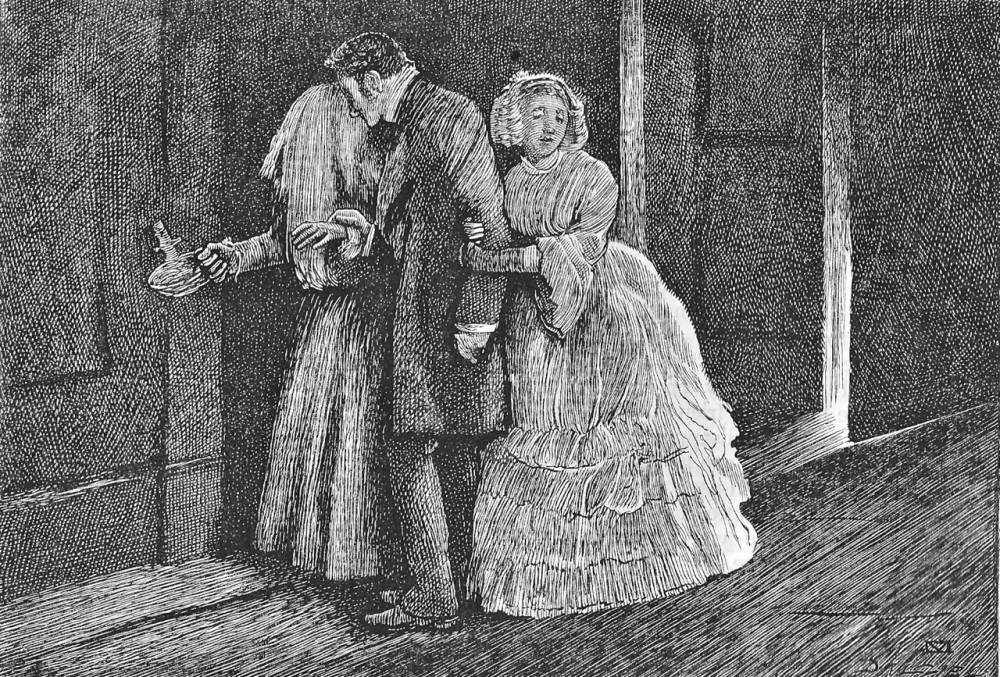 Above: James Mahoney's Household Edition illustration for Book Two, Ch. 23, in which Arthur Clennam has Affery conduct Flora Finching on a tour of the old, decaying mansion, "You can't be afraid of seeing anything in this darkness, Affery." (1873) [Click on the image to enlarge it.]
References
Bentley, Nicolas, Michael Slater, and Nina Burgis. The Dickens Index. New York and Oxford: Oxford U. P., 1990.
Davis, Paul. Charles Dickens A to Z: The Essential Reference to His Life and Work. New York: Facts On File, 1998.
Dickens, Charles. Little Dorrit. Illustrated by Hablot Knight Browne ("Phiz"). The Authentic Edition. London: Chapman and Hall, 1901 [rpt. of the 1868 volume, based on the 30 May 1857 volume].
Dickens, Charles. Little Dorrit. Illustrated by F. O. C. Darley and John Gilbert. The Works of Charles Dickens. The Household Edition. New York: Sheldon and Company, 1863. Vol. 4.
Dickens, Charles. Little Dorrit. Illustrated by James Mahoney [58 composite wood-block engravings]. The Works of Charles Dickens. The Household Edition. 22 vols. London: Chapman and Hall, 1873. Vol. 5.
Dickens, Charles. Little Dorrit. Illustrated by Harry Furniss [29 composite lithographs]. The Works of Charles Dickens. The Charles Dickens Library Edition. London: Educational Book, 1910. Vol. 12.
Hammerton, J. A. "Chapter 19: Little Dorrit." The Dickens Picture-Book. The Charles Dickens Library Edition. London: Educational Book, 1910. Vol. 17. Pp. 398-427.
Lester, Valerie Browne. Phiz: The Man Who Drew Dickens. London: Chatto and Windus, 2004.
"Little Dorrit — Fifty-eight Illustrations by James Mahoney." Scenes and Characters from the Works of Charles Dickens, Being Eight Hundred and Sixty-six Drawings by Fred Barnard, Gordon Thomson, Hablot Knight Browne (Phiz), J. McL. Ralston, J. Mahoney, H. French, Charles Green, E. G. Dalziel, A. B. Frost, F. A. Fraser, and Sir Luke Fildes. London: Chapman and Hall, 1907.
Steig, Michael. Dickens and Phiz. Bloomington & London: Indiana U.P., 1978.
---

Victorian
Web

Little
Dorrit

Illus-
tration

Phiz

Next
Last modified 22 April 2016