At Mr. John Chivery's Tea-table
Phiz (Hablot K. Browne)
May 1857
11.5 x 8.7 cm vignetted
Dickens's Little Dorrit, Vol. 12 of the Authentic Edition, Book the Second, "Riches"; Chapter 27, "The Pupil of the Marshalsea," facing p. 624.
The book was published in the customary twenty monthly parts, December 1855 through June 1857, by Bradbury and Evans with a blue wrapper and forty plates designed by Phiz. [Click on the image to enlarge it.]
Image scan and text by Philip V. Allingham.
[You may use this image without prior permission for any scholarly or educational purpose as long as you (1) credit the person who scanned the image and (2) link your document to this URL in a web document or cite the Victorian Web in a print one.]
Passage Illustrated
Young John was some time absent, and, when he came back, showed that he had been outside by bringing with him fresh butter in a cabbage leaf, some thin slices of boiled ham in another cabbage leaf, and a little basket of water-cresses and salad herbs. When these were arranged upon the table to his satisfaction, they sat down to tea.
Clennam tried to do honour to the meal, but unavailingly. The ham sickened him, the bread seemed to turn to sand in his mouth. He could force nothing upon himself but a cup of tea.
"Try a little something green," said Young John, handing him the basket.
He took a sprig or so of water-cress, and tried again; but the bread turned to a heavier sand than before, and the ham (though it was good enough of itself) seemed to blow a faint simoom of ham through the whole Marshalsea.
"Try a little more something green, sir," said Young John; and again handed the basket.
It was so like handing green meat into the cage of a dull imprisoned bird, and John had so evidently brought the little basket as a handful of fresh relief from the stale hot paving-stones and bricks of the jail, that Clennam said, with a smile, "It was very kind of you to think of putting this between the wires; but I cannot even get this down to-day."
As if the difficulty were contagious, Young John soon pushed away his own plate, and fell to folding the cabbage-leaf that had contained the ham. When he had folded it into a number of layers, one over another, so that it was small in the palm of his hand, he began to flatten it between both his hands, and to eye Clennam attentively.
"I wonder," he at length said, compressing his green packet with some force, "that if it's not worth your while to take care of yourself for your own sake, it's not worth doing for some one else's."
"Truly," returned Arthur, with a sigh and a smile, "I don't know for whose." — Book the Second, Riches," Chapter 27, "The Pupil of the Marshalsea," p. 624-625.
Commentary
In love with Amy Dorrit for years, John Chivery naturally resents Arthur Clennam, for John sees what Arthur does not: that Amy is in love with Arthur. Ironically, Arthur Clennam, but lately arrived as an insolvent debtor at the Marshalsea, has been unaware of John Chivery's resentment, a predisposition that Phiz's illustration of the turnkey's son trying to engage the self-absorbed, disheveled Arthur Clennam at the tea-table in his own, tastefully decorated room above one of the prison's gates, does not communicate. This illustration appeared in the initial American serisalisation in Harper's New Monthly Magazine, vol. 15, no. 85 (June-November 1857) which contained two instalments. In the first, p. 98 has this illustration dropped into the letterpress in ch. 63. "In the old room" from ch. 64 appears on p. 106; ch. 66 ends on p. 114. Thus, American readers in the fall of 1857 experienced this illustration (six months later than their transpontine cousins) not juxtaposed against the text, as in the Chapman and Hall serial, but actually dropped into the text.
Relevant Illustrations in The Diamond Edition, 1867, and The Household Edition, 1873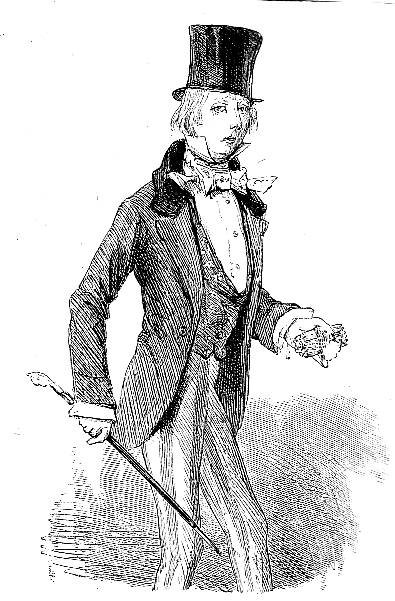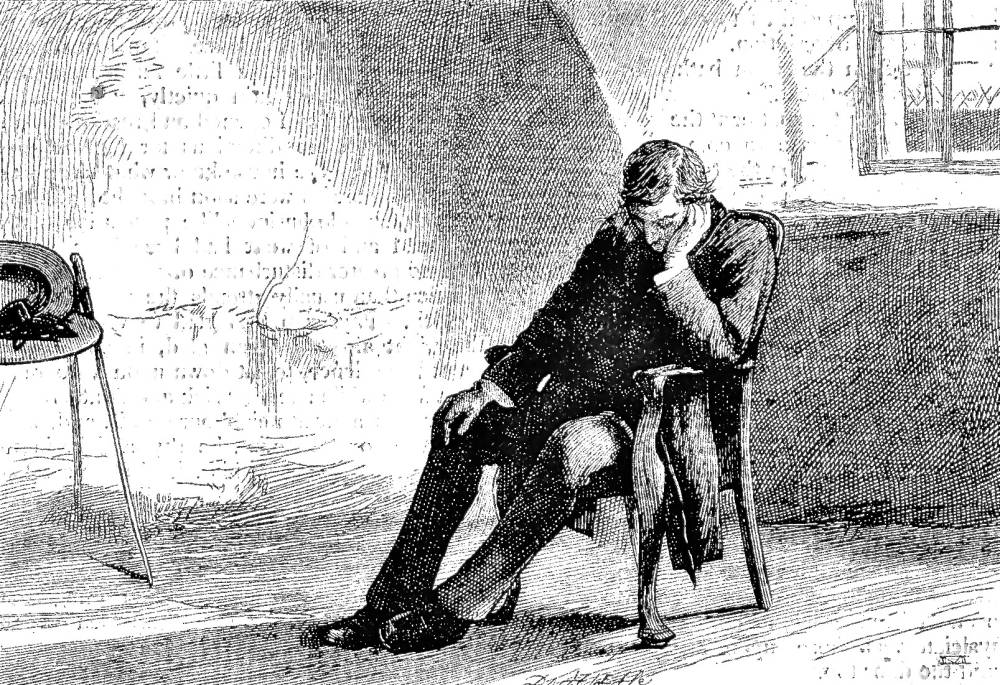 Left: Sol Eytinge Junior's study of the hopelessly devoted John for Book 1, Chapter 18, "Little Dorrit's Lover," Young John Chivery (1867); right: James Mahoney's 1873 study of an utterly depressed, incarcerated Arthur Clennam, The day was sunny, and the Marshalsea, with the hot noon striking upon it was unwontedly quiet. . . . . [Click on the images to enlarge them.]
References
Bentley, Nicolas, Michael Slater, and Nina Burgis. The Dickens Index. New York and Oxford: Oxford U. P., 1990.
Cohen, Jane Rabb. Charles Dickens and His Original Illustrators. Columbus: Ohio State U. P., 1980.
Davis, Paul. Charles Dickens A to Z: The Essential Reference to His Life and Work. New York: Checkmark and Facts On File, 1999.
Dickens, Charles. Little Dorrit. Illustrated by Phiz. The Authentic Edition. London:Chapman and Hall, 1901. (rpt. of the 1868 edition).
Dickens, Charles. Little Dorrit. Illustrated by Sol Eytinge, Jr. The Diamond Edition. Boston: Ticknor & Fields, 1867. 14 vols.
Dickens, Charles. Little Dorrit. Illustrated by James Mahoney. The Household Edition. 22 vols. London: Chapman and Hall, 1873. Vol. 5.
Dickens, Charles. Little Dorrit. Illustrated by Harry Furniss. The Charles Dickens Library Edition. 18 vols. London: Educational Book, 1910. Vol. 12.
Hammerton, J. A. "Chapter 19: Little Dorrit." The Dickens Picture-Book. The Charles Dickens Library Edition. Illustrated by Harry Furniss. 18 vols. London: Educational Book Co., 1910. Vol. 17. Pp. 398-427.
Kitton, Frederic George. Dickens and His Illustrators: Cruikshank, Seymour, Buss, "Phiz," Cattermole, Leech, Doyle, Stanfield, Maclise, Tenniel, Frank Stone, Landseer, Palmer, Topham, Marcus Stone, and Luke Fildes. Amsterdam: S. Emmering, 1972. Re-print of the London 1899 edition.
Lester, Valerie Browne. Phiz: The Man Who Drew Dickens. London: Chatto and Windus, 2004.
Schlicke, Paul, ed. The Oxford Reader's Companion to Dickens. Oxford and New York: Oxford U. P., 1999.
Steig, Michael. Dickens and Phiz. Bloomington: Indiana University Press, 1978.
Vann, J. Don. Victorian Novels in Serial. New York: The Modern Language Association, 1985.
---

Victorian
Web

Little
Dorrit

Illus-
tration

Phiz

Next
Last modified 121 May 2016