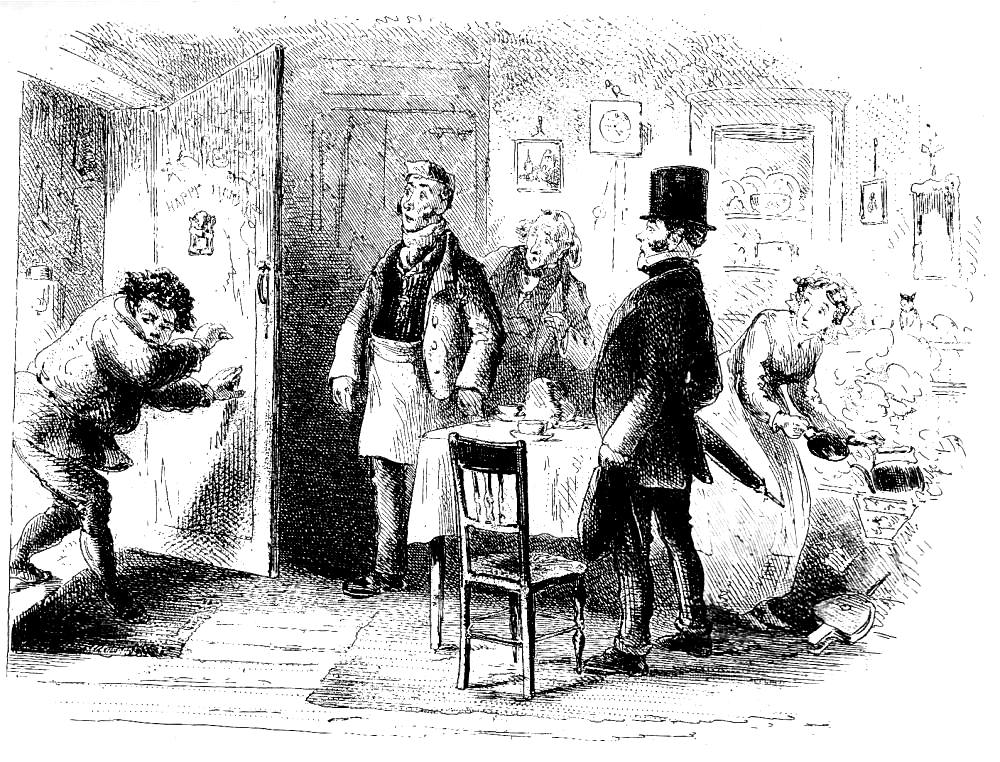 Mr. Baptist is Supposed to have seen Something by Phiz, twenty-eighth serial Illustration for "Little Dorrit" (Part 14: January 1857) by Phiz (Hablot K. Browne) from Dickens's Little Dorrit, Book the Second, "Riches"; Chapter 13, "The Progress of an Epidemic," facing p. 404. 9.6 cm high x 13 cm wide, vignetted. [Click on the image to enlarge it.]
Scanned image and text by Philip V. Allingham. [You may use this image without prior permission for any scholarly or educational purpose as long as you (1) credit the person who scanned the image and (2) link your document to this URL.]
Passage Illustrated
Nandy, re-entering the cottage with an air of mystery, entreated them to come and look at the strange behaviour of Mr. Baptist, who seemed to have met with something that had scared him. All three going into the shop, and watching through the window, then saw Mr. Baptist, pale and agitated, go through the following extraordinary performances. First, he was observed hiding at the top of the steps leading down into the Yard, and peeping up and down the street with his head cautiously thrust out close to the side of the shop-door. After very anxious scrutiny, he came out of his retreat, and went briskly down the street as if he were going away altogether; then, suddenly turned about, and went, at the same pace, and with the same feint, up the street. He had gone no further up the street than he had gone down, when he crossed the road and disappeared. The object of this last manoeuvre was only apparent, when his entering the shop with a sudden twist, from the steps again, explained that he had made a wide and obscure circuit round to the other, or Doyce and Clennam, end of the Yard, and had come through the Yard and bolted in. He was out of breath by that time, as he might well be, and his heart seemed to jerk faster than the little shop-bell, as it quivered and jingled behind him with his hasty shutting of the door.
"Hallo, old chap!" said Mr. Pancks. "Altro, old boy! What's the matter?"
Mr. Baptist, or Signor Cavalletto, understood English now almost as well as Mr. Pancks himself, and could speak it very well too. Nevertheless, Mrs. Plornish, with a pardonable vanity in that accomplishment of hers which made her all but Italian, stepped in as interpreter.
"E ask know," said Mrs. Plornish, "What go wrong?" — Book the Second, "Riches," Chapter 13, "The Progress of an Epidemic," p. 494.
Commentary
The chief illustrators of the book in the nineteenth century, Phiz and James Mahoney, have focussed on very different aspects of the plot revealed in this chapter: whereas Phiz in the original serial illustration (and Harry Furniss in his derivative Mr. Baptist takes refuge in Happy Cottage) underscores Cavaletto's terror of Rigaud, who has suddenly appeared in London, Mahoney pursues the investment mania created by Merdle's promise of high rates of return on significant investment, a mania that has even swept up so cautious an investor as Panks, identified by his hat and bag here, as opposed to his spiky hair in Sol Eytinge, Junior's portrait of him and slum landlord Casby, and Harry Furniss's version of this group scene.
Having deployed a serious illustration as the first in the January 1857 number (Part Fourteen), Dickens and Phiz have elected to use a character-comedy steel-engraving as the second for that number, even though this instalment explores a more important matter, the pernicious influence of Merdle's millions. In The Patriotic Conference (Book II, Chapter 12) artist and author had employed the rather lacklustre Merdle social gathering to draw the reader's attention to Merdle's using his influence with the Barnacle clan to effect his step-son's promotion to a post in the governmental Circumlocution Office. Speculation fever based on the lure of high rates of return runs rampant throughout England. However, this second illustration for the fourteenth monthly number focusses instead upon the relatively jolly, lower-middle-class characters of Bleeding Heart Yard's "Happy Cottage," the tobacconist's shop run by Mrs. Plornish: Cavaletto nervously enters (left), startling the occupants; Mr. Plornish (identified by his plasterer's hat), Old Nandy (Mrs. Plornish's aged parent), Pancks with collection bag and umbrella in the foreground, and, in the process of making tea, Mrs. Plornish herself (right). The homey, lower-middle-class parlour is a sharp contrast to the sterile opulence of Mr. Merdle's salon in the previous plate, and each of these five figures is highly individualised, as opposed to the relatively undistinguished high society set of eight political and economic movers-and-shakers in the previous illustration. Once again, then, Phiz and Dickens utilise the "streaky bacon" principle of alternating the serious and comic scenes in the number's twin illustrations.
Pertinent illustrations in other early editions, 1867 to 1910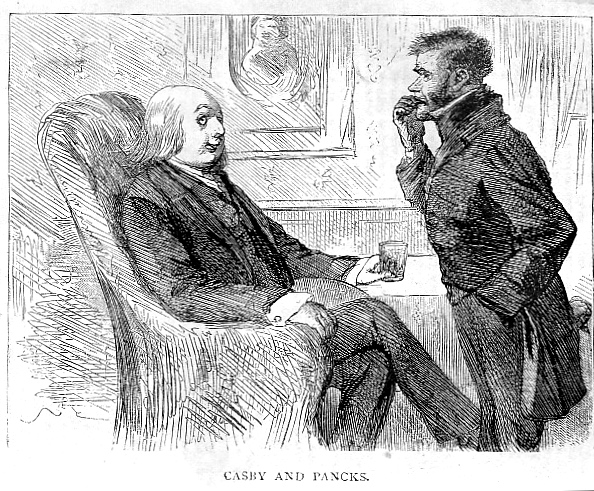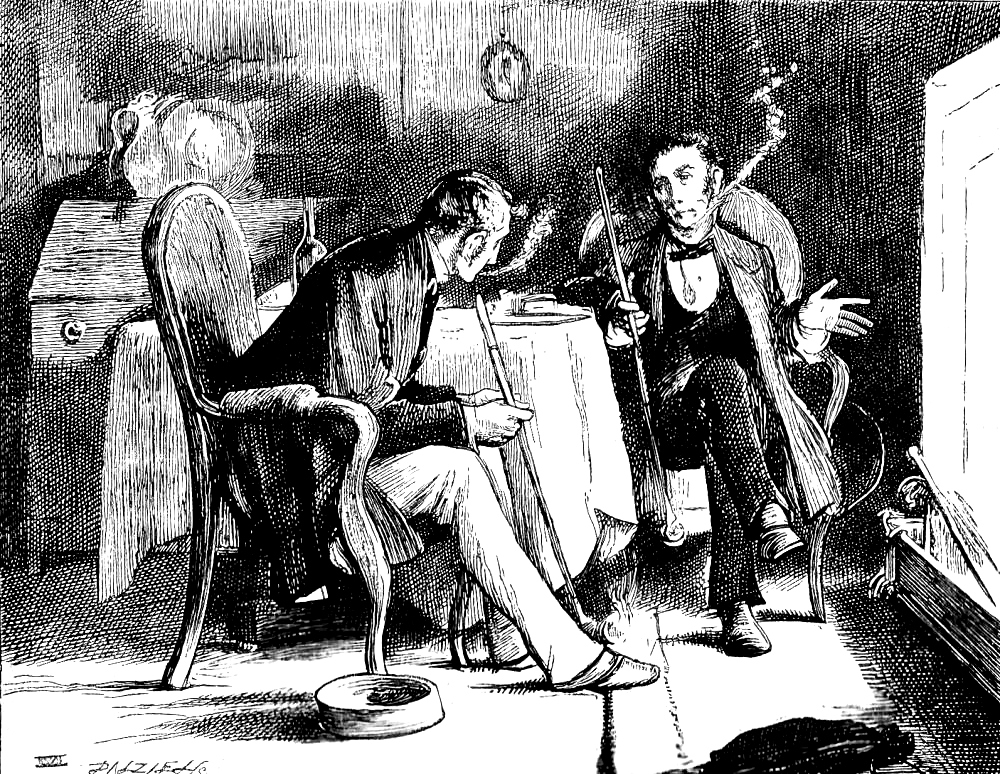 Left: Eytinge, Junior's dual study of the hard-headed Victorian businessmen Casby and Pancks (1867). Right: James Mahoney's Household Edition illustration of Pancks's confiding that he has caught the Merdle investment contagion, "And you have really invested your thousand pounds, Pancks?" (1873). [Click on images to enlarge them.]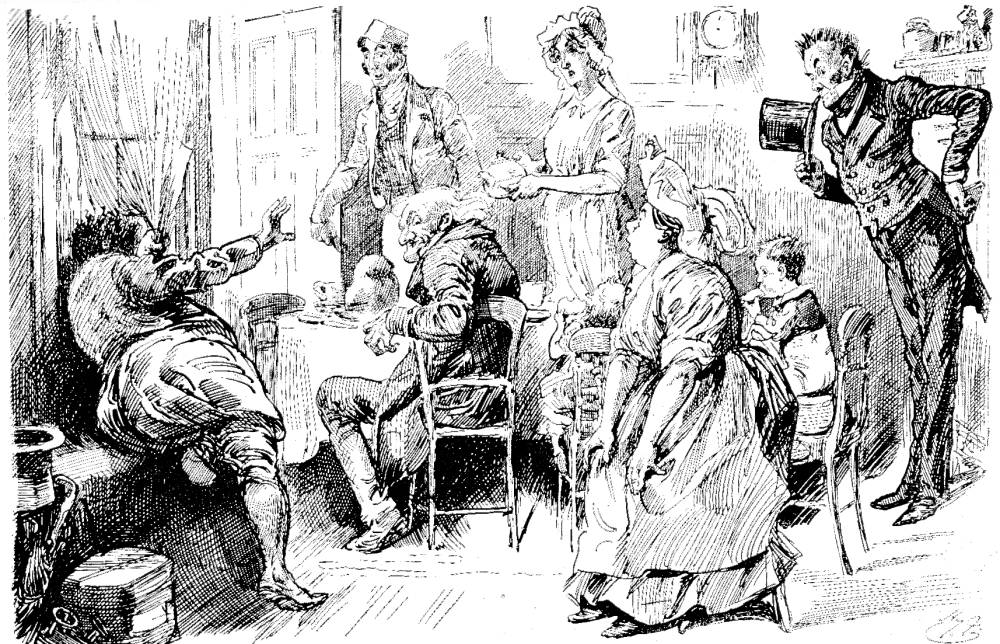 Above: Harry Furniss's much more dynamic realisation of the same scene, with the entire Bleeding Heart cast except Doyce, Mr. Baptist takes Refuge in Happy Cottage (1910). [Click on the image to enlarge it.]
References
Bentley, Nicolas, Michael Slater, and Nina Burgis. The Dickens Index. New York and Oxford: Oxford U. P., 1990.
Cohen, Jane Rabb. Charles Dickens and His Original Illustrators. Columbus: Ohio State U. P., 1980.
Davis, Paul. Charles Dickens A to Z: The Essential Reference to His Life and Work. New York: Checkmark and Facts On File, 1999.
Dickens, Charles. Little Dorrit. Illustrated by Phiz. The Authentic Edition. London:Chapman and Hall, 1901. (rpt. of the 1868 edition).
Dickens, Charles. Little Dorrit. Illustrated by Sol Eytinge, Jr. The Diamond Edition. Boston: Ticknor & Fields, 1867. 14 vols.
Dickens, Charles. Little Dorrit. Illustrated by James Mahoney. The Household Edition. 22 vols. London: Chapman and Hall, 1873. Vol. 5.
Dickens, Charles. Little Dorrit. Illustrated by Harry Furniss. The Charles Dickens Library Edition. 18 vols. London: Educational Book, 1910. Vol. 12.
Hammerton, J. A. "Chapter 19: Little Dorrit." The Dickens Picture-Book. The Charles Dickens Library Edition. Illustrated by Harry Furniss. 18 vols. London: Educational Book Co., 1910. Vol. 17. Pp. 398-427.
Kitton, Frederic George. Dickens and His Illustrators: Cruikshank, Seymour, Buss, "Phiz," Cattermole, Leech, Doyle, Stanfield, Maclise, Tenniel, Frank Stone, Landseer, Palmer, Topham, Marcus Stone, and Luke Fildes. Amsterdam: S. Emmering, 1972. Re-print of the London 1899 edition.
Lester, Valerie Browne. Phiz: The Man Who Drew Dickens. London: Chatto and Windus, 2004.
Schlicke, Paul, ed. The Oxford Reader's Companion to Dickens. Oxford and New York: Oxford U. P., 1999.
Steig, Michael. Dickens and Phiz. Bloomington: Indiana University Press, 1978.
Vann, J. Don. Victorian Novels in Serial. New York: The Modern Language Association, 1985.
---
Last modified 15 May 2016