The End (signed "CMC"). The tailpiece may be of Paget's invention, but it was almost certainly executed by a house artist whose business it was to complete decorative elements such as headpieces and tailpieces. The cherubs seem an ironic touch worthy of an artist who has read the situation sensitively, but could could also be interpreted as stereotypical elements of a magazine romance in the final lithographic illustration for Thomas Hardy's "On the Western Circuit," in the English Illustrated Magazine, December 1891, page 288. The ironic love-affair between London barrister Charles Raye and the illiterate Melchester maid, Anna, was later collected in Osgood, McIlvaine's Life's Little Ironies (1894).
Scanned image and text by Philip V. Allingham. [You may use this image without prior permission for any scholarly or educational purpose as long as you (1) credit the person who scanned the image and (2) link your document to this URL in a web document or cite the Victorian Web in a print one.]
Passage Complemented
In the course of half an hour a figure opened the door of the apartment.
"Ah — who's that?" she said, starting up, for it was dark.
"Your husband — who should it be?" said the worthy merchant.
"Ah — my husband! — I forgot I had a husband!" she whispered to herself.
"I missed you at the station," he continued. "Did you see Anna safely tied up? I hope so, for 'twas time."
"Yes — Anna is married."
Simultaneously with Edith's journey home Anna and her husband were sitting at the opposite windows of a second-class carriage which sped along to Knollsea. In his hand was a pocket-book full of creased sheets closely written over. Unfolding them one after another he read them in silence, and sighed.
"What are you doing, dear Charles?" she said timidly from the other window, and drew nearer to him as if he were a god.
"Reading over all those sweet letters to me signed 'Anna,'" he replied with dreary resignation.
Autumn 1891. — Chapter 6, p. 288.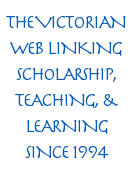 Commentary
The social dimension of a romantic liaison intrudes at the close of the letterpress. The wife who will tend Raye's home and hearth (depicted in Paget's second illustration, p. 281) will not be the woman with whom over a number of months he has contracted an intellectual and emotional "bond" (288) through increasingly intimate correspondence that he would never have engaged in, had Anna not sought her mistress's assistance. At the close of the story, the smug Raye in his study depicted here becomes man enough to own up to his responsibility in seducing the simple maid. He recognizes ironically that his own unworthy actions stemming from his seduction of a naive village girl and not the correspondence composed by her employer have "ruined" him professionally and socially. As in the letterpress, in the final illustration Raye fulfills Edith Harnham's romantic yearnings, the picture if taken out of context suggesting a mutual emotional fulfilment, foiling the Hardyesque imagery in which Raye, "the fastidious urban" (288) regards himself as chained metaphorically, like a galley slave, to labour at the oar for the remainder of his life alongside "the unlettered peasant." He pays a steep price for the momentary gratification of lust under an assumed identity, although The girl's pregnancy which compels him to marry Anna and which prevents Edith Harnham's conscience from even considering marrying Charles herself is not present in the periodical version of the story.
The passage suggested rather than "realised" occurs just a few inches above the romantic tailpiece of a male and female cupidons holding up an open book reading "The End [CMC]." These classical figures, symbolic of pure passion as opposed to mature attraction, only serve to underscore the discrepancy between the story's two texts, the visual and the print, as if the reader is being permitted to choose between a realistic and a romantic conclusion. Since "On the Western Circuit" (dated "August 1891," although not published until December of that year more or less simultaneously in The English Illustrated Magazine and Harper's Weekly, but with different illustrations and thirty-one minor differences in the text) deals with "the untrustworthiness of language" (Gilmartin and Mengham 103), the magazine reader must soon have suspected that the narrator's judgments, like those of all three principal characters, are not wholly reliable, and that even the images cannot be taken out of context. The concluding illustration and tailpiece are as misleading as Edith Harnham's correspondence to Charles Raye, and without the letterpress represent at best an incomplete closure. It may, then, be read ironically, like the headpiece, "Let not the flowers of spring pass us by let us crown ourselves with roses before they be withered", or conventionally, as yet a second image of romantic love, and nothing more. However, The usual purchaser of The English Illustrated Magazine, a sophisticated and reasonably educated reader, may well have inclined to the ironic reading.
Additional Resources on Hardy's Short Stories
References
Brady, Kristin. The Short Stories of Thomas Hardy. London and Basingstoke: Macmillan, 1982.
Cassis, A. F. "A Note on the Structure of Thomas Hardy's Short Stories." Colby Library Quarterly 10 (1974): 287-296.
Gilmartin, Sophie, and Rod Mengham. Thomas Hardy's Shorter Fiction: A Critical Study. Edinburgh: Edinburgh U. P., 2007.
Hardy, Thomas. Life's Little Ironies, A Set of Tales, with Some Colloquial Sketches Entitled "A Few Crusted Characters". Illustrated by Henry Macbeth-Raeburn. Volume Fourteen in the Complete Uniform Edition of the Wessex Novels. London: Osgood, McIlvaine, 1894, rpt. 1896.
Hardy, Thomas. "On the Western Circuit." The English Illustrated Magazine. December 1891, pages 275-288.
Jackson, Arlene M. Illustration and the Novels of Thomas Hardy. Totowa, New Jersey: Rowman and Littlefield, 1981.
Johnson, Trevor. "Illustrated Versions of Hardy's Works: A Checklist, 1872-1992." Thomas Hardy Journal 9, 3 (October, 1993): 32-46.
Millgate, Michael. Thomas Hardy: A Biography Revisited. Oxford: Oxford U. P., 2004.
Page, Norman. "Hardy Short Stories: A Reconsideration." Studies in Short Fiction 11, 1 (Winter, 1974): 75-84.
Pinion, F. B. A Hardy Companion. Trowbridge, Wiltshire: Macmillan, 1968.
Purdy, Richard L. Thomas Hardy: A Bibliographical Study. Oxford: Clarendon, 1954, rpt. 1978.
Quinn, Marie A. "Thomas Hardy and the Short Story." Budmouth Essays on Thomas Hardy: Papers Presented at the 1975 Summer School (Dorchester: Thomas Hardy Society, 1976), pp. 74-85.
Ray, Martin. Chapter 22, "'On the Western Circuit'." Thomas Hardy: A Textual Study of the Short Stories. Aldershot: Ashgate, 1997. Pp. 201-217.
Wright, Sarah Bird. Thomas Hardy A to Z: The Essential Reference to His Life and Work. New York: Facts on File, 2002.
---
Last modified 17 March 2018