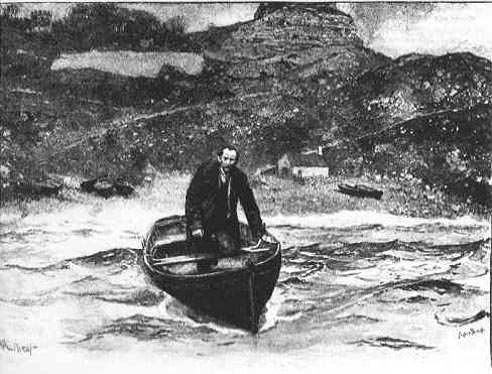 He pushed the skiff down the slope, floated it, and jumped into it without an oar. by Walter Paget (1863-1935). Illustrated London News, 17 December 1892, page 775. 23.5 cm wide by 17.5 cm high. Scene from Chapter XXXII, "The Pursuit Abandoned" (page 774) in Thomas Hardy's The Pursuit of The Well-Beloved: A Sketch of a Temperament.
Aging, despondent artist Jocelyn Pearston has decided to commit suicide by taking a fishing boat from The Beal of Portland Island and permitting the outbound tide to run it into The Race, "the confluence of three currents making the surface of the sea at this point to boil like a pot. . . ." The rocky outcropping in the background is the same as that depicted in plate 2 (p. 427), once again (as in plate 23) giving us a visual sense of closure to this Hardy "fantasy." He is sure that his frail craft and its occupant will be crushed on Portland's grey stones, ironically the source of his father's wealth. His suicide, however, is thwarted by some island boatmen, who rescue him just in time, preserving him for his re-union with Marcia.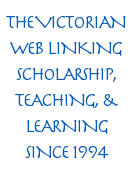 References
Hardy, Thomas. The Pursuit of the Well-Beloved: A Sketch of a Temperament. The Illustrated London News, 8 October—17 December, 1892. Pp. 426-775.
Hardy, Thomas. The Well-Beloved. Illustrated by Henry Macbeth-Raeburn. Volume Seventeen in the Complete Uniform Edition of the Wessex Novels. London: Osgood, McIlvaine, 1897.
Hardy, Thomas. The Well-Beloved: A Sketch of a Temperament. Works [Wessex Edition]. London: Macmillan, 1912. Volume 13 of 24. With photogravure frontispieces by Hermann Lea.
Jackson, Arlene M. Illustration and the Novels of Thomas Hardy. Totowa, NJ: Rowman and Littlefield, 1981.
Wright, Sarah Bird. Thomas Hardy A to Z: The Essential Reference to His Life and Work. New York: Facts on File, 2002.
---
Last modified 10 February 2017