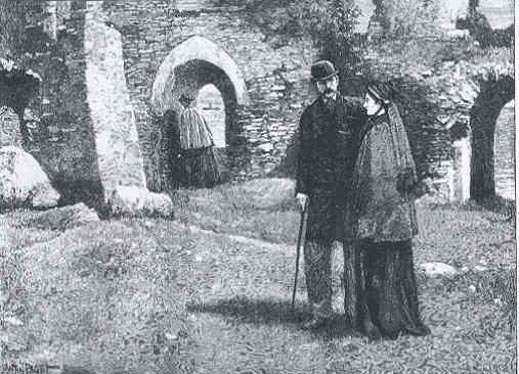 "Have You Ever Given Her a Hint of What My Meaning Is? by Walter Paget (1863-1935). Illustrated London News, 26 November 1892, page 675. 17.3 cm high by 23.6 cm wide. Scene from Chapter XXV, "The Renewed Image Burns Itself In" (p. 674, bottom of the third column) in Thomas Hardy's The Pursuit of The Well-Beloved: A Sketch of a Temperament.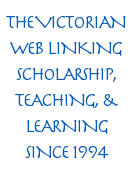 Commentary
Philip V. Allingham, Contributing Editor, Victorian Web; Faculty of Education, Lakehead University (Canada)
Up to this point, young Avice has been under the impression that these moonlight walks on summer evenings have been part of Jocelyn's scheme for courting her mother. Little does she realise in this plate, then, that the fifty-nine-year-old sculptor is about to pay his addresses to her. The trio have met on the pebble bank, at the mid-point between the island and the watering-place ("Budmouth," or Weymouth) where Jocelyn is staying, and crossed the wooden bridge to the ruins of "Henry the Eighth's Castle" on the shore of the mainland. In Plate 18, while the young Avice views the sea "through an opening in the walls"(which Paget depicts as a formal archway rather than a breach in the wall) the girl's mother indicates that she will "sound Avice there and then"--clearly, then, Paget has chosen this scene for elaboration in a relatively large plate because it represents a moment of great crisis for the protagonist.
Although the scene in the text is illuminated only by moonlight, the plate suggests the time is broad day (all three seem warmly dressed for a walk on a summer's day, the cloaks of the women perhaps suggesting the time setting stated in the text). In the plate, Miss Pearston is not looking merely at the sea, but at a steamer passing the castle. The girl's mother does not appear to be more advanced in years than her textual age of forty, and there is no suggestion of the ill-health (angina pectoris) that will shortly carry her off. Although "trimly shaven," as in the previous illustration Jocelyn has a considerable moustache, and might well be in his late fifties. The runied castle itself, about which Hardy says little, is well realised in its dilapidated brick walls of considerable height and its grassy bank, where, four decades earlier, Jocelyn was to have met this girl's grandmother and seal their betrothal according to the "island custom." Hardy may have changed the actual name of the castle, "Sandsfoot" (but not the period of construction, the Tudor era -- specifically, when the Henry VIII broke with Rome over his divorce from Catherine of Aragon andf his marriage to Anne Boleyn) to reinforce Jocelyn's becoming a bit of a Bluebeard, for he is behaving like Henry VIII, who in his fifties (and increasimgly decrepid) wooed much younger women. The illustration is so accurate in its depiction of the 1539 castle's inner walls and arches that one must wonder whether Paget visited the spot by rail to research the composition. (See http://www.weymouth-pictures.co.uk/pictures/sandsfootcastle/SandsfootCastle3 1_280501.JPG.)
---
Last modified 22 September 2002