"Give me the money again," said the other, eagerly, "and I'll keep it, and never spend it." (See page 35), — Book I, chap. 6, is the full title as given in the Chapman and Hall printing. Sixties' illustrator James Mahoney's sixth illustration for Charles Dickens's Little Dorrit, Household Edition, 1873. Wood-engraving by the Dalziels, 10.6 cm high by 13.5 cm wide, p. 33, framed, under the running head "The Father of the Marshalsea." [Click on the image to enlarge it.]
Scanned image and text by Philip V. Allingham. [You may use this image without prior permission for any scholarly or educational purpose as long as you (1) credit the person who scanned the image and (2) link your document to this URL.]
Passage Illustrated
"It ain't much," said the Plasterer, putting a little pile of halfpence in his hand, "but it's well meant."
The Father of the Marshalsea had never been offered tribute in copper yet. His children often had, and with his perfect acquiescence it had gone into the common purse to buy meat that he had eaten, and drink that he had drunk; but fustian splashed with white lime, bestowing halfpence on him, front to front, was new.
"How dare you!" he said to the man, and feebly burst into tears.
The Plasterer turned him towards the wall, that his face might not be seen; and the action was so delicate, and the man was so penetrated with repentance, and asked pardon so honestly, that he could make him no less acknowledgment than, "I know you meant it kindly. Say no more."
"Bless your soul, sir," urged the Plasterer, "I did indeed. I'd do more by you than the rest of 'em do, I fancy."
"What would you do?" he asked.
"I'd come back to see you, after I was let out."
"Give me the money again," said the other, eagerly, "and I'll keep it, and never spend it. Thank you for it, thank you! I shall see you again?"
"If I live a week you shall."
They shook hands and parted. The collegians, assembled in Symposium in the Snuggery that night, marvelled what had happened to their Father; he walked so late in the shadows of the yard, and seemed so downcast. — Book the First, "Poverty," Chapter 6, "The Father of the Marshalsea," p. 34-35.
Commentary
The chapter introduces the reader to a pair of minor characters, Thomas Plornish, a pasterer infrequently employed (distinguished by his paper hat) and his wife Sally (left), and a major character, Amy's father, William Dorrit, now called "The Father of the Marshalsea," a title he inherited from the prison's oldest turnkey. Now the oldest inhabitant of the notorious debtors' prison, William Dorrit receives monetary gifts from all newcomers presented to him, the coins usually being silver and occasionally gold. Inagine his chagrin when the honest plasterer, Mr. Thomas Plornish of Bleeding Heart Yard, pays his tribute in copper coins.
The picture of Mr. Dorrit's forgiving Plornish, and promising never to spend the small coins ("ha'pennies") that the honest workman has given him, appears on page 33 under the running head "The Father of the Marshalsea," although the passage realised occurs several pages later, once the story of the succession of the title is complete, under the running head "Her Childhood." After his haughty and overwrought reaction to the workman's tribute of coppers, William Doorit shows a better side of his character after he realizes that the genial plasterer intended no insult to the Father of the Marshalsea, whose residence is announced by the plaque, upper right, and the heavy, iron-bolt-reinforced door, left. As is customary for older, middle-class males of the late 1820s, William Dorrit wears a respectable skull-cap (as in the Phiz illustrations of Old Martin in Martin Chuzzlewit, such as Martin Chuzzlewit Suspects The Landlady Without Any Reason [January 1843]), but his threadbare clothing reveals his poverty, despite his proud intention to be regarded as a gentleman and a "patriarch."
Pictures of Thomas and Sally Plornish from other 19th c. editions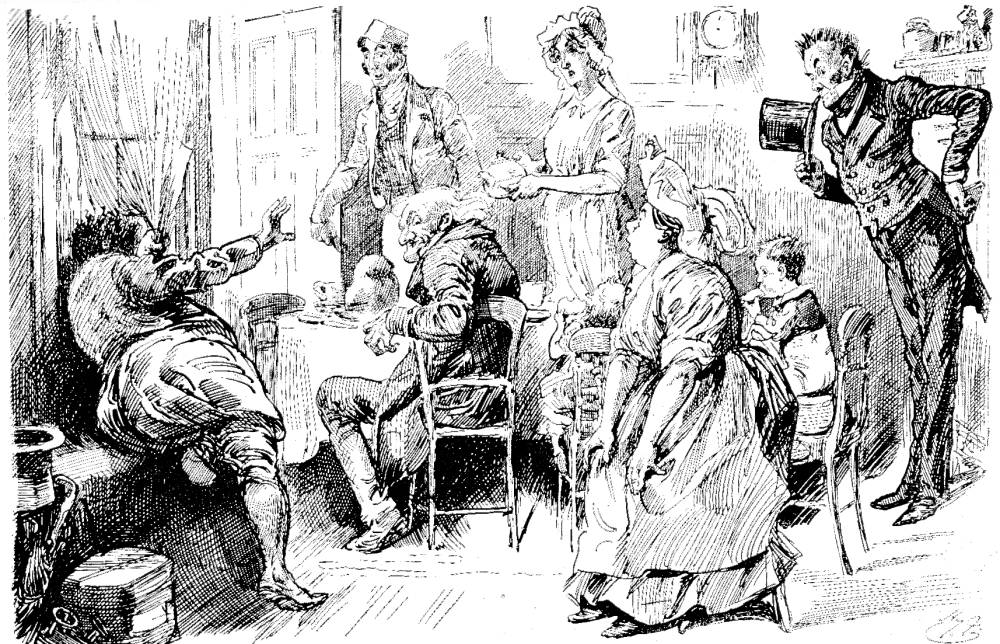 Left: Sol Eytinge, Junior's study of the extended Plornish family, Mr. and Mrs. Plornish and John Edward Nandy (1867). Right: Harry Furniss's vision of the Plornishes' Happy Cottage in Bleeding Heart Yard as a refuge for the newcomer, "Mr. Baptist" (Cavaletto), Mr. Baptist takes refuge in Happy Cottage — 1910 lithograph. [Click on images to enlarge them.]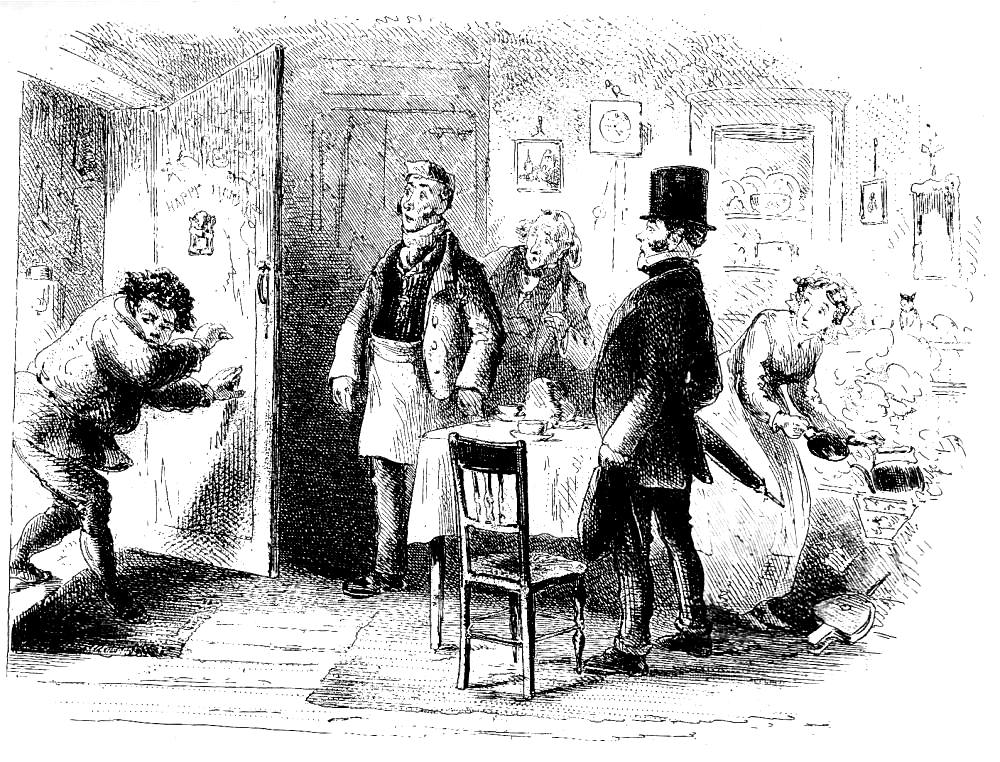 Above: Phiz's study in the original serial of the Plornishes' social group, Mr. Baptist is Supposed to have seen Something (Part 14, January 1857). [Click on the image to enlarge it.]
References
Dickens, Charles. Little Dorrit. Illustrated by Hablot Knight Browne ("Phiz"). The Authentic Edition. London: Chapman and Hall, 1901 [rpt. of the 1868 volume, based on the 30 May 1857 volume].
Dickens, Charles. Little Dorrit. Frontispieces by Felix Octavius Carr Darley and Sir John Gilbert. The Household Edition. 55 vols. New York: Sheldon & Co., 1863. 4 vols.
Dickens, Charles. Little Dorrit. Illustrated by Sol Eytinge, Jr. The Diamond Edition. Boston: Ticknor & Fields, 1867. 14 vols.
Dickens, Charles. Little Dorrit. Illustrated by James Mahoney. The Household Edition. 22 vols. London: Chapman and Hall, 1873. Vol. 5.
Dickens, Charles. Little Dorrit. Illustrated by Harry Furniss. The Charles Dickens Library Edition. 18 vols. London: Educational Book, 1910. Vol. 12.
Hammerton, J. A. "Chapter 19: Little Dorrit." The Dickens Picture-Book. The Charles Dickens Library Edition. Illustrated by Harry Furniss. 18 vols. London: Educational Book Co., 1910. Vol. 17. Pp. 398-427.
Kitton, Frederic George. Dickens and His Illustrators: Cruikshank, Seymour, Buss, "Phiz," Cattermole, Leech, Doyle, Stanfield, Maclise, Tenniel, Frank Stone, Landseer, Palmer, Topham, Marcus Stone, and Luke Fildes. Amsterdam: S. Emmering, 1972. Re-print of the London 1899 edition.
Lester, Valerie Browne. Phiz: The Man Who Drew Dickens. London: Chatto and Windus, 2004.
"Little Dorrit — Fifty-eight Illustrations by James Mahoney." Scenes and Characters from the Works of Charles Dickens, Being Eight Hundred and Sixty-six Drawings by Fred Barnard, Gordon Thomson, Hablot Knight Browne (Phiz), J. McL. Ralston, J. Mahoney, H. French, Charles Green, E. G. Dalziel, A. B. Frost, F. A. Fraser, and Sir Luke Fildes. London: Chapman and Hall, 1907.
Schlicke, Paul, ed. The Oxford Reader's Companion to Dickens. Oxford and New York: Oxford U. P., 1999.
Steig, Michael. Dickens and Phiz. Bloomington: Indiana University Press, 1978.
Vann, J. Don. Victorian Novels in Serial. New York: The Modern Language Association, 1985.
---
Last modified 2 June 2016