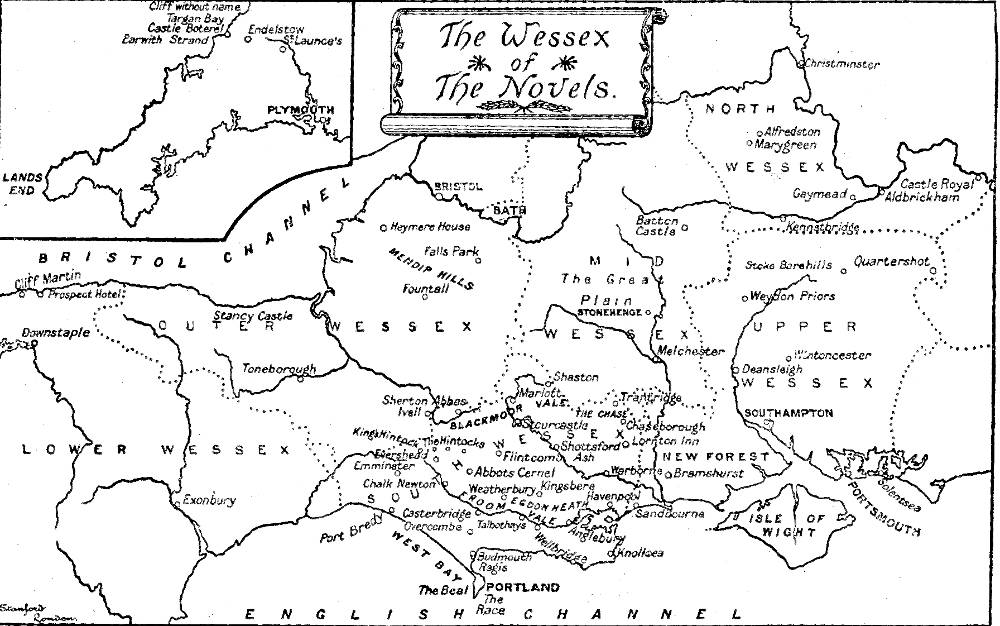 The Wessex of the Novels. 1895. 8.6 x 15.8 cm, framed, in Hardy's 1891 novel Tess of the D'Urbervilles: A Pure Woman, volume one of the Osgood, McIlvaine Complete Uniform Edition of the Wessex Novels, in seventeen volumes (1895-1897). Subsequently, the elegant line drawings of the young Scottish illustrator Henry Macbeth-Raeburn (1840-1947) were replaced in the Macmillan edition of the Wessex Novels (1913 onward) with photographs, but the map of the literary construct of Wessex — bounded on the south by the English Channel, running as far west as Cornwall ("Off Wessex"), as far north as Oxford ("Christminster"), and as far east as Windsor ("Castle Royal") — has remained a fixture of the Hardy volumes produced thereafter, although expanded and reproduced on the end-papers of subsequent Macmillan volumes. [Map of Thomas Hardy's Wessex by the novelist himself.]
Scanned image and text by Philip V. Allingham. [You may use this image without prior permission for any scholarly or educational purpose as long as you (1) credit the person who scanned the image and (2) link your document to this URL in a web document or cite the Victorian Web in a print one.]
Commentary
Although the railroad crossed through Dorset on its way to Cornwall, the first actual railroad stop in Dorset came relatively late, in 1847, when Hardy was a young boy. For this reason, not only did the outside world not know much of Dorset; Dorset knew very little of the outside world. That sense of insularity is seen most clearly in Far from the Madding Crowd and also in Hardy's second novel, Under the Greenwood Tree. — Susanne Johnson Flynn.
These are the first of Hardy's many references to places in Dorset, Devonshire, Gloucestershire, Somerset, Wiltshire, and Cornwall ("Wessex," after the chief of the seven Anglo-Saxon kingdoms) which he has re-named and sometimes even relocated as part of his creating an entirely fictional world out of places and scenes remembered from youth as he was growing up in Higher Bockhampton, a picturesque village near Dorchester in south-western England. His intention as reflected in his 1895 preface to Far from the Madding Crowd (the novel in which he used the term for the first time), seems to have been to create a unified setting akin to the Barsetshire of Anthony Trollope and the Scotland of the Waverley Novels of Sir Walter Scott.
Hardy seems from the first to have conceived of Wessex as possessing a more than purely regional integrity, as becoming in course of time and composition a district, internally coherent fictional entity, an imaginative construct grounded in geographical actuality. As he recalled in February 1895, when writing the preface to the Osgood, McIlvaine edition of Far from the Madding Crowd: 'The series of novels I projected being mainly of the kind called local, they seemed to require a territorial definition of some sort to lend unity to their scene. Finding that the area of a single county did not afford a canvas large enough for this purpose, and that there were objections to an invented name, I disinterred the old one." Strictly speaking, Hardy was anticipated by [Dorset poet] William Barnes in his use of Wessex in a contemporary sense, but he must certainly be credited with the name's acceptance 'as a practical provincial definition' and with the transformation of a 'dream-country' into an actual, visitable place — 'a utilitarian region which people can go to, take a house in, and write to the papers from'. By the mid-1890s maps of Hardy's Wessex were already beginning to appear, and one of the distinctions of the Osgood, McIlvaine volumes was their inclusion of the first such map specifically endorsed by the author — the earliest volumes displaying in their maps such Jude-related locations as Marygreen and Alfredston well ahead of the novel's publication, as the edition's eighth volume, in November 1895. — Millgate, "The Making of Jude," pp. 332-33.
Ironically, in his July 1892 preface Hardy does not address the issue of the fictional Wessex, but only alludes to the place name as one of the seven pre-conquest kingdoms in defending himself against charges of "unChristian" thought in Tess:
I can assure this great critic that to exclaim illogically against the gods, singular or plural, is not such an original sin of mine as he seems to imagine. True, it may have some local originality; though if Shakespeare were an authority on history, which perhaps he is not, I could show that the sin was introduced into Wessex as early as the Heptarchy itself. Says Glo'ster in Lear, otherwise Ina, king of that country:
As flies to wanton boys are we to the gods; They kill us for their sport. — ix.
In Hardy's January 1895 Preface, however, the novelist acknowledges that his 'Wessex" is now a region well established in the minds of contemporary readers and explains the relationship between actual and fictitious place names, and among these pairs of names he includes "Woolbridge" versus "Wellbridge":
In the present edition it may be well to state, in response to inquiries from readers interested in landscape, pre-historic antiquities, and especially old English architecture, that the description of these backgrounds in this and its companion novels has been done from the real. Many features of the first wo kinds have been given under their existing names' for instance, the Vale of Blackmoor or Blakemore, Hambledon Hill, Bulbarrow, Nettlecombe Tout, Dogbury Hill, High-Stoy, Bubb-Down Hill, The Devil's Kitchen, Cross-in-Hand, Long-Ash Lane, Benvill Lane, Giant's Hill, Crimmercrock Lane, and Stonehenge. . . . . The scheme was not greatly elaborated, but, whatever its value, the names remain still.
In respect of places described under fictitious or ancient names — for reasons that seemed good at the time of writing — discerning persons have affirmed in print that they clearly recognize the originals" such as Shaftesbury in 'Shaston', . . . Wool Bridge in 'Wellbridge' . . . . I shall not be the one to contradict them; I accept their statements as at least an indication of their real and kindly interest in the scenes. T. H. January 1895 [three months ahead of the date of publication], p. xi-xii.
The centre of Thomas Hardy's Wessex was from the first "Casterbridge," the city of Dorchester that as a boy he knew growing up in the 1840s, but the rural components of the Hardy country and of Dorset in particular remained even at the end of the century traditional, conservative, and agrarian — still, indeed, barely touched by the Industrial Revolution and the other forces of modernity. Over some twenty-five years, beginning with Under the Greenwood Tree, Hardy had refined the conception until it was fairly fixed by the time he came to write Tess and Jude. However idyllic Hardy's descriptions of the natural setting of the Wessex Novels may make this region seem, it is not entirely an unspoiled, Rousseauian world, without malice and heartache; as Susanne John Flynn remarks, "The paradise of Wessex has more than a few snakes lurking about." Thus, the frontispieces of Henry Macbeth-Raeburn, executed at Hardy's instigation, are divided between constructions of the "built" or human world such as Casterbridge and the natural world such as Egdon Heath, a symbol of Nature's insentience.
Literary Relations
A Thomas Hardy Gallery
Bibliography
Flynn, Susanne Johnson. "Hardy and the Creation of Wessex." Accessed 14 January 2017. Gettysburg College. http://public.gettysburg.edu/academics/english/hardy/land/wessex.html
Gatrell, Simon. Hardy the Creator: A Textual Biography. Oxford: Clarendon, 1988.
Hardy, Thomas. Tess of the D'Urbervilles: A Pure Woman. Illustrated by Hubert Von Herkomer, Ernest Borough Johnson, Joseph Syddall, and Daniel A. Wehrschmidt. The Graphic. 4 July—26 December 1891.
Hardy, Thomas. Tess of the D'Urbervilles: A Pure Woman. Illustrated by Henry Macbeth-Raeburn. Volume One in the Complete Uniform Edition of the Wessex Novels. London: Osgood, McIlvaine; 1895 in the US, 1897 in GB.
Hardy, Thomas. "Map of the Wessex of the Novels and Poems." Tess of the D'Urbervilles, A Pure Woman. "Anniversary Edition of the Wessex Novels." New York & London: Harper & Brothers, 1920. This edition derives in part from previous editions and the photographs of the 1912 Macmillan Wessex Edition.
Millgate, Michael. Thomas Hardy: A Biography Revisited. Oxford: Oxford U. P., 2004.
Orr, Andrew A., and Vivian de Sola Pinto (eds). "Introduction." Thomas Hardy's The Mayor of Casterbridge: A story of a Man of Character. (1886). Toronto: Macmillan, 1962. Pp. v-viii.
Pinion, F. B. A Hardy Companion. Trowbridge, Wiltshire: Macmillan, 1968.
Purdy, Richard L. Thomas Hardy: A Bibliographical Study. Oxford: Clarendon, 1954, rpt. 1978.
Ray, Martin. Thomas Hardy: A Textual Study of the Short Stories. London: Ashgate, 1988.
Seymour-Smith, Martin. Hardy. London: Bloomsbury, 1994.
Turner, Paul. The Life of Thomas Hardy. A Critical Biography. Oxford: Blackwell, 1998.
Vann, J. Don. "Tess of the D'Urbervilles in the Graphic, 4 July—26 December 1891." Victorian Novels in Serial. New York: Modern Language Association, 1985. Pages 88-89.
Wright, Sarah Bird. Thomas Hardy A to Z: The Essential Reference to His Life and Work. New York: Facts on File, 2002.
---
Last modified 14 January 2017