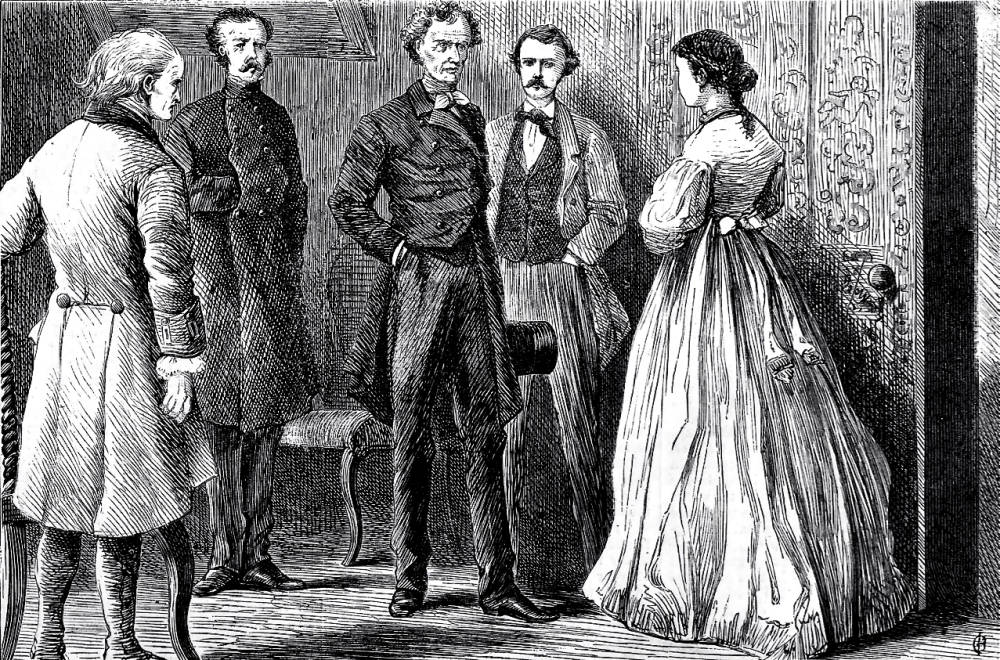 "Sergeant Cuff's immovable eyes never stirred from off her face." — twentieth illustration for Wilkie Collins's The Moonstone: A Romance. A wood-engraving by Harper & Bros. house illustrators; signed "CB." 14.5 cm high by 11.4 cm wide. Second illustration for the seventh instalment in Harper's Weekly: A Journal of Civilization (15 February 1868). Chapter 12 in "First Period. The Loss of the Diamond (1848), The Events related by Gabriel Betteredge," p. 101. [Here, for the first time, the celebrated London detective, a police official who studies even the smallest details of a crime scene with a forensic mind-set, interviews Rachel Verinder.] Scanned image and text by Philip V. Allingham. [You may use this image without prior permission for any scholarly or educational purpose as long as you (1) credit the person who scanned the image and (2) link your document to this URL in a web document or cite it in a print one.] Click on image to enlarge it.
Passage Illustrated
"Having answered your question, miss," says the Sergeant, "I beg leave to make an inquiry in my turn. There is a smear on the painting of your door, here. Do you happen to know when it was done? or who did it?"
Instead of making any reply, Miss Rachel went on with her questions, as if he had not spoken, or as if she had not heard him.
"Are you another police-officer?" she asked.
"I am Sergeant Cuff, miss, of the Detective Police."
"Do you think a young lady's advice worth having?"
"I shall be glad to hear it, miss."
"Do your duty by yourself — and don't allow Mr Franklin Blake to help you!"
She said those words so spitefully, so savagely, with such an extraordinary outbreak of ill-will towards Mr. Franklin, in her voice and in her look, that — though I had known her from a baby, though I loved and honoured her next to my lady herself — I was ashamed of Miss Rachel for the first time in my life.
Sergeant Cuff's immovable eyes never stirred from off her face. "Thank you, miss," he said. "Do you happen to know anything about the smear? Might you have done it by accident yourself?"
"I know nothing about the smear."
With that answer, she turned away, and shut herself up again in her bed-room. This time, I heard her — as Penelope had heard her before — burst out crying as soon as she was alone again. [This Ch. 12 scene is the also the basis for George Du Maurier's frontispiece in the 1890 Chatto & Windus edition.] — "First Period: The Loss of the Diamond (1848), The Events related by Gabriel Betteredge, house-steward in the service of Julia, Lady Verinder,"​Chapter 12, p. 102.
Commentary
Gabriel Betteredge, the aging house-steward to Lady Verinder, the man whose narratives follow the Prologue and precede the Epilogue, is once again the narrator for the bewildering scene in which Rachel Verinder, victim of crime, refuses to cooperate with the investigation. The figures from left to right are as follows: Betteredge (left foreground); in a military-like uniform Superintendent Seegrave of the Frizinghall constabulary; foregrounded, centre, Sergeant Cuff; and dominating the right register in a light dress of period fashion, Rachel Verinder. Thus, the first-personal narrative is translated into a dramatic point-of-view in which the chief antagonists are the highly observant, middle-aged detective and the wilful, young aristocratic heroine, standing in front of the paint-smeared door that has caught Cuff's attention. While his determined facial expression betrays the importance he places upon this clue, the illustrator has turned Rachel's face away from the reader, so that it is difficult to judge how well she is mastering her conflicting feelings. Somehow, the rugged visage of Sergeant Cuff here suggests the lean, weathered face of a western marshall rather than the mild-mannered veneer of Collins's eccentric detective, a figure more accurately conveyed in Du Maurier's less dynamic illustration. Also slightly jarring are Betteredge's continuing to appear wearing livery (in contradiction of Collins's 30 January 1868 instructions to his American publisher) and Franklin Blake's lacking a beard, a mistake that the careful Du Maurier avoided.
The moment that the American illustrator has seized upon — the same moment later selected by George Du Maurier for the frontispiece of The Moonstone: A Romance, illustrated by George Du Maurier and F. A. Fraser (London: Chatto and Windus), underscores eighteen-year-old Rachel Verinder's strength of character and her ability to stand up to a room full of men who are bent on hearing her account of the smeared paint, the cause of which of course she cannot truthfully reveal​ without implicating Franklin Blake as the thief.​ In other words, although Rachel's visage is unreadable, in fact she is in the throes of an emotional conflict, having to choose between a highly valuable diamond and the man whom she loves.
A Relevant Illustration from Another Edition, 1890: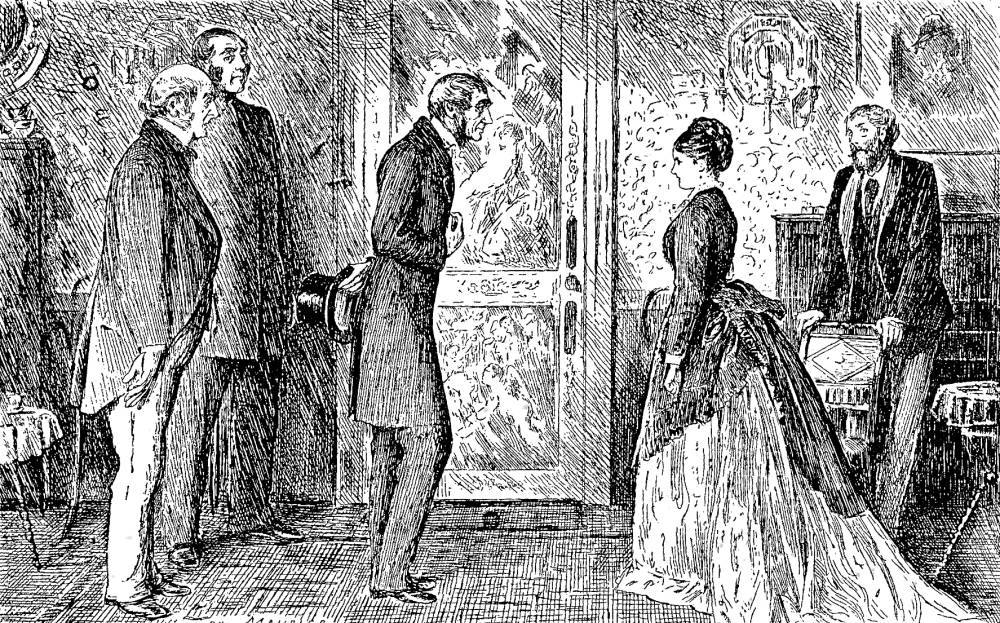 Above: George Du Maurier's "New Woman" realisation of the same scene, "Do you think a young lady's advice worth having?" (1890). [Click on the image to enlarge it.]
Related Materials
---
Last updated 20 August 2016