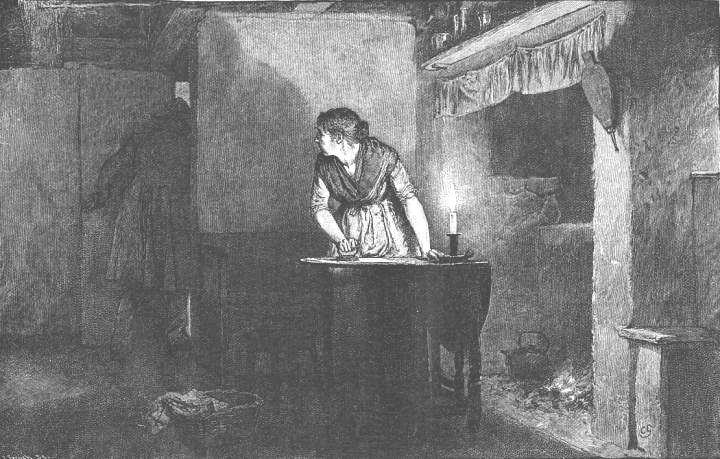 He Went Out and Closed the Door Behind Him by Charles Green — an illustration for Thomas Hardy's "The Superstitious Man's Story," which first appeared in the framed-tale series Wessex Folk (subsequently renamed A Few Crusted Characters) in Harper's New Monthly Magazine (April 1891): 701. Lithograph, 12.1 cm high by 18.8 cm wide.
Passage Illustrated
William, as you may know, was a curious, silent man; you could feel when he came near 'ee; and if he was in the house or anywhere behind your back without your seeing him, there seemed to be something clammy in the air, as if a cellar door was opened close by your elbow. Well, one Sunday, at a time that William was in very good health to all appearance, the bell that was ringing for church went very heavy all of a sudden; the sexton, who told me o't, said he'd not known the bell go so heavy in his hand for years — it was just as if the gudgeons wanted oiling. That was on the Sunday, as I say. During the week after, it chanced that William's wife was staying up late one night to finish her ironing, she doing the washing for Mr. and Mrs. Hardcome. Her husband had finished his supper and gone to bed as usual some hour or two before.  While she ironed she heard him coming down stairs; he stopped to put on his boots at the stair-foot, where he always left them, and then came on into the living-room where she was ironing, passing through it towards the door, this being the only way from the staircase to the outside of the house.  No word was said on either side, William not being a man given to much speaking, and his wife being occupied with her work. He went out and closed the door behind him. [Wessex Folk, "The Superstitious Man's Story" in the Osgood, McIlvaine edition of Life's little Ironies,  250-51]
Commentary
In this third plate for Thomas Hardy's nine framed tales Green has chosen to depict the chief event in "The Superstitious Man's Story." This tale connects to "The History of the Hardcomes," the third story in the sequence, but it does so very slightly through the wife, Betty Privett, who did the ironing for the Hardcomes. Green here captures well the uncanny atmosphere of an oral tale involving the spirit of cottager William Privett separating from his body. The artist has intensified the mysterious ambience by rendering the ironing wife's shadow ominously gigantic. After leaving the house, William's "shade" or double is seen going into the church at midnight, portending his death within the coming year — in fact, he dies just three days later.
Scanned image and text by Philip V. Allingham. [You may use this image without prior permission for any scholarly or educational purpose as long as you (1) credit the photographer and (2) link your document to this URL in a web document or cite the Victorian Web in a print one.]
Bibliography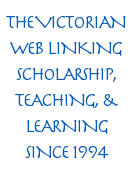 Brady, Kristin. The Short Stories of Thomas Hardy: Tales of Past and Present. London & Basingstoke: Macmillan, 1984.
Hardy, Thomas. "The Superstitious Man's Story." [April 1891] Life's Little Ironies: A Set of Tales with Some Colloquial Sketches Entitled "A Few Crusted Characters." London: Osgood, McIlvaine, 1894. 250-55.
Hardy Thomas. Wessex Folk (subsequently renamed A Few Crusted Characters) in Harper's New Monthly Magazine 81 (March-May 1891): 594, 701, 703, 891, 894; 82 (June 1891): 123.
Ray, Martin. Chapter 25, "A Few Crusted Characters." Thomas Hardy: A Textual Study of the Short Stories. Aldershot: Ashgate, 1997. 228-58.
---
Created 2 June 2008

Last modified 18 April 2020