The Micawber Family off to Australiap by Harry Furniss. Twenty-ninth and final illustration for Dickens's Personal History and Experience of David Copperfield, Volume 10 in the Charles Dickens Library Edition (1910), Chapter LVII, "The Emigrants," facing page 832. 8.8 x 13.7 cm (3 ½ by 5 ⅜ inches), partially framed. Caption: In his rough clothing Mr. Micawber was far more nautical than Mr. Peggotty; Mrs. Micawber was in a shawl which tied her up like a bundle; Miss Micawber was made snug in the same manner; Master Micawber was hardly visible in a shaggy suit of slops, and the children were done up, like preserved meats, in impervious cases. — Copperfield, p. 806. [Click on the image to enlarge it.]
Passage Illustrated: Micawber Adopts a Nautical Posture
Mr. Micawber, I must observe, in his adaptation of himself to a new state of society, had acquired a bold buccaneering air, not absolutely lawless, but defensive and prompt. One might have supposed him a child of the wilderness, long accustomed to live out of the confines of civilization, and about to return to his native wilds.
He had provided himself, among other things, with a complete suit of oilskin, and a straw hat with a very low crown, pitched or caulked on the outside. In this rough clothing, with a common mariner's telescope under his arm, and a shrewd trick of casting up his eye at the sky as looking out for dirty weather, he was far more nautical, after his manner, than Mr. Peggotty. His whole family, if I may so express it, were cleared for action. I found Mrs. Micawber in the closest and most uncompromising of bonnets, made fast under the chin; and in a shawl which tied her up (as I had been tied up, when my aunt first received me) like a bundle, and was secured behind at the waist, in a strong knot. Miss Micawber I found made snug for stormy weather, in the same manner; with nothing superfluous about her. Master Micawber was hardly visible in a Guernsey shirt, and the shaggiest suit of slops I ever saw; and the children were done up, like preserved meats, in impervious cases. Both Mr. Micawber and his eldest son wore their sleeves loosely turned back at the wrists, as being ready to lend a hand in any direction, and to "tumble up," or sing out, "Yeo—Heave—Yeo!" on the shortest notice. [Chapter LVII, "The Emigrants," 806]
Commentary: The Emigrant Spirit
Phiz in his original serial sequence provided an upbeat "emigration" scene as the penultimate illustration, thereby underscoring the poetic justice of the Micawbers' escaping debt and deprivation in the Old Country for a chance at a prosperous and socially productive life in the great new colony of Botany Bay (Australia). There, Micawber's experiences at Heep and Whitfield will equip him with a store of legal knowledge and procedures that will serve him well in later life as the Magistrate at Port Middlebay (Melbourne Bank). It is worth noting that Furniss has not set the scene in the hold of an immigrant ship as Phiz had, but in rented rooms near the docks, near the site of Dickens's working in a blacking-factory as a child:
The Micawber family were lodged in a little, dirty, tumble-down public-house, which in those days was close to the stairs, and whose protruding wooden rooms overhung the river. The family, as emigrants, being objects of some interest in and about Hungerford, attracted so many beholders, that we were glad to take refuge in their room. It was one of the wooden chambers upstairs, with the tide flowing underneath. My aunt and Agnes were there, busily making some little extra comforts, in the way of dress, for the children. Peggotty was quietly assisting, with the old insensible work-box, yard-measure, and bit of wax-candle before her, that had now outlived so much. [807]
In the lithographic study of the six "emigrants" in the crowded rental room overlooking an industrial and shipping site on the Thames, Furniss has not included either David or Traddles. The children are in sailor suits, Mrs. Micawber is wrapped in a shawl (left), and the older Micawber children attired as Dickens has described them. He has opted for satirical realism over the epic triad of the Phiz original, but has again focused on the central character, the ebullient and stagey figure of Micawber in a transpontine outfit worthy of Douglas Jerrold's nautical melodrama Black-Ey'd Susan, or, All in the Downs (1829). Furniss imparts a theatrical flavour to the domestic scene with the stagey gesture of the elegantly attired pseudo-sailor, Wilkins Micawber, as he welcomes David to his family's temporary lodgings near the docks.
The Australian Emigration of the Micawbers and Peggottys (1872 and 1850 Editions)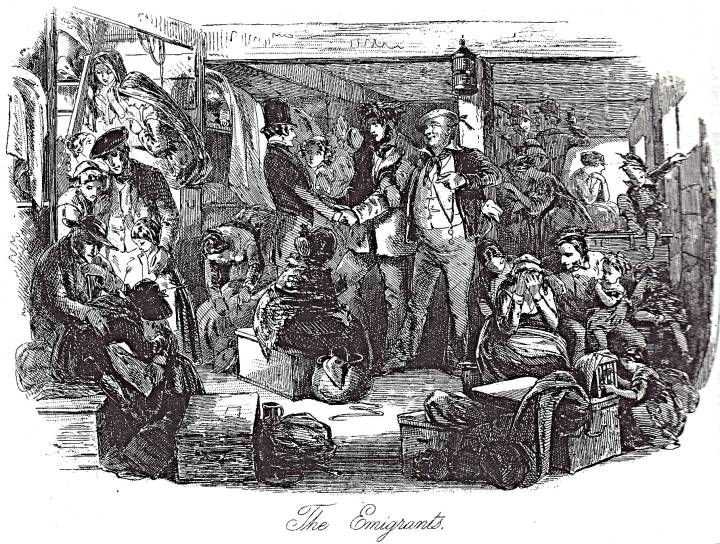 Left: Fred Barnard's Household Edition realisation of the Micawbers' and Peggottys' preparations for the Australian voyage: "If a ship's cook that was turning settler, Mas'r Davy, didn't make offer fur to marry Mrs. Gummidge, I'm gormed — and I can't say no fairer than that!" (1872). Right: Phiz's truly elegant realisation of Micawber's adopting the role of Australian immigrant in the penultimate illustration of the serial: The Emigrants (October 1850).
Relevant Illustrated Editions of this Novel (1849 through 1910)
Scanned image and text by Philip V. Allingham. [You may use this image without prior permission for any scholarly or educational purpose as long as you (1) credit the person who scanned the image and (2) link your document to this URL in a web document or cite the Victorian Web in a print one.]
Bibliography
Bentley, Nicolas, Michael Slater, and Nina Burgis. The Dickens Index. Oxford and New York: Oxford U. P., 1988.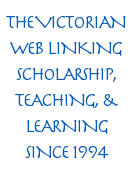 Davis, Paul. Charles Dickens A to Z: The Essential Reference to His Life and Work. New York: Facts On File, 1998.
Dickens, Charles. The Personal History of David Copperfield, illustrated by Hablot Knight Browne ("Phiz"). The Centenary Edition. London & New York: Chapman & Hall, Charles Scribner's Sons, 1911. 2 vols.
_______. The Personal History of David Copperfield. Illustrated by Sol Eytinge, Jr. The Diamond Edition. 14 vols. Boston: Ticknor & Fields, 1867. Vol. V.
_______. David Copperfield, with 61 illustrations by Fred Barnard. Household Edition. London: Chapman and Hall, 1872. Vol. III.
_______. The Personal History and Experiences of David Copperfield. Illustrated by Harry Furniss. The Charles Dickens Library Edition. London: Educational Book Company, 1910. Vol. X.
Hammerton, J. A., ed. The Dickens Picture-Book: A Record of the the Dickens Illustrations. London: Educational Book, 1910.
McGregor, Alasdair. Australian Geographic. "Dickens took inspiration from Australia: Australian characters in Dickens' books." 14 December 2012. https://www.australiangeographic.com.au/topics/history-culture/2012/12/dickens-took-inspiration-from-australia/
Steig, Michael. Dickens and Phiz. Bloomington & London: Indiana U. P., 1978.
---
Created 24 March 2022