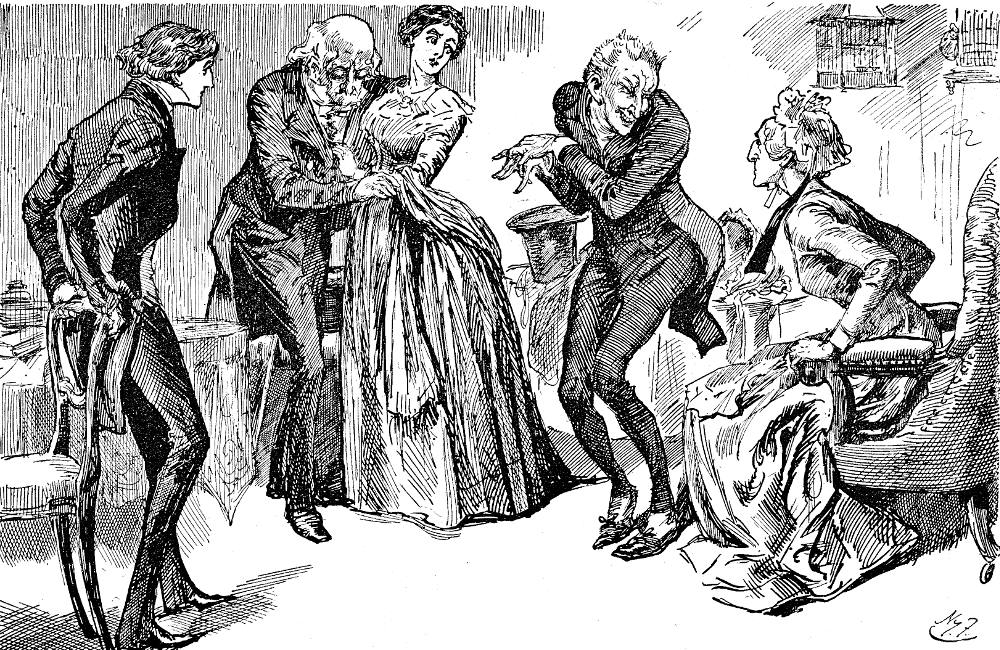 David's Aunt loses patience with Uriah by Harry Furniss. Nineteenth illustration for Dickens's Personal History and Experience of David Copperfield, Volume 10 in the Charles Dickens Library Edition (1910), Chapter XXXV, "Depression," facing page 513. 9 x 13.7 cm (3 ½ by 5 ⅜ inches), framed. Caption: "Don't you find Mr. Wickfield blooming, Sir?" fawned Uriah. "Years don't tell much in our firm, except in raising up the 'umble, and in developing the beautiful, namely, Miss Agnes." He jerked himself about, after this compliment, in such an intolerable manner, that my aunt lost all patience — Copperfield, p. 517. [Click on the image to enlarge it.]
Passage Illustrated: The Galvanic Mr. Heep About to be Chastised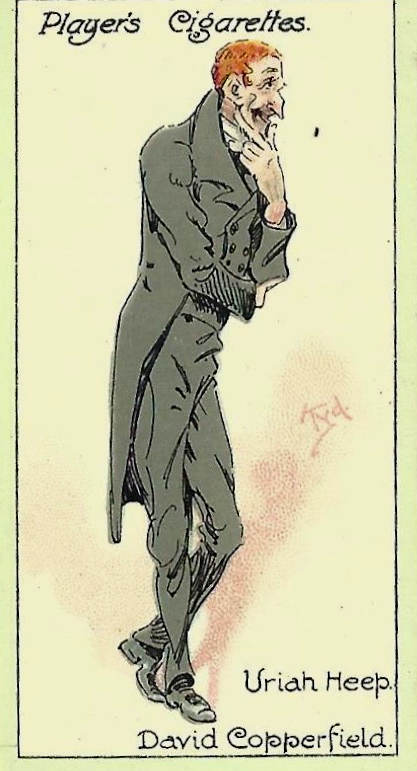 Kyd's Cigarette Card No. 38 Uriah Heep (1889).
"Well, Wickfield!" said my aunt; and he looked up at her for the first time. "I have been telling your daughter how well I have been disposing of my money for myself, because I couldn't trust it to you, as you were growing rusty in business matters. We have been taking counsel together, and getting on very well, all things considered. Agnes is worth the whole firm, in my opinion."
"If I may umbly make the remark," said Uriah Heep, with a writhe, "I fully agree with Miss Betsey Trotwood, and should be only too appy if Miss Agnes was a partner."
"You're a partner yourself, you know," returned my aunt, "and that's about enough for you, I expect. How do you find yourself, sir?"
In acknowledgement of this question, addressed to him with extraordinary curtness, Mr. Heep, uncomfortably clutching the blue bag he carried, replied that he was pretty well, he thanked my aunt, and hoped she was the same.
"And you, Master — I should say, Mister Copperfield," pursued Uriah. "I hope I see you well! I am rejoiced to see you, Mister Copperfield, even under present circumstances." I believed that; for he seemed to relish them very much. "Present circumstances is not what your friends would wish for you, Mister Copperfield, but it isn't money makes the man: it's — I am really unequal with my umble powers to express what it is," said Uriah, with a fawning jerk, "but it isn't money!"
Here he shook hands with me: not in the common way, but standing at a good distance from me, and lifting my hand up and down like a pump handle, that he was a little afraid of.
"And how do you think we are looking, Master Copperfield, — I should say, Mister?" fawned Uriah. "Don't you find Mr. Wickfield blooming, sir? Years don't tell much in our firm, Master Copperfield, except in raising up the umble, namely, mother and self — and in developing," he added, as an afterthought, "the beautiful, namely, Miss Agnes."
He jerked himself about, after this compliment, in such an intolerable manner, that my aunt, who had sat looking straight at him, lost all patience.
"Deuce take the man!" said my aunt, sternly, "what's he about? Don't be galvanic, sir!"
"I ask your pardon, Miss Trotwood," returned Uriah; "I'm aware you're nervous." [Chapter XXXV, "Depression," pp. 516-517]
Commentary: Uriah protests Mr. Wickfield's health too much
The chapter title, "Depressed," prepares readers for the spectacle of Mr. Wickfield in his dotage, although whether David, ever the marginal observer, is depressed by Mr. Wickfield's reduced mental capacity is not clear from his profile. The focus of the composition is to the right of Agnes and her father as the almost demonic Heep, his hands more like claws, writhes before David's Aunt. Alarmed, she seems to be about to rise, as if she can stand no more of this situation generally, and Heep's contortions in particular. Furniss has Agness glance at Aunt Betsey rather than David for moral support.
Miss Trotwood and Mr. Wickfield with Heep at David's from Other Editions (1872 & 1910)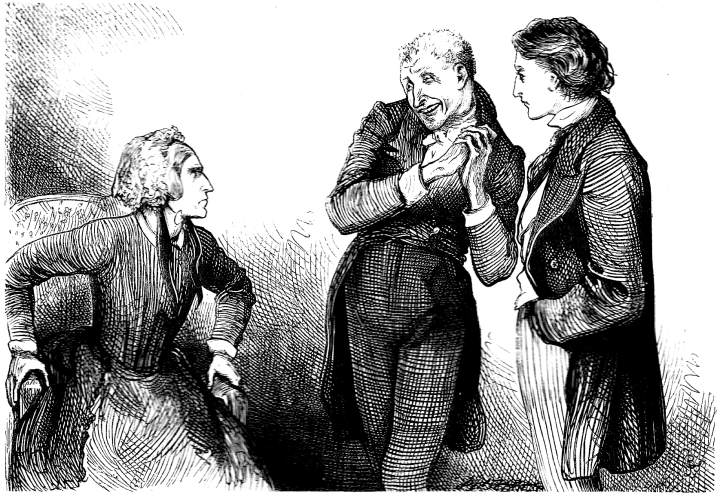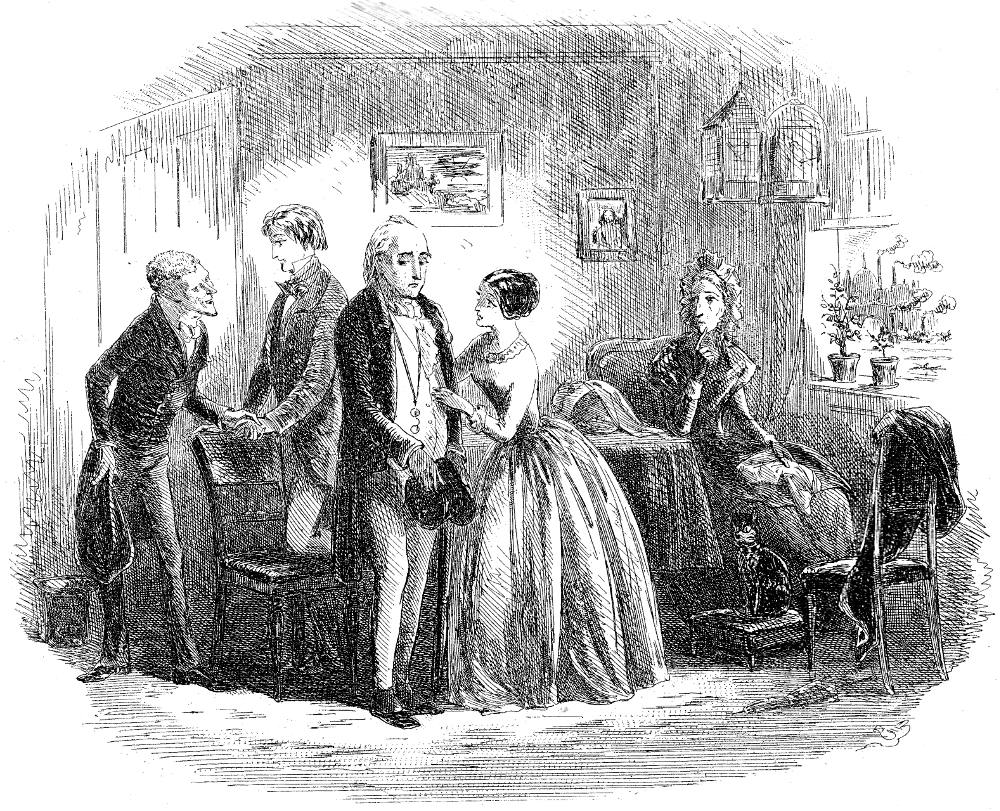 Left: Fred Barnard's Household Edition satirical study of Uriah Heep: "Deuce take the man!" said my aunt, "What's he about? Don't be galvanic, Sir!". (1872). Right: Phiz's original serial illustration for April 1850 does not show Aunt Betsey's upbraiding the "galvanic" Heep: Mr. Wickfield and his Partner wait upon my Aunt.
Relevant Illustrated Editions of this Novel (1849 through 1910)
Scanned image and text by Philip V. Allingham. [You may use this image without prior permission for any scholarly or educational purpose as long as you (1) credit the person who scanned the image and (2) link your document to this URL in a web document or cite the Victorian Web in a print one.]
Bibliography
Bentley, Nicolas, Michael Slater, and Nina Burgis. The Dickens Index. Oxford and New York: Oxford U. P., 1988.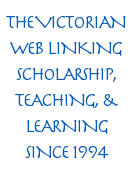 Davis, Paul. Charles Dickens A to Z: The Essential Reference to His Life and Work. New York: Facts On File, 1998.
Dickens, Charles. The Personal History of David Copperfield, illustrated by Hablot Knight Browne ("Phiz"). The Centenary Edition. London & New York: Chapman & Hall, Charles Scribner's Sons, 1911. 2 vols.
_______. The Personal History of David Copperfield. Illustrated by Sol Eytinge, Jr. The Diamond Edition. 14 vols. Boston: Ticknor & Fields, 1867. Vol. V.
_______. David Copperfield, with 61 illustrations by Fred Barnard. Household Edition. London: Chapman and Hall, 1872. Vol. III.
_______. The Personal History and Experiences of David Copperfield. Illustrated by Harry Furniss. The Charles Dickens Library Edition. London: Educational Book Company, 1910. Vol. X.
"Dora Spenlow." George Arents Collection. The New York Public Library Digital Collections. https://digitalcollections.nypl.org/items/510d47de-789e-a3d9-e040-e00a18064a99
Hammerton, J. A., ed. The Dickens Picture-Book: A Record of the the Dickens Illustrations. London: Educational Book, 1910.
Steig, Michael. Dickens and Phiz. Bloomington & London: Indiana U. P., 1978.
---
Created 14 March 2022