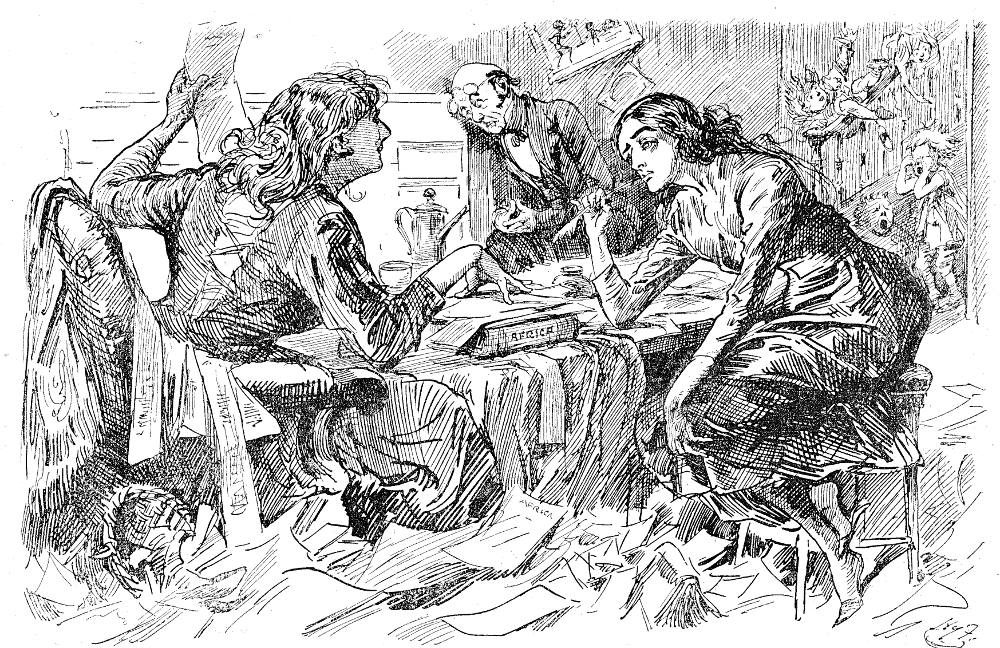 The Jellybys at Home (37) — Chapter 4, 3 ½ by 5 ½ inches (9.3 cm high x 14 cm wide), vignetted, fourth illustration in Charles Dickens's Bleak House, Charles Dickens Library Edition (1910), facing XI, 49. Original caption: Mrs. Jellyby's dress didn't nearly meet up the back. The room wasstrewn with papers and nearly filled by a great writing-table covered with similar litter. But what principally struck us was a jaded, unhealthy-looking though by no means plain girl at the writing-table. [Click on the images to enlarge them.]
Passage Illustrated: A Chaotic Philanthropic Household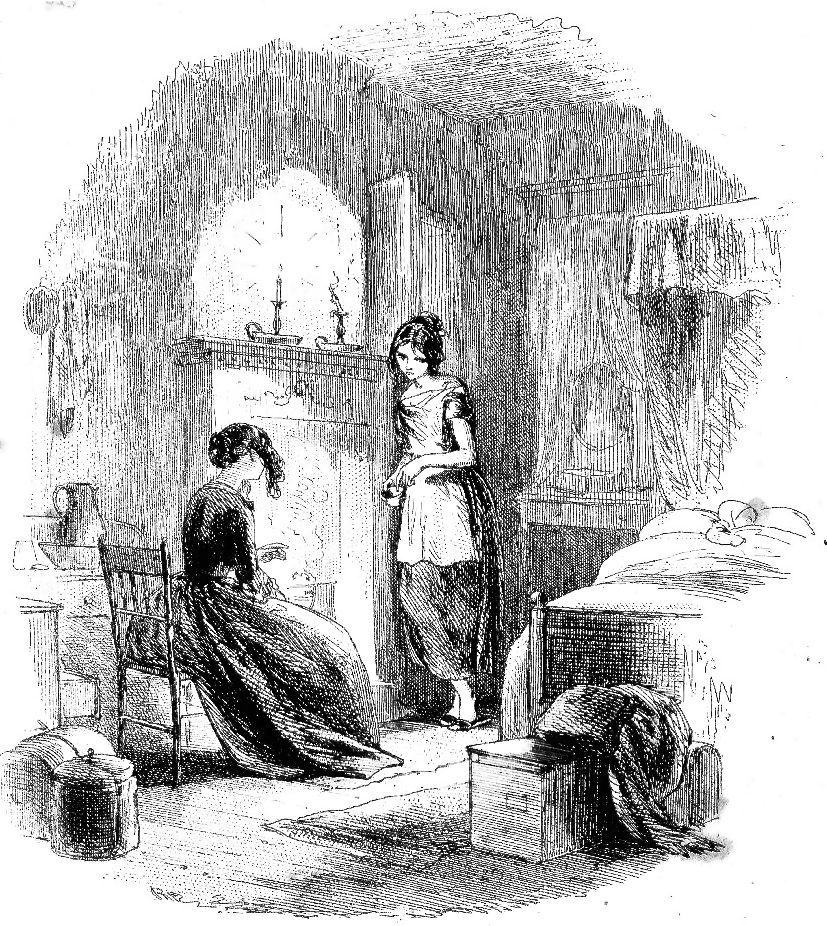 Phiz's original illustration for this chapter, Miss Jellyby (March 1852).
We expressed our acknowledgments and sat down behind the door, where there was a lame invalid of a sofa. Mrs. Jellyby had very good hair but was too much occupied with her African duties to brush it. The shawl in which she had been loosely muffled dropped onto her chair when she advanced to us; and as she turned to resume her seat, we could not help noticing that her dress didn't nearly meet up the back and that the open space was railed across with a lattice-work of stay-lace — like a summer-house.
The room, which was strewn with papers and nearly filled by a great writing-table covered with similar litter, was, I must say, not only very untidy but very dirty. We were obliged to take notice of that with our sense of sight, even while, with our sense of hearing, we followed the poor child who had tumbled downstairs: I think into the back kitchen, where somebody seemed to stifle him.
But what principally struck us was a jaded and unhealthy-looking though by no means plain girl at the writing-table, who sat biting the feather of her pen and staring at us. I suppose nobody ever was in such a state of ink. And from her tumbled hair to her pretty feet, which were disfigured with frayed and broken satin slippers trodden down at heel, she really seemed to have no article of dress upon her, from a pin upwards, that was in its proper condition or its right place.  [Chapter IV, "Telescopic Philanthropy," 37]
Commentary: Dickens's Satire of a Well-Meaning but Neglectful Philanthropist
Dickens's serial readers in 1853 may have identified the dedicated African philanthropist Mrs. Jellyby with such figures Caroline Chisholm (1808-77) and Eleanor Stephens Clark (1812-79). The Quaker wife of James, the vastly successful shoe-manufacturer and founder of Clark's Shoes in Street, Somerset, Clark engaged in  diverse philanthropic and anti-slavery work throughout the period 1850-70, and played a pivotal role in Quaker anti-slavery and humanitarian networks in the United States prior to the Civil War. Her charitable work began in earnest in 1852, the year in which the serial publication of Bleak House (March 1852 through September 1853) began, with the "Penny Offering," a initiative to raise funds for social crusader Harriet Beecher Stowe, author of the anti-slavery novel Uncle Tom's Cabin (1852). Instigated by Hannah Sturge, Eleanor's close friend at the Birmingham Ladies' Negro's Friend Society (Britain's largest female anti-slavery society), the "Penny Offering" achieved national importance.
In the satirical figure of Mrs. Jellyby, dedicated philanthropist but neglectful parent, Dickens's disdain for foreign philanthropists and their activities is immediately apparent. His portrait becomes an answer to and support for Thomas Carlyle, who was the acknowledged leader of the anti-foreign philanthropy movement. Dickens may well have modeled Mrs. Jellyby directly upon an occasional Household Words contributor with whom he was very familiar, Mrs. Caroline Chisholm (1808-1877), a lady of very remarkable strength of character who, like Mrs. Jellyby, devoted herself entirely to public causes. Through the unfortunate Mr. Jellyby, whom Furniss has also included, Dickens emphasizes the damage and unhappiness that Mrs. Jellyby's obsessive and ineffective philanthropy creates.
Mrs. Jellyby and Caroline Chisholm of
Household Words
In the opening number of Household Words (30 March 1850), Dickens placed before his readership a number of emigrants' letters given him by the founder of the Family Colonisation Loan Society, Caroline Chisholm, an irresponsible parent whom the novelist later satirized for her "telescopic philanthropy" as Mrs. Jellyby in Bleak House (1852-3). Mrs. Chisholm was, in fact, among roughly ninety female contributors to Dickens's weekly journal. Australians later memorialized her as a principal figure in their history by placing her image on their 1967 five-dollar note [see bottom of Wikipedia page]. By way of preface to the article, Dickens had penned an argument in favour of this scheme for transferring Great Britain's poor, unemployed, and starving from the slums of London, Liverpool, Manchester, and other blighted industrial cities to the "Bush" and the new cities of Australia, especially Sydney and Melbourne, where they could contribute their energies and skills to the greater good of the Empire and build prosperous futures for themselves.
Illustrations of the Jellybys from Other Editions, 1867-1910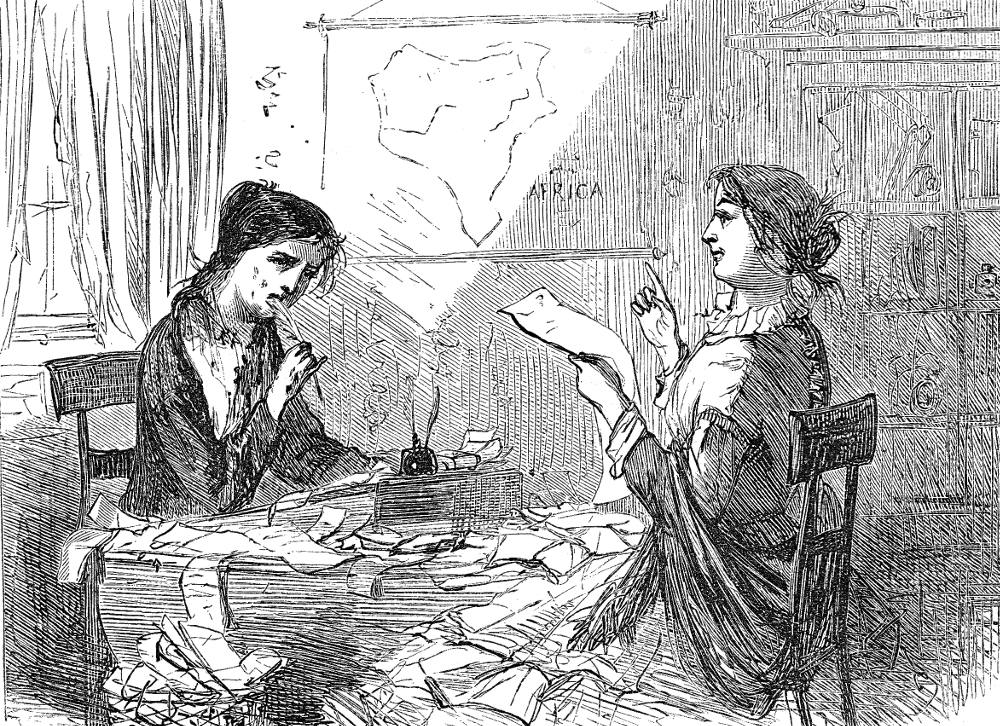 ​​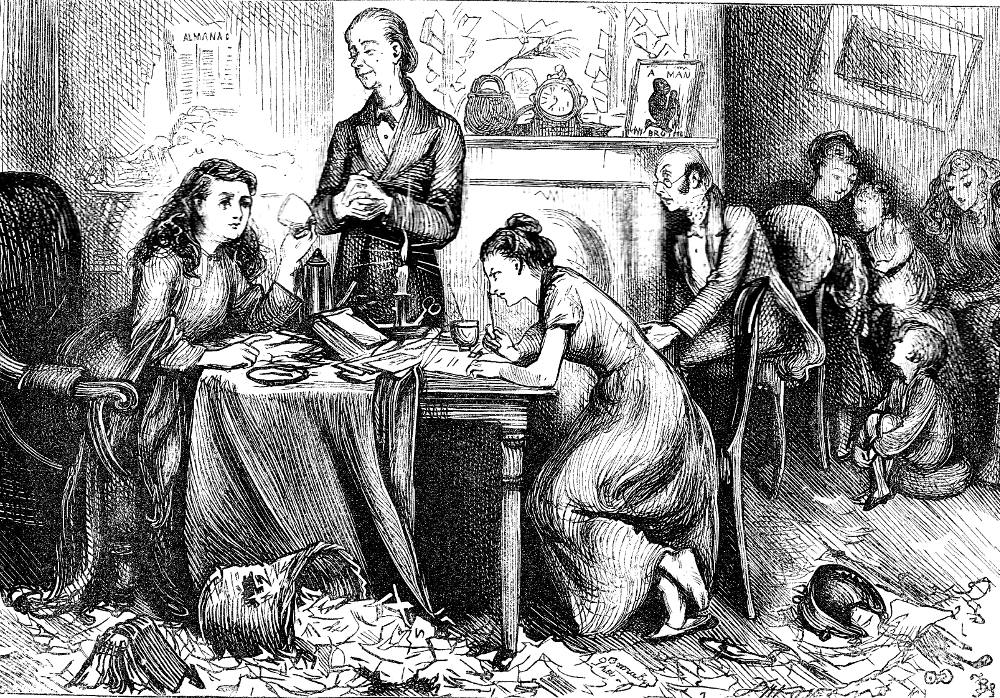 Left: Eytinge's Diamond Edition illustration for Chapter 4: Caddy and Mrs. Jellyby (1867). Right: Fred Barnard's 1873 Household Edition illustration of the same scene: In an Atmosphere of Booriobooble-Gh.
Related Material, including Other Illustrated Editions of
Bleak House
Scanned image, colour correction, sizing, caption, and commentary by Philip V. Allingham. [You may use this image without prior permission for any scholarly or educational purpose, as long as you (1) credit the person who scanned the image, and (2) link your document to this URL in a web document or cite the Victorian Web in a print one.]
Bibliography
Bentley, Nicolas, Michael Slater, and Nina Burgis. The Dickens Index. New York and Oxford: Oxford U. P., 1990.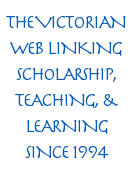 Bleak House — Sixty-one Illustrations by Fred Barnard." Scenes and Characters from the Works of Charles Dickens, Being Eight Hundred and Sixty-six Drawings by Fred Barnard, Gordon Thomson, Hablot Knight Browne (Phiz), J. McL. Ralston, J. Mahoney, H. French, Charles Green, E. G. Dalziel, A. B. Frost, F. A. Fraser, and Sir Luke Fildes. London: Chapman and Hall, 1907.
The Characters of Charles Dickens pourtrayed in a series of original watercolours by "Kyd." London, Paris, and New York: Raphael Tuck & Sons, n. d.
Darley, Felix Octavius Carr. Character Sketches from Dickens. Philadelphia: Porter and Coates, 1888.
Davis, Paul. Charles Dickens A to Z: The Essential Reference to His Life and Work. New York: Facts On File, 1998.
Dickens, Charles. Bleak House. Illustrated by F. O. C. Darley and John Gilbert. The Works of Charles Dickens. The Household Edition. New York: Sheldon and Company, 1863. Vols. 1-4.
_______. Bleak House, with 61 illustrations by Fred Barnard. Household Edition. 21 vols. London: Chapman and Hall, 1873. IV.
_______. Bleak House. Illustrated by Harry Furniss [28 original lithographs]. The Charles Dickens Library Edition. 18 vols.​ London: Educational Book, 1910. XI.
Hammerton, J. A. "Chapter 18: Bleak House." The Dickens Picture-Book. The Charles Dickens Library Edition. London: Educational Book, 1910. XVII. 366-97.
Kyd [Clayton J. Clarke]. Characters from Dickens. Nottingham: John Player & Sons, 1910.
Vann, J. Don. "Bleak House, twenty parts in nineteen monthly instalments, March 1852 — September 1853." Victorian Novels in Serial. New York: Modern Language Association, 1985. 69.
---
Created 15 February 2021