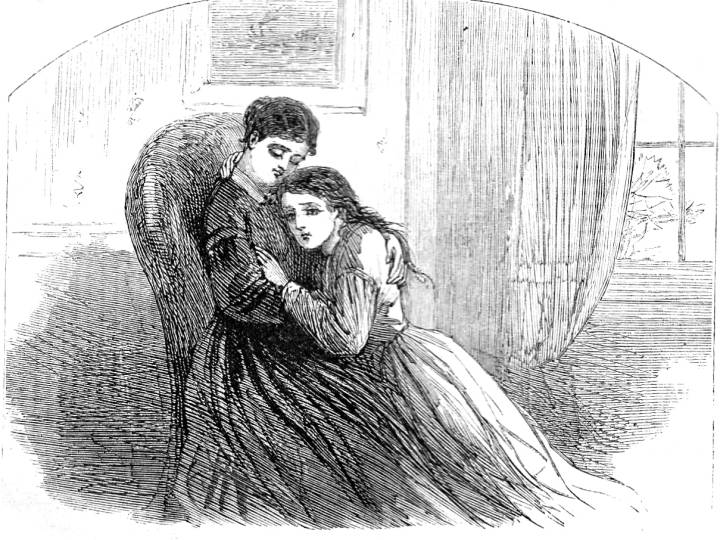 "Mrs. Bounderby and Sissy," the sixth full-page illustration by Sol Eytinge, Jr. 7.4 cm high by 9.9 cm wide. The Diamond Edition of Dickens's Barnaby Rudge and Hard Times (Boston: Ticknor and Fields, 1867). Scanned image and text by Philip V. Allingham. [You may use this image without prior permission for any scholarly or educational purpose as long as you (1) credit the person who scanned the image and (2) link your document to this URL in a web document or cite the Victorian Web in a print one.]
I have always loved you, and have always wished that you should know it. But you changed to me a little, shortly before you left home. Not that I wondered at it. You knew so much, and I knew so little, and it was so natural in many ways, going as you were among other friends, that I had nothing to complain of, and was not at all hurt."
Her colour rose as she said it modestly and hurriedly. Louisa understood the loving pretence, and her heart smote her.
"May I try?" said Sissy, emboldened to raise her hand to the neck that was insensibly drooping towards her.
Louisa, taking down the hand that would have embraced her in another moment, held it in one of hers, and answered: —
"First, Sissy, do you know what I am? I am so proud and so hardened, so confused and troubled, so resentful and unjust to every one and to myself, that everything is stormy, dark, and wicked to me. Does not that repel you?"
"No!"
"I am so unhappy, and all that should have made me otherwise is so laid waste, that if I had been bereft of sense to this hour, and instead of being as learned as you think me, had to begin to acquire the simplest truths, I could not want a guide to peace, contentment, honour, all the good of which I am quite devoid, more abjectly than I do. Does not that repel you?"
"No!"
In the innocence of her brave affection, and the brimming up of her old devoted spirit, the once deserted girl shone like a beautiful light upon the darkness of the other.
Louisa raised the hand that it might clasp her neck and join its fellow there. She fell upon her knees, and clinging to this stroller's child, looked up at her almost with veneration.
"Forgive me, pity me, help me! Have compassion on my great need, and let me lay this head of mine upon a loving heart?"
"O, lay it here!" cried Sissy, — "Lay it here, my dear."[486-487]
Although Eytinge has correctly identified this as a crucial scene in the development of Louisa's character and in her turning her back on a furtive life of illicit passion, his treatment of Sissy's comforting Louisa is deficient in terms of Charles Stanley Reinhart's realisation of that very same moment in the American Household Edition's "Forgive Me, Pity Me, Help Me!", for the latter picture is both more convincingly rendered in terms of the modelling of the figures and tenderness in both women's faces. Moreover, perhaps shying away from depicting two young women on a bed together, Eytinge has altered the circumstances under which Sissy is comforting Louisa, and has, moreover, made Louisa much younger and smaller, as if she is prepubescent rather than a young adult. In all of these respects, Reinhart's treatment is more emotionally satisfying and more faithful to Dickens's intention, namely to show in our lives the value of sentiment, and the ever-constant possibility of embracing repentance rather than succumbing to temptation.
Other artists who illustrated this work
Bibliography
Bentley, Nicolas, Michael Slater, and Nina Burgis. The Dickens Index. Oxford and New York: Oxford U. P., 1988.
Davis, Paul. Charles Dickens A to Z: The Essential Reference to His Life and Work. New York: Checkmark and Facts On File, 1998.
Dickens, Charles. Barnaby Rudge and Hard Times. Il. Sol Eytinge, Jr. Boston: Ticknor and Fields, 1867.
---
Last modified 27 November 2011