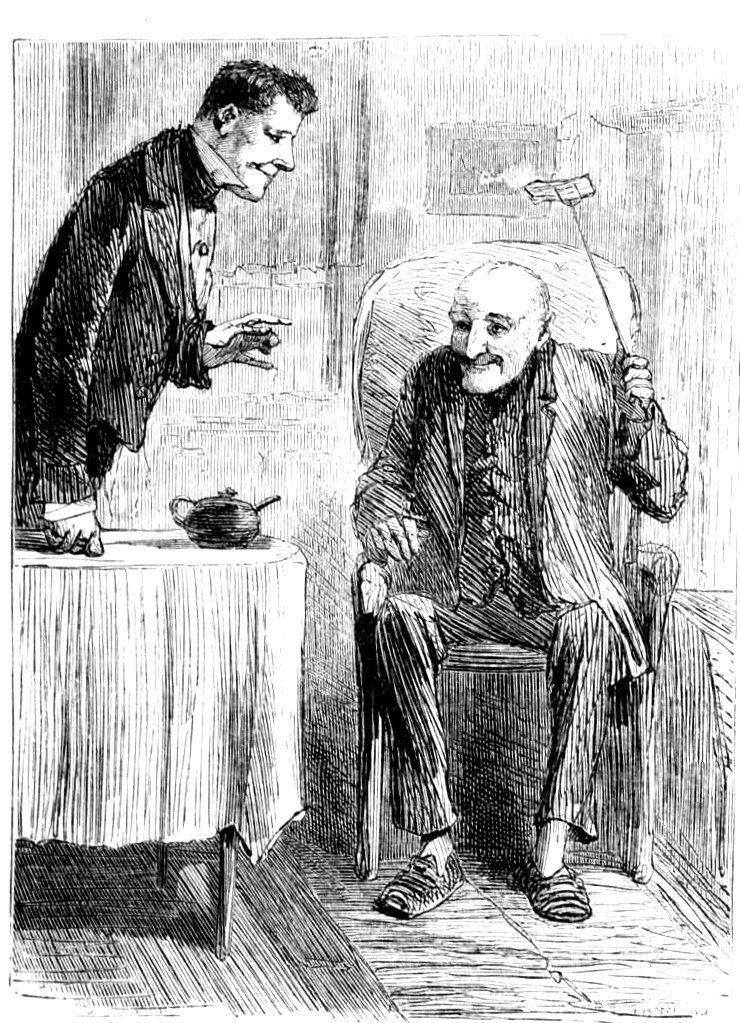 Wemmick and "The Aged"
Sol Eytinge
Wood engraving, approximately 10 cm high by 7.5 cm wide (framed)
Sixth illustration for Dickens's Great Expectations in A Tale of Two Cities and Great Expectations in the Ticknor & Fields (Boston, 1867) Diamond Edition.
Scanned image and text by Philip V. Allingham.
[You may use this image without prior permission for any scholarly or educational purpose as long as you (1) credit the photographer and (2) link your document to this URL in a web document or cite the Victorian Web in a print one.]
In "Wemmick and "The Aged," Eytinge contrasts the private, sentimental "Walworth" existence of Jaggers's clerk John Wemmick, Jr., with the sordid business of the law offices in Little Britain, represented by the previous illustration, "Jaggers". Despite the years of labour that John Wemmick has lavished on his castle and his devoted care of his "Aged Parent," John Wemmick, Sr., he has never invited his secretive employer, the attorney Jaggers down to Walworth. A self-centred young aristocrat such as Bentley Drummle would not have been prepared to humour Wemmick and his deaf father as Pip does — but then Wemiick would not have invited any of the others from among the privileged ranks of "The Finches of the Grove" in the first place.
In the 1877 Household Edition, illustrator F. A. Fraser includes a scene in which John Wemmick, Sr., is heating a poker in preparation for setting off "The Stinger," a small cannon which Wemmick sets off with his father's help daily so that the old fellow can continue to hear some sound and make some tenuous connection with the outside world, in a scene entitled "We found the aged heating the poker, with expectant eyes" (p. 97):
Proceeding into the Castle again, we found the Aged heating the poker, with expectant eyes, as a preliminary to the performance of this great nightly ceremony. Wemmick stood with his watch in his hand, until the moment was come for him to take the red-hot poker from the Aged, and repair to the battery. He took it, and went out, and presently the Stinger went off with a Bang that shook the crazy little box of a cottage as if it must fall to pieces, and made every glass and teacup in it ring. Upon this, the Aged — who I believe would have been blown out of his arm-chair but for holding on by the elbows — cried out exultingly, 'He's fired! I heerd him!' and I nodded at the old gentleman until it is no figure of speech to declare that I absolutely could not see him. [Chapter 25]
The fact that in Ch. 25 Dickens specifies a heated poker, depicted here, and that Eytinge has given the Aged P. a toasting fork would suggest that the above moment is not the scene that Eytinge has chosen to depict. Despite the marvellous detail involved in the parlour setting in the Household Edition's woodcut, Fraser does convey as effectively as Eytinge either the genial relationship of father and son or the old man's delight in his "castle." Eytinge may have only a teapot and a cloth-covered table as properties; however, he creates a surer dual portrait of John Wemmick, Sr., cheerful and well-dressed, despite his advanced age and hearing impairment, and John Wemmick, Jr., happy to indulge his Walworth sentiments to the full.
John McLenan's thirtieth illustration in the Harper's Weekly series of 1860-61 contains, however, an illustration of what is apparently the same moment that engaged Eytinge five years later, "The responsible duty of making the toast was delegated to the Aged" (27 April 1861): 269. McLenan's slightly larger plate — 11.3 cm high by 11.4 cm wide — again does a proficient job of delineating the setting, giving us, like Fraser's, all the paraphernalia of the parlour (indeed, his fireplace and hearth are rather more credible than Fraser's), but he gives us little sense of the character of the Aged P., in leggings and the skull-cap traditionally worn by aged men in the early nineteenth century. Again, a teapot (down left) dominates the scene from chapter 37, which lacks all the other characters at Wemmick's marriage feast, notably Miss Skiffins:
After a little further conversation to the same effect, we returned into the Castle where we found Miss Skiffins preparing tea. The responsible duty of making the toast was delegated to the Aged, and that excellent old gentleman was so intent upon it that he seemed to me in some danger of melting his eyes. It was no nominal meal that we were going to make, but a vigorous reality. The Aged prepared such a haystack of buttered toast, that I could scarcely see him over it as it simmered on an iron stand hooked on to the top-bar; while Miss Skiffins brewed such a jorum of tea, that the pig in the back premises became strongly excited, and repeatedly expressed his desire to participate in the entertainment.
Bibliography
Dickens, Charles. Great Expectations. Harper's Weekly: A Journal of Civilization. Il. John McLenan. Vol. V (27 April 1861): 269.
Dickens, Charles. ("Boz."). Great Expectations. With thirty-four illustrations from original designs by John McLenan. Philadelphia: T. B. Peterson (by agreement with Harper & Bros., New York), 1861.
Dickens, Charles. A Tale of Two Cities and Great Expectations. Boston: Ticknor and Fields, 1867.
Dickens, Charles. Great Expectations. Il. F. A. Fraser. Volume 6 of the Household Edition. London: Chapman and Hall, 1871-1880 [this volume c. 1877].
---

Victorian
Web

Illus-
tration

Great
Expectations

Sol
Eytinge

Next
Last modified 2 October 2011