The Block and Axe: Thus ends the Chronicle of the Tower of London — George Cruikshank. Tailpiece for the final, double-number, December 1840. Ninety-eighth illustration and fifty-eighth wood-engraving in William Harrison Ainsworth's The Tower of London. A Historical Romance. Illustration for Book the Second, Chapter Chapter XLII. — "The execution of Lady Jane Grey," summing up the tragic plot involving a virtuous, pious, but naive young woman who gets caught up in a web of political intrigue, religious factions, and conflicting ambitions. 4.3 cm high x 7 cm wide, vignetted, bottom of p. 423: running head, "The Execution of Jane." [Click on the image to enlarge it.]
Scanned image and text by Philip V. Allingham. [You may use this image without prior permission for any scholarly or educational purpose as long as you (1) credit the person who scanned the image and (2) link your document to this URL in a web document or cite the Victorian Web in a print one.]
Passage Complemented
Whatever his thoughts were, the lieutenant made no reply; and Jane turned to Angela, who now began, with trembling hands, to remove her attire, and was trying to take off her velvet robe, when Mauger offered to assist her, but was instantly repulsed.
He then withdrew, and stationing himself by the block, assumed his hideous black mask, and shouldered his axe.
Partially disrobed, Jane bowed her head, while Angela tied a kerchief over her eyes, and turned her long tresses over her head to be out of the way. Unable to control herself, she then turned aside, and wept aloud. Jane moved forward in search of the block, but fearful of making a false step, felt for it with her hands, and cried — "What shall I do? — Where is it? — Where is it?"
Sir Thomas Brydges took her hand and guided her to it. At this awful moment, there was a slight movement in the crowd, some of whom pressed nearer the scaffold, and amongst others Sorrocold and Wolfytt. The latter caught hold of the boards to obtain a better view. Angela placed her hands before her eyes, and would have suspended her being, if she could; and even Feckenham veiled his countenance with his robe. Sir Thomas Brydges gazed firmly on.
By this time, Jane had placed her head on the block, and her last words were, "Lord, into thy hands I commend my spirit!"
The axe then fell, and one of the fairest and wisest heads that ever sat on human shoulders, fell likewise. [Chapter XLII. — "The Execution of Lady Jane Grey," pp. 422-23]
Commentary
Present-day readers conceive of The Tower of London. A Historical Romance as an intact book, and may therefore feel that Cruikshank and Ainsworth are bracketing the volume with the axeman's block, in the frontispiece, the title-page vignette, and the tailpiece. However, serial readers would have conceived of the story as a process or progress as they amassed the text month by month over 1840. Consequently, they would have encountered all the beheading scenes at once, in the final, double number, from the preparation of the scaffold through to the tragic execution of the virtuous Lady Jane Grey. That the block is vacant may imply that, although the blood-letting is over for the moment, others will replace Lady Jane on the block.
The other illustrations involving the Tower Hill executions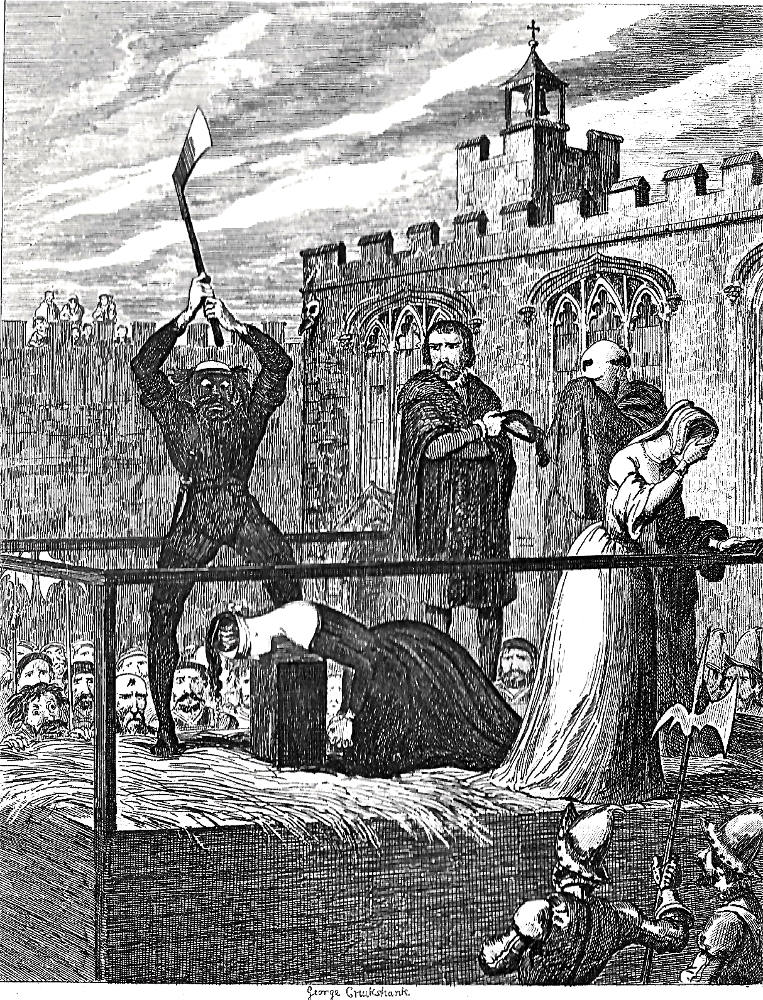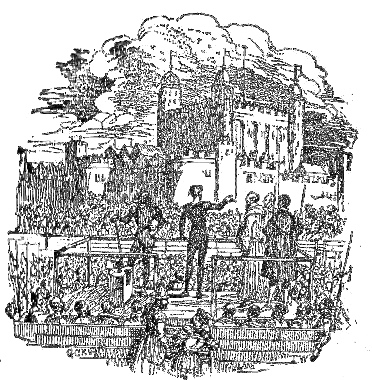 Left: The steel-engraved frontispiece, The Execution of Lady Jane Grey at Tower Green (issued in December 1840). Centre: The wood-engraving that serves as the title-page vignette, The Execution of Lord Guildford Dudley on Tower Hill (issued in December 1840). Right: The uncaptioned wood-engraving that underscores the ruthlessness with which Mary put down the rebellion, Bret's head stuck upon a spike (issued in December 1840). [Click on images to enlarge them.]
Above: Cruikshank's gruesome steel-engraving of the execution of Underhill for the attempted assassination of Queen Mary, The Burning of Edward Underhill on the Tower Green (Chapter 20, August 1840 number).​[Click on the image to enlarge it.]
Decapitations at the Tower, and the continuing issue of Capital Punishment
Although approximately one hundred and twenty-five executions occurred at the Tower of London, only a handful of aristocrats, mostly noblewomen, were beheaded on the Tower Green near the Chapel of St. Peter ad Vincula:
13 June 1483 Lord William Hastings — executed by order of the Duke of Gloucester (Richard III)
19 May 1536 Queen Anne Boleyn — executed by order of Henry VIII
27 May 1541 Margaret Pole, Countess of Salisbury — executed by order of Henry VIII
13 February 1542 Catherine Howard — executed by order of Henry VIII
13 February 1542 Jane Boleyn, Viscountess Rochford — executed by order of Henry VIII
12 February 1554 Lady Jane Grey — executed by order of Queen Mary
25 February 1601 Robert Devereux, 2nd Earl of Essex — executed by order of Queen Elizabeth I.
The beheadings on Tower Hill began with Sir Simon Burley (5 May 1388), and concluded in 1746-47 with the deaths of four prominent Jacobites: General William Boyd, Earl of Kilmarnock (18 August 1746); Colonel of the Jacobite Horse Grenadiers, Arthur Elphinstone, Baron Balmerino (18 August 1746); Colonel of the 2nd troop of Jacobite Horse Guards, Charles Radcliffe, Earl of Derwentwater (12 August 1746); and Simon Fraser, Lord Lovat (9 April 1747). The 11th Lord Lovat, Simon Fraser, "The Fox," a Hanoverian in 1715 turned Jacobite in 1745, was the last person in Great Britain to be executed by beheading, although beheading was not formally abolished in the United Kingdom until 1973. In March 1747 on the final day of his trial for treason at Westminster, his punishment as a traitor (hanging, drawing and quartering) King George II commuted to The more humane decapitation. On the day of his public execution, hundreds of spectators flocked to Tower Hill, but an overcrowded timber grandstand collapsed, leaving nine spectators dead, much to Lord Lovat's wry amusement.
The total number of confirmed executions between 1388 and 1780 on Tower Hill is 122. The vast majority of Tower of London prisoners who were sentenced to death met their ends in public executions. Ninety-three prisoners were beheaded. Executions at the Tower of London were conducted privately if the execution were considered too politically sensitive to carry out in open view — this reticence especially applied to the executions of women. Even these private executions on Tower Green, however, were carried out in the full view of many important spectators, often numbering up to two hundred. These noteworthy victims were usually hurriedly buried in the Chapel Royal of St. Peter ad Vincula situated next to Tower Green. Since Mary Tudor never acquired sufficient evidence to order the beheading of her half-sister, she released Elizabeth from the Tower in May 1554. Surpassing her father's record, Mary ordered the beheadings of nine prisoners of state at the Tower:
John Dudley, 16th Earl of Northumberland: 22 August 1553
Sir Thomas Palmer: 22 August 1553
Lord Guildford Dudley: 12 February 1554
Lady Jane Grey (Dudley): 12 February 1554
Henry Grey, Duke of Suffolk: 24 February 1554
Sir Thomas Wyatt: 11 April 1554
Lord Thomas Grey: 27 April 1554
Henry Peckham: 7 July 1556
John Daniel: 7 July 1556.
Although the government replaced decapitation with hanging after the executions of the leaders of the 1745 Jacobite rebellion, the use of capital punishment per se continued unabated well into the nineteenth century. Indeed, the question of abolition obsessed leading writers and social commentators, including Charles Dickens and Douglas Jerrold, during the 1840s, with some favouring merely the elimination of public hangings and others favouring total abolition, so that Cruikshank's final illustration, with the Tudor axe and vacant block, could be regarded as topical albeit oblique allusion to the issue.
Related material
Bibliography
"Ainsworth, William Harrison." http://biography.com
Ainsworth, William Harrison. The Tower of London. Illustrated by George Cruikshank. London: Richard Bentley, 1840.
Burton, Anthony. "Cruikshank as an Illustrator of Fiction." George Cruikshank: A Revaluation. Ed. Robert L. Patten. Princeton: Princeton U. P., 1974, rev., 1992. Pp. 92-128.
Carver, Stephen. Ainsworth and Friends: Essays on 19th Century Literature & The Gothic. Accessed 11 September 2017. https://ainsworthandfriends.wordpress.com/2013/01/16/william-harrison-ainsworth-the-life-and-adventures-of-the-lancashire-novelist/
Department of Environment, Great Britain. The Tower of London. London: Her Majesty's Stationery Office, 1967, rpt. 1971.
Chesson, Wilfred Hugh. George Cruikshank. The Popular Library of Art. London: Duckworth, 1908.
Golden, Catherine J. "Ainsworth, William Harrison (1805-1882." Victorian Britain: An Encyclopedia, ed. Sally Mitchell. New York and London: Garland, 1988. Page 14.
Jerrold, Blanchard. The Life of George Cruikshank. In Two Epochs. Illustrated by George Cruikshank. 2 vols. London: Chatto and Windus, 1882.
Kelly, Patrick. "William Harrison Ainsworth." Dictionary of Literary Biography, Vol. 21, "Victorian Novelists Before 1885," ed. Ira Bruce Nadel and William E. Fredeman. Detroit: Gale Research, 1983. Pp. 3-9.
McLean, Ruari. George Cruikshank: His Life and Work as a Book Illustrator. English Masters of Black-and-White. London: Art and Technics, 1948.
Pitkin Pictorials. Prisoners in the Tower. Caterham & Crawley: Garrod and Lofthouse International, 1972.
Sutherland, John. "The Tower of London" in The Stanford Companion to Victorian Fiction. Stanford: Stanford University Press, 19893. P. 633.
Steig, Michael. "George Cruikshank and the Grotesque: A Psychodynamic Approach." George Cruikshank: A Revaluation. Ed. Robert L. Patten. Princeton: Princeton U. P., 1974, rev., 1992. Pp. 189-212.
Vogler, Richard A. Graphic Works of George Cruikshank. Dover Pictorial Archive Series. New York: Dover, 1979.
Worth, George J. William Harrison Ainsworth. New York: Twayne, 1972.
Vann, J. Don. "The Tower of London, thirteen parts in twelve monthly instalments, January-December 1840." Victorian Novels in Serial. New York: MLA, 1985. Pp. 19-20.
---
Last modified 5 November 2017