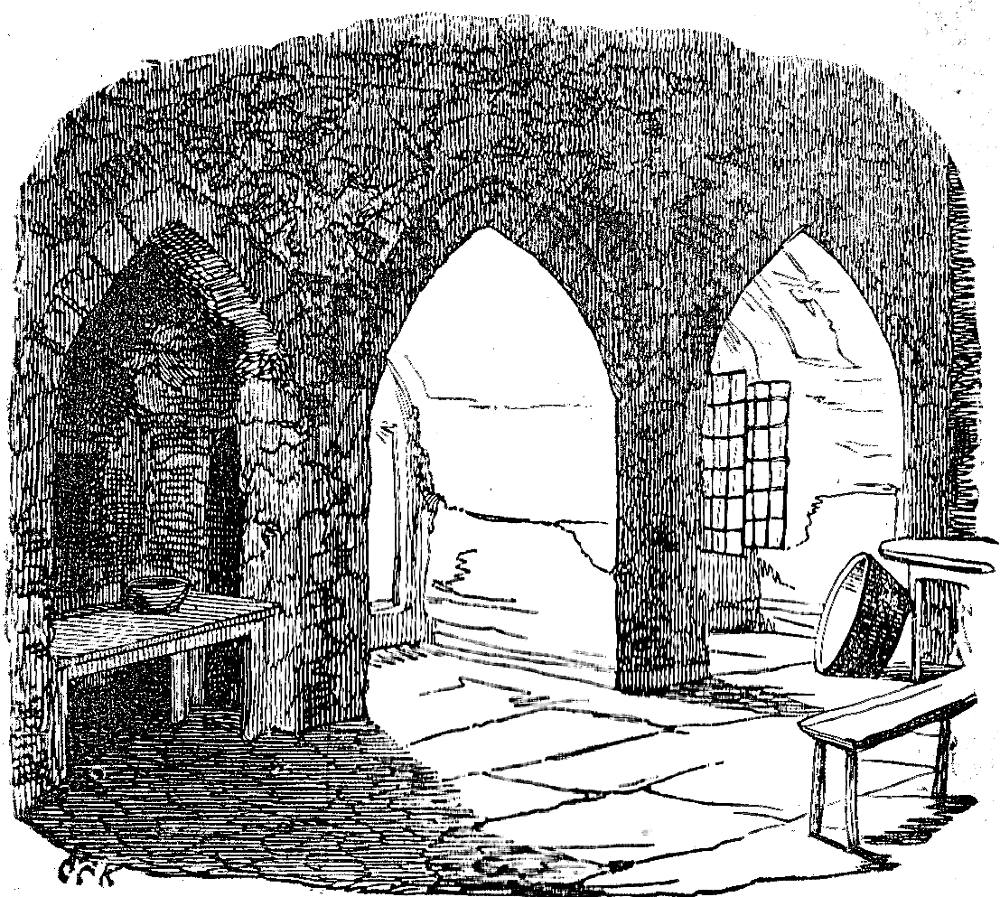 Upper Chamber in the Bell Tower — George Cruikshank. Final, double-number, December 1840. Eighty-sixth illustration (and fifty-first wood-engraving) in William Harrison Ainsworth's The Tower of London. A Historical Romance. Illustration for Book the Second, Chapter XXXIV. 8,2 cm high x 9.3 wide, vignetted, bottom of p. 355: running head, "Elizabeth Imprisoned in the Bell Tower." Elizabeth, fighting for her life, must brace herself for an interrogation in which she will counter accusations of her having supported and even instigated Sir Thomas Wyat's rebellion; Cruikshank describes her interactions with her gallant half-brothers, the warders Og, Gog, and Magog, as she makes her way to her place of confinement, pictured here. Renard gloats, as if he has already convinced Mary to sign Elizabeth's death-warrant, too. [Click on the image to enlarge it.]
Scanned image and text by Philip V. Allingham. [You may use this image without prior permission for any scholarly or educational purpose as long as you (1) credit the person who scanned the image and (2) link your document to this URL in a web document or cite the Victorian Web in a print one.]
Passage Complemented
"Your grace has sufficient room to pass," returned Renard, with bitter irony, and laying his hand upon the hilt of his sword, as if determined to resist any attempt to remove him. "Your prison within the Bell Tower is prepared, and if my counsels have any weight with her majesty, you will quit it only to take the same path, and ascend the same scaffold as your mother, Anne Boleyn."
"Another such taunt," cried Sussex, fiercely, "and neither the sacred character of your office, nor the protection of the queen, shall save you from my sword."
And he thrust him forcibly backwards.
Elizabeth moved on at a slow and stately pace, while the guard closing round her and Sussex, opposed the points of their halberds to the infuriated ambassador.
"Your highness has increased Renard's enmity," observed Bedingfeld, with a troubled look.
"I fear him not," replied Elizabeth, dauntlessly. "Let him do his worst. English honesty will ever prove more than a match for Spanish guile."
Entering the lieutenant's lodgings, and traversing the long gallery already described as running in a westerly direction, Elizabeth soon reached the upper chamber of the Bell Tower, which, she was informed by Sir Thomas Brydges, was appointed for her prison.
"It is a sorry lodging for a king's daughter," she observed, "and for one who may be queen of this realm. But since my sister will have it so, I must make shift with it. How many attendants are allowed me?"
"One female," replied Brydges.
"Why not deprive me of all?" cried the princess, passionately. "This chamber will barely accommodate me. I will be alone."​[Chapter XXXIV. — How the Princess Elizabeth was confronted with Sir Thomas Wyat in the Torture-chamber," pp. 355-56]
Commentary:​The Bell Tower
It is an historical fact that Elizabeth after Wyat's arrest became a prisoner-of-state in the Bell Tower, one of the least known of the twenty-one towers in the Tower of London complex. Although not nearly as old as the The White Tower, built in 1078, the Bell Tower (seen earlier in The Bell Tower, Chapter​XVIII. — "How Courtenay Escaped from the Tower") predates all of the other towers. Construction of the Bell Tower started under William Longchamp, Bishop of Ely and King Richard's regent, while the crusader king was in the Holy Land, during the late twelfth century. Although ​work on the reinforcing bastion​ began in 1189, it was not completed until John's reign, about 1220. The Romanesque tower contained a bell that served as both an alarm and a curfew. When it signalled danger, guards would immediately raise the drawbridges, drop the portcullises, and close all gates. The Bell Tower's curfew specifically informed prisoners given the liberty of the Tower of London that it was time to return to their quarters. Among the famous prisoners who were housed in the Bell Tower, adjacent to the Lieutenant's Lodgings, were the Princess Elizabeth​(1554), Sir Thomas More​(1534-35), and Bishop John Fisher​(1534-35).​ Mary permitted her sister Elizabeth to take exercise by walking along the battlements which adjoined the Beauchamp and Bell Towers, an area which is still known as Elizabeth's Walk. The arrival of Elizabeth as a prisoner to be housed in the Bell Tower dates this chapter to 17 March 1554. As the present picture of the upper chamber circa 1840 and the accompanying text suggest, these were rather cramped quarters for a member of the royal family used to having a large number of attendants and her own household. The room as it looked in 1840 seems scarcely habitable.
Bibliography
"Ainsworth, William Harrison." http://biography.com
Ainsworth, William Harrison. The Tower of London. Illustrated by George Cruikshank. London: Richard Bentley, 1840.
Burton, Anthony. "Cruikshank as an Illustrator of Fiction." George Cruikshank: A Revaluation. Ed. Robert L. Patten. Princeton: Princeton U. P., 1974, rev., 1992. Pp. 92-128.
Carver, Stephen. Ainsworth and Friends: Essays on 19th Century Literature & The Gothic. 11 September 2017.
Department of Environment, Great Britain. The Tower of London. London: Her Majesty's Stationery Office, 1967, rpt. 1971.
Chesson, Wilfred Hugh. George Cruikshank. The Popular Library of Art. London: Duckworth, 1908.
Golden, Catherine J. "Ainsworth, William Harrison (1805-1882." Victorian Britain: An Encyclopedia, ed. Sally Mitchell. New York and London: Garland, 1988. Page 14.
Kelly, Patrick. "William Harrison Ainsworth." Dictionary of Literary Biography, Vol. 21, "Victorian Novelists Before 1885," ed. Ira Bruce Nadel and William E. Fredeman. Detroit: Gale Research, 1983. Pp. 3-9.
McLean, Ruari. George Cruikshank: His Life and Work as a Book Illustrator. English Masters of Black-and-White. London: Art and Technics, 1948.
Pitkin Pictorials. Prisoners in the Tower. Caterham & Crawley: Garrod and Lofthouse International, 1972.
Sutherland, John. "The Tower of London" in The Stanford Companion to Victorian Fiction. Stanford: Stanford University Press, 19893. P. 633.
Steig, Michael. "George Cruikshank and the Grotesque: A Psychodynamic Approach." George Cruikshank: A Revaluation. Ed. Robert L. Patten. Princeton: Princeton U. P., 1974, rev., 1992. Pp. 189-212.
Vogler, Richard A. Graphic Works of George Cruikshank. Dover Pictorial Archive Series. New York: Dover, 1979.
Worth, George J. William Harrison Ainsworth. New York: Twayne, 1972.
Vann, J. Don. "The Tower of London, thirteen parts in twelve monthly instalments, January-December 1840." Victorian Novels in Serial. New York: MLA, 1985. Pp. 19-20.
---
Last modified 30 October 2017