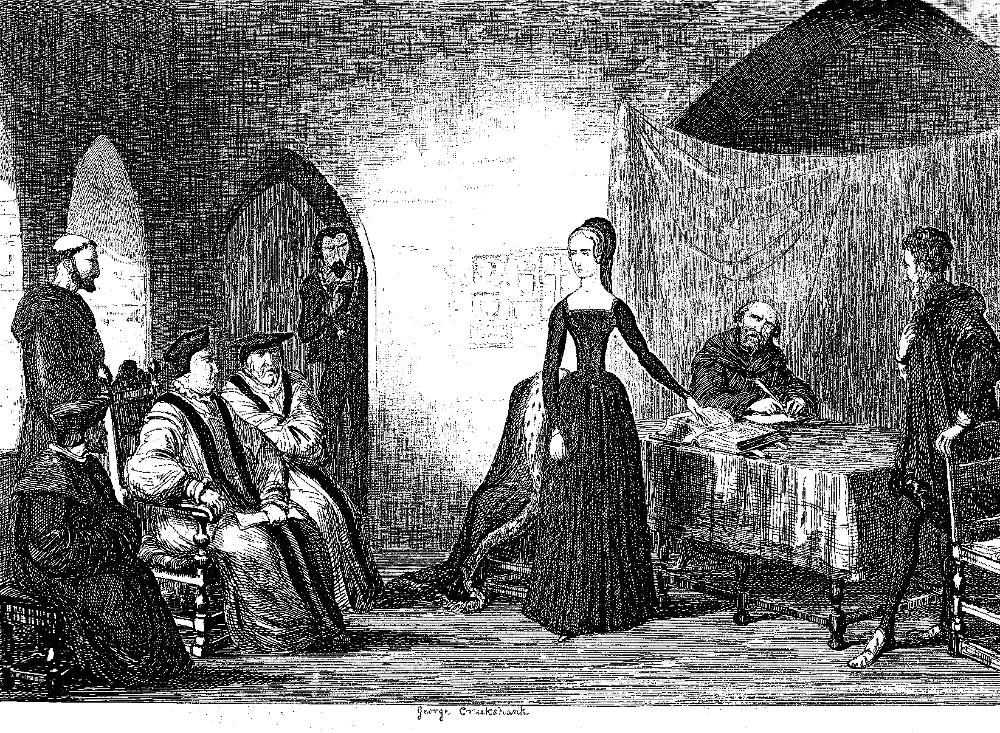 Bishop Gardiner's Conference with Jane in the Beauchamp Tower, facing the same scene in the text in which Jane, a mere adolescent, vanquishes learned Catholic prelates in a debate about the legitimacy of the tenets of Protestantism. — George Cruikshank. June 1840 number, sixth instalment. Fortieth illustration in William Harrison Ainsworth's The Tower of London. Steel-engraving 9.8 cm high x 14.2 wide, framed, facing p. 180. [Click on the image to enlarge it.]
Scanned image and text by Philip V. Allingham. [You may use this image without prior permission for any scholarly or educational purpose as long as you (1) credit the person who scanned the image and (2) link your document to this URL in a web document or cite the Victorian Web in a print one.]
Passage Illustrated
Perceiving Simon Renard gazing at them with malignant satisfaction, she then turned to Gardiner and said, "My lord, the presence of this person troubles me. I pray you, if he be not needful to our conference, that you will desire him to withdraw."
The bishop acquiesced, and having signified his wishes to the ambassador, he feigned to depart. But halting beneath the arched entrance, he remained an unseen witness of the proceedings.
>A slight pause ensued, during which Jane knelt beside the chair, and fervently besought heaven to grant her strength for the encounter. She then arose, and fixing her eye upon Gardiner, said in a firm tone, "I am ready, my lord, I pray you question me, and spare me not."
No further intimation was necessary to the bishop, who immediately proceeded to interrogate her on the articles of her faith; and being a man of profound learning, well versed in all the subtleties of scholastic dispute, he sought in every way to confound and perplex her. In this he was likewise assisted by Bonner and Feckenham, both of whom were admirable theologians, and who proposed the most difficult questions to her. The conference lasted several hours, during which Jane sustained her part with admirable constancy — never losing a single point — but retorting upon her opponents questions, which they were unable to answer — displaying such a fund of erudition — such powers of argument — such close and clear reasoning — and such profound knowledge of the tenets of her own faith and of theirs, that they were completely baffled and astounded. To a long and eloquent address of Gardiner's she replied at equal length, and with even more eloquence and fervour, concluding with these emphatic words — "My lord, I have lived in the Protestant faith, and in that faith I will die. In these sad times, when the power of your church is in the ascendant, it is perhaps needful there should be martyrs in ours to prove our sincerity. Amongst these I shall glory to be numbered — happy in the thought that my firmness will be the means in after ages, of benefiting the Protestant church. On this rock," she continued, pointing to the Bible, which lay open before her — "my religion is built, and it will endure, when yours, which is erected on sandy foundations, shall be utterly swept away. In this sacred volume, I find every tenet of my creed, and I desire no other mediator between my Maker and myself."
As she said this, her manner was so fervid, and her look so full of inspiration, that all her listeners were awe-stricken, and gazed at her in involuntary admiration. The secretary suspended his task to drink in her words; and even Simon Renard, who ensconced beneath the door-way, seemed no inapt representation of the spirit of evil, appeared confounded.
After a brief pause, Gardiner arose, saying, "the conference is ended, daughter. You are at liberty to depart. If I listen longer," he added, in an under tone to his companions, "I shall be convinced against my will."
"Then you acknowledge your defeat, my lord,"​said Jane, proudly. [Chapter X. — Of the Conference held between Bishop Gardiner and Lady Jane Grey in the Beauchamp Tower," pp. 180-181]
Commentary
Cruikshank presents the contest between the Catholic archbishop and the former queen, now a prisoner of state, as a conflict not so much of faiths as of sexes and generations. Jane is posed between males recording and males accusing, criticising, and questioning the purity Jane's religious convictions. As the glaring Spanish ambassador watches unseen by the principals, Jane holds centre stage in the relatively comfortable chambers in the Beauchamp Tower, where her father-in-law had been a prisoner.
Located in the middle of the western site and functioning at the time of the story as the main entrance to the precincts of the Tower of London, the Beauchamp Tower is semicircular, projecting 5.5 metres beyond the line of the wall. The middle of its three storeys is on a level with the rampart, upon which it originally opened when King Edward I built it. However, the present-day brickwork dates from the reign of Henry VIII. The spacious middle chamber, which a large widow illuminates, is accessed by a wide, circular staircase from ground-level. On the walls of the Beauchamp a host of prisoners have commemorated their tedious stays in a variety of inscriptions in the chambers, the entrance way, and on the passage up the staircase; the most celebrated of these is the ornate coat of arms which John Dudley, fifth son of the Duke of Northumberland, executed during his incarceration in 1553-54.
Bibliography
"Ainsworth, William Harrison." http://biography.com
Ainsworth, William Harrison. The Tower of London. Illustrated by George Cruikshank. London: Richard Bentley, 1840.
Burton, Anthony. "Cruikshank as an Illustrator of Fiction." George Cruikshank: A Revaluation. Ed. Robert L. Patten. Princeton: Princeton U. P., 1974, rev., 1992. Pp. 92-128.
Carver, Stephen. Ainsworth and Friends: Essays on 19th Century Literature & The Gothic. 11 September 2017.
Department of Environment, Great Britain. The Tower of London. London: Her Majesty's Stationery Office, 1967, rpt. 1971.
Chesson, Wilfred Hugh. George Cruikshank. The Popular Library of Art. London: Duckworth, 1908.
Golden, Catherine J. "Ainsworth, William Harrison (1805-1882." Victorian Britain: An Encyclopedia, ed. Sally Mitchell. New York and London: Garland, 1988. Page 14.
Kelly, Patrick. "William Harrison Ainsworth." Dictionary of Literary Biography, Vol. 21, "Victorian Novelists Before 1885," ed. Ira Bruce Nadel and William E. Fredeman. Detroit: Gale Research, 1983. Pp. 3-9.
McLean, Ruari. George Cruikshank: His Life and Work as a Book Illustrator. English Masters of Black-and-White. London: Art and Technics, 1948.
Pitkin Pictorials. Prisoners in the Tower. Caterham & Crawley: Garrod and Lofthouse International, 1972.
Sutherland, John. "The Tower of London" in The Stanford Companion to Victorian Fiction. Stanford: Stanford University Press, 19893. P. 633.
Steig, Michael. "George Cruikshank and the Grotesque: A Psychodynamic Approach." George Cruikshank: A Revaluation. Ed. Robert L. Patten. Princeton: Princeton U. P., 1974, rev., 1992. Pp. 189-212.
Vogler, Richard A. Graphic Works of George Cruikshank. Dover Pictorial Archive Series. New York: Dover, 1979.
Worth, George J. William Harrison Ainsworth. New York: Twayne, 1972.
Vann, J. Don. "The Tower of London, thirteen parts in twelve monthly instalments, January-December 1840." Victorian Novels in Serial. New York: MLA, 1985. Pp. 19-20.
---
Last modified 12 October 2017