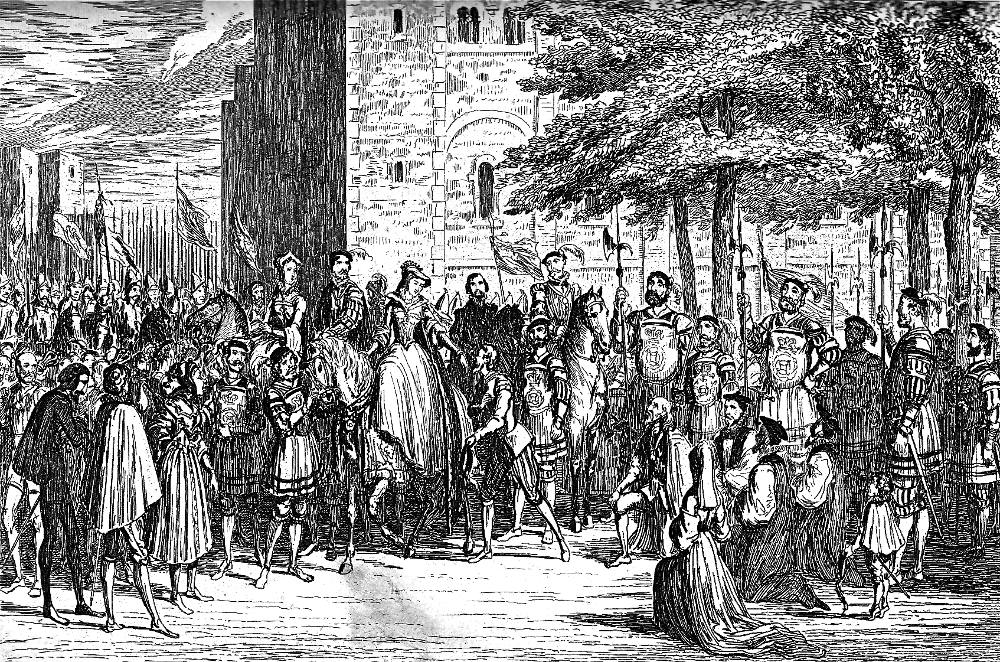 Queen Mary receiving the prisoners on the Tower Green — George Cruikshank. April 1840 number. Twenty-sixth illustration. Book the Second, Chapter I, in William Harrison Ainsworth's The Tower of London. 9.7 cm high by 14.5 cm wide, framed, facing p. 122. Against the backdrop of the White Tower, suggestive of military as well as political authority, Queen Mary, but recently arrived in London, reinstates a number of Catholic nobles and prelates to positions of power.
Scanned image and text by Philip V. Allingham. [You may use this image without prior permission for any scholarly or educational purpose as long as you (1) credit the person who scanned the image and (2) link your document to this URL in a web document or cite the Victorian Web in a print one.]
Passage Illustrated
The cavalcade next passed beneath the arch of the Bloody Tower, and the whole retinue drew up on the Green. A wide circle was formed round the queen, amid which, at intervals, might be seen the towering figures of the giants, and next to the elder of them, Xit, who having been obliged to quit his new friend had returned to Og and was standing on his tip-toes to obtain a peep at what was passing. No sooner had Mary taken up her position, than Lord Clinton re-appeared, and brought with him several illustrious persons who having suffered imprisonment in the fortress, for their zeal for the religion of Rome, wore now liberated by her command. As the first of the group, a venerable nobleman, Approached her and bent the knee before her, Mary's eyes filled with tears, and she exclaimed, in a voice of much emotion, —
"Arise, my Lord Duke of Norfolk. The attainder pronounced against you in my father's reign is reversed. Your rank, your dignities, honours, and estates shall be restored to you."
As the Duke retired, Gardiner, Bishop of Winchester, advanced.
"Your Grace shall not only have your bishoprick again," said Mary, "but you shall have another high and important office. — I here appoint you Lord Chancellor of the realm."
"Your highness overwhelms me with kindness," replied Gardiner, pressing her hand to his lips.
"You have no more than your desert, my lord," replied Mary. "But I pray you stand aside a moment. There are other claimants of our attention."
Gardiner withdrew, and another deprived bishop took his place. It was Bonner.
"My lord," said Mary, as he bowed before her, "you are restored to the see of London, and the prelate who now so unworthily fills that high post, Bishop Ridley, shall make room for you. My lord," she added to Lord Clinton, "make out a warrant, and let him be committed to the Tower."
"I told you how it would be," observed Renard to Lord Pembroke. "Ridley's last discourse has cost him his liberty. Cranmer will speedily follow."
Other prisoners, amongst whom was Tunstall, Bishop of Durham, and the Duchess of Somerset, now advanced, and were warmly welcomed by the Queen. The last person who approached her was a remarkably handsome young man, with fine features and a noble figure. This was Edward Courtenay, son of the Marquess of Exeter, who was beheaded in 1538. Since that time Courtenay had been a close prisoner in the Tower. He was of the blood-royal, being grandson of Catherine, youngest daughter of Edward the Fourth, and his father had been declared heir to the throne. [Book Two, "Mary the Queen," Chapter I, — "Of the Arrival of Queen Mary in London; Of Her Entrance into the Tower; and of Her Reception of the Prisoners on the Green," pp. 121-22]
Commentary
Looking both regal and magnanimous, and riding a white palfrey, Mary Tudor enters the Tower of London on 3​August 1553​to distribute favours to prisoners of state who have suffered loss of office because of their Catholic faith. Cruikshank ominously positions a forest of spears to the left of the composition to suggest the brute force with which the eldest daughter of Henry VIII will restore the "old religion" and its principal adherents in a kingdom now accustomed to Protestant rule​ and religious freedom. Her entry visually is somewhat different from that of her cousin, "the usurper" Lady Jane Grey, in that she arrives by land and enters through the City of London. The familiar figures of gigantic yeoman warders Og, Gog, and Magog​are standing to the right (not "On either side of the gate"), and the black-clad Simon Renard and Lord Pembroke, to the extreme left. "Her entrance was conducted with much ceremony. Proceeding through closely-serried ranks of archers and arquebussiers, she passed beneath the Middle Gate and across the bridge. At the By-ward Tower she was received by Lord Clinton and a train of nobles." The elderly nobleman kneeling in gratitude is the Lord Duke of Norfolk, who suffered​attainder​under Henry VIII. Among the three kneeling prelates are Cranmer, Gardiner, Bishop of Winchester,​and designate Bishop Bonner​of London, whom she elevates as she orders the arrest of the present​Bishop, Thomas Ridley.​In the most significant position, immediately beside Mary, is fashionably dressed, "remarkably handsome young man, with fine features and a noble figure" —​ Edward Courtenay, son of the Marquess of Exeter,​to whom Mary now gives his father's titles and estates. In short, she indulges her father's enemies, and signals that the former Catholic hierarchy can expect favourable treatment from the new regime.
Bibliography
"Ainsworth, William Harrison." http://biography.com
Ainsworth, William Harrison. The Tower of London. Illustrated by George Cruikshank. London: Richard Bentley, 1840.
Burton, Anthony. "Cruikshank as an Illustrator of Fiction." George Cruikshank: A Revaluation. Ed. Robert L. Patten. Princeton: Princeton U. P., 1974, rev., 1992. Pp. 92-128.
Carver, Stephen. Ainsworth and Friends: Essays on 19th Century Literature & The Gothic. 11 September 2017.
Chesson, Wilfred Hugh. George Cruikshank. The Popular Library of Art. London: Duckworth, 1908.
Department of Environment, Great Britain. The Tower of London. London: Her Majesty's Stationery Office, 1967, rpt. 1971.
Golden, Catherine J. "Ainsworth, William Harrison (1805-1882." Victorian Britain: An Encyclopedia, ed. Sally Mitchell. New York and London: Garland, 1988. Page 14.
Kelly, Patrick. "William Harrison Ainsworth." Dictionary of Literary Biography, Vol. 21, "Victorian Novelists Before 1885," ed. Ira Bruce Nadel and William E. Fredeman. Detroit: Gale Research, 1983. Pp. 3-9.
McLean, Ruari. George Cruikshank: His Life and Work as a Book Illustrator. English Masters of Black-and-White. London: Art and Technics, 1948.
Pitkin Pictorials. Prisoners in the Tower. Caterham & Crawley: Garrod and Lofthouse International, 1972.
Sutherland, John. "The Tower of London" in The Stanford Companion to Victorian Fiction. Stanford: Stanford University Press, 19893. P. 633.
Steig, Michael. "George Cruikshank and the Grotesque: A Psychodynamic Approach." George Cruikshank: A Revaluation. Ed. Robert L. Patten. Princeton: Princeton U. P., 1974, rev., 1992. Pp. 189-212.
Vogler, Richard A. Graphic Works of George Cruikshank. Dover Pictorial Archive Series. New York: Dover, 1979.
Worth, George J. William Harrison Ainsworth. New York: Twayne, 1972.
Vann, J. Don. "The Tower of London, thirteen parts in twelve monthly instalments, January-December 1840." Victorian Novels in Serial. New York: MLA, 1985. Pp. 19-20.
---
Last modified 11 October 2017