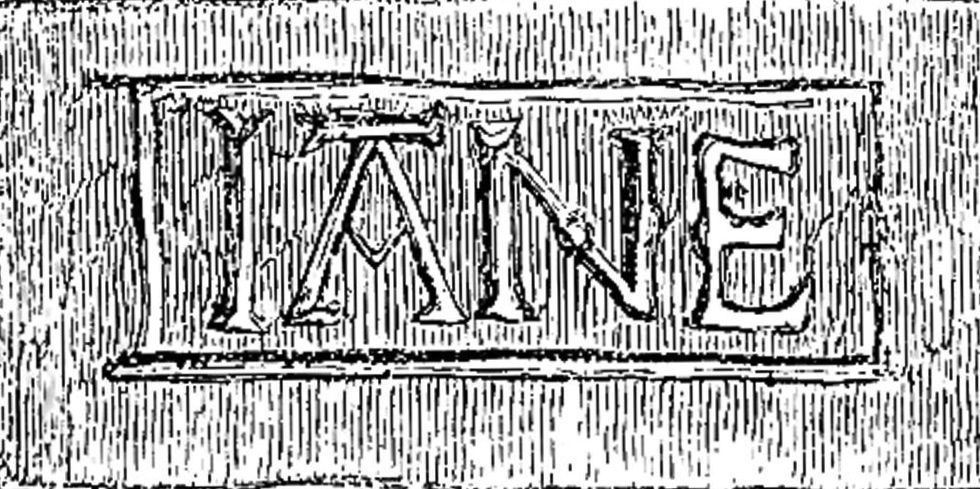 Jane. — February 1840, George Cruikshank's headnote vignette for Book One, "Jane the Queen," Chapter V, in William Harrison Ainsworth's The Tower of London. wood-engraving, 2.7 cm high by 5.4 cm wide, framed, p. 33. Since Lady Jane Grey was not incarcerated in the Beauchamp Tower, one of her followers probably made the inscription, although tradition attributes that inscription to her husband, Lord Guildford Dudley. [Click on the image to enlarge it.]
Scanned image and text by Philip V. Allingham. [You may use this image without prior permission for any scholarly or educational purpose as long as you (1) credit the person who scanned the image and (2) link your document to this URL in a web document or cite the Victorian Web in a print one.]
Passage Complemented
Jane not appearing, and some time having elapsed since her departure, her sisters, who were anxiously awaiting her return in the room adjoining the council-chamber, became so uneasy, that, notwithstanding her injunctions to the contrary, they resolved to go in search of her. Accordingly, bidding the ushers precede them, they descended to the chapel; and their uneasiness was by no means decreased on finding it buried in darkness, and apparently empty. As they gazed around in perplexity and astonishment, a deep-drawn sigh broke from the northern aisle; and, hurrying in that direction, they discovered the object of their search, who had been hidden from view by the massive intervening pillars, extended upon a seat, and just recovering from a swoon into which she had fallen. Revived by their assiduities, Jane was soon able to speak, and the first thing she uttered was a peremptory order that no alarm should be given, or assistance sent for. [Book One, Chapter V. — "Of the Misunderstanding That Arose Between Queen Jane and her Husband, Lord Guilford Dudley," p. 33]
Commentary
Cruikshank has integrated Jane's name, unadorned with regal prefix, into the Ainsworth text, just as he and Ainsworth would have seen the crudely cut inscription in their monthly perambulations about the Tower of London while the novel was in serial publication. In fact, although many a prisoner scratched his or her name into the stones of the various rooms in the Tower of London complex, Lady Jane Grey is not the likely author of this particular inscription. Even though at this point in the narrative she is still very much the Queen, the placement of her engraved name at the beginning of the fifth chapter of the first book provides suitably gothic foreshadowing of her eventual fate.
Although she herself was probably never in the Beauchamp Tower, the inscription IANE on the stone wall of the great chamber traditionally commemorates her. The Beauchamp Tower had long been a prison for persons of rank. [Pitkin, p. 16]
Lady Jane's ghost has reputedly appeared in various locations at the Tower of London a number of times, each on the anniversary of her execution, 12 February 1554, the latest reported occasion having been on the night of 12 February 1957.
Bibliography
"Ainsworth, William Harrison." http://biography.com
Ainsworth, William Harrison. The Tower of London. Illustrated by George Cruikshank. London: Richard Bentley, 1840.
Burton, Anthony. "Cruikshank as an Illustrator of Fiction." George Cruikshank: A Revaluation. Ed. Robert L. Patten. Princeton: Princeton U. P., 1974, rev., 1992. Pp. 92-128.
Carver, Stephen. Ainsworth and Friends: Essays on 19th Century Literature & The Gothic. 11 September 2017.
Department of Environment, Great Britain. The Tower of London. London: Her Majesty's Stationery Office, 1967, rpt. 1971.
The Gentle Author. "The Bloody Romance of the Tower." Spitalfields Life. 17 May 2011.
Golden, Catherine J. "Ainsworth, William Harrison (1805-1882." Victorian Britain: An Encyclopedia, ed. Sally Mitchell. New York and London: Garland, 1988. Page 14.
Kelly, Patrick. "William Harrison Ainsworth." Dictionary of Literary Biography, Vol. 21, "Victorian Novelists Before 1885," ed. Ira Bruce Nadel and William E. Fredeman. Detroit: Gale Research, 1983. Pp. 3-9.
McLean, Ruari. George Cruikshank: His Life and Work as a Book Illustrator. English Masters of Black-and-White. London: Art and Technics, 1948.
Pitkin Pictorials. Prisoners in the Tower. Caterham & Crawley: Garrod and Lofthouse International, 1972.
Sutherland, John. "The Tower of London" in The Stanford Companion to Victorian Fiction. Stanford: Stanford University Press, 19893. P. 633.
Steig, Michael. "George Cruikshank and the Grotesque: A Psychodynamic Approach." George Cruikshank: A Revaluation. Ed. Robert L. Patten. Princeton: Princeton U. P., 1974, rev., 1992. Pp. 189-212.
Vogler, Richard A. Graphic Works of George Cruikshank. Dover Pictorial Archive Series. New York: Dover, 1979.
Worth, George J. William Harrison Ainsworth. New York: Twayne, 1972.
Vann, J. Don. "The Tower of London, thirteen parts in twelve monthly instalments, January-December 1840." Victorian Novels in Serial. New York: MLA, 1985. Pp. 19-20.
---
Last modified 17 October 2017