Oliver's reception by Fagin and the boys — the eighth steel engraving and later a watercolour for Charles Dickens's The Adventures of Oliver Twist; or, The Parish Boy's Progress, first published in volume by Richard Bentley after its November 1837 appearance in Bentley's Miscellany, Chapter XVI (eighth instalment). 4 ½ by 3 ¾ inches (11.4 cm by 9.6 cm), vignetted, facing page 85 in the 1846 edition (originally leading off the monthly number). Cruikshank's own 1866 watercolour, commissioned by book-collector F. W. Cosens, is the basis for the 1911 chromolithograph. [Click on the images to enlarge them.]
Passage Illustrated
The young gentleman did not stop to bestow any other mark of recognition upon Oliver than a humorous grin; but, turning away, beckoned the visitors to follow him down a flight of stairs. They crossed an empty kitchen; and, opening the door of a low earthy-smelling room, which seemed to have been built in a small back-yard, were received with a shout of laughter.
"Oh, my wig, my wig!" cried Master Charles Bates, from whose lungs the laughter had proceeded; "here he is! oh, cry, here he is! Oh, Fagin, look at him! Fagin, do look at him! I can't bear it; it is such a jolly game, I can't bear it. Hold me, somebody, while I laugh it out."
With this irrepressible ebullition of mirth, Master Bates laid himself flat on the floor: and kicked convulsively for five minutes in an ecstasy of facetious joy. Then jumping to his feet, he snatched the cleft stick from the Dodger; and, advancing to Oliver, viewed him round and round; while the Jew, taking off his nightcap, made a great number of low bows to the bewildered boy. The Artful, meantime, who was of a rather saturnine disposition, and seldom gave way to merriment when it interfered with business, rifled Oliver's pockets with steady assiduity.
"Look at his togs, Fagin!" said Charley, putting the light so close to his new jacket as nearly to set him on fire. "Look at his togs! Superfine cloth, and the heavy swell cut! Oh, my eye, what a game! And his books, too! Nothing but a gentleman, Fagin!"
"Delighted to see you looking so well, my dear," said the Jew, bowing with mock humility. "The Artful shall give you another suit, my dear, for fear you should spoil that Sunday one. Why didn't you write, my dear, and say you were coming? We'd have got something warm for supper."
At this, Master Bates roared again: so loud that Fagin himself relaxed, and even the Dodger smiled; but as the Artful drew forth the five-pound note at that instant, it is doubtful whether the sally or the discovery awakened his merriment.
"Hallo! what's that?" inquired Sikes, stepping forward as the Jew seized the note. "That's mine, Fagin."
"No, no, my dear," said the Jew. "Mine, Bill, mine. You shall have the books."
"If that ain't mine!" said Bill Sikes, putting on his hat with a determined air; "mine and Nancy's that is; I'll take the boy back again." [Chapter XVI, "Relates what became of Oliver Twist after he had been claimed by Nancy," p. 85 in the 1846 edition]
Commentary
Now Oliver is revictimzed as the gang derides him in his tailor-made suit, and forces him back into the rags that are the outward and visible sign of his loss of middle-class dentity, so recently reconferred upon him. The ominous shadow of Sikes renders him doubly powerful, a possible adult identity for each of the boys in Fagin's charge. Although Dickens's official illustrator for Oliver Twist in the 1837-8 serial, George Cruikshank, depicts the housebreaker Bill Sikes effectively as the central agent in the garrett scene, the most active figures are the sarcastic Charley (centre), showing Oliver off to the other gang members, and the Dodger, about to ransack Oliver's pockets and discover the five-pound note. Nevertheless, the text opposite reinforces the dominance of Fagin, cap in hand in a gesture of mock humility.
Indeed, most illustrators of the novel depict Fagin as interacting with and directing the affairs of the young thieves — the exception being the lone figure with the cash-box in Sol Eytinge's Diamond Edition portrait Fagin, which captures the master-thief's avarice, and, moreover, his general lack of genuine concern for anybody but himself. In the Household Edition, realist James Mahoney focuses on Fagin's chagrin at the Dodger and Charley's having lost Oliver on his first expedition out in "What's become of the boy?", in which Mahoney strips away the pseudo-charming veneer that Cruikshank often conveys. In the 1910 Charles Dickens Library Edition, Furniss in illustrating 16 actually depicts the gang's re-apprehension of Oliver in Clerkenwell, as Sikes (right) burst into the frame while at the far left a grim-faced Nancy grabs the terrified boy in Oliver trapped by Nancy and Sikes, in which the last great nineteenth-century visual interpreter of Dickens inimizes the crowd of bystanders to whom Cruikshank has given such prominence in Oliver claimed by his affectionate friends. The figure of Nancy in the present Cruikshank plate again underscores the ineffectiveness of Cruikshank in depicting women as active participants in a scene. This Nancy is effectively blocked from participating by Fagin's back, whereas in the text she will shortly intervene on Oliver's behalf to preserve Oliver from Sikes's dog, and then from Fagin's assaulting Oliver with a bat. In this Cruikshank illustration there is no foreshadowing of Nancy's stepping in as Oliver's champion; rather, she smiles at the proceedings as she tucks her arms in her shawl, a posture indicative of complacency.
The distorted, caricatural forms of Fagin and Sikes complement the laughter of street-wise Charley Bates and the concentration of the Dodger as he checks Oliver's pockets to produce an essentially comic scene in which Oliver does not express fear and loathing, and even Bull's-eye (between Oliver and Charley) seems inert rather than menacing. Cruikshank uses the cartoonist's trick of identifying each character by some salient feature of dress or physiognomy, so that Sikes is identified by white to-hat, Nancy by her large-brimmed hat and shawl, Fagin by his beard, slippers, and bell-shaped dressing-gown, and Oliver by his dark cap and large-collared shirt. The cartoonist enforces the reader's identification with the protagonist by making him once again the underdog and subjecting his form to minimal distortion. Cruiukshank is at his best showing the lively street-boys in action, with Charley taking a dramatic role as a ridiculer of the young swell, a role and posture well-suited to Cruikshank's humorous style.
Relevant Illustrations from the Diamond Edition (1867), Household Edition (1871), Darley "Sketches" (1888) and Charles Dickens Library Edition (1910)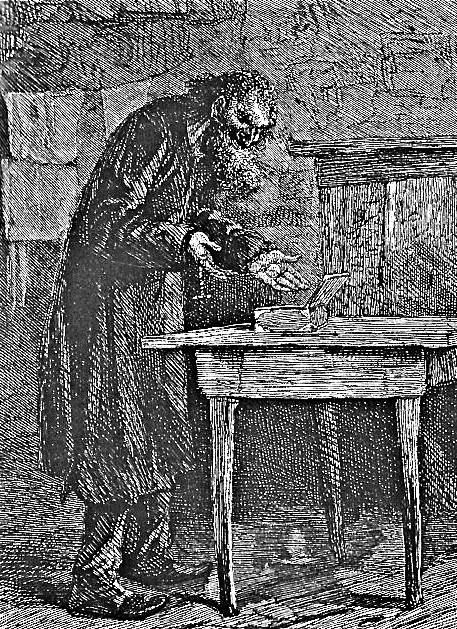 Left: Sol Eytinge, Junior's Fagin (1867). Centre: Mahoney's Household Edition illustration "What's become of the boy?" (1871). Right: F. W. Pailthorpe's Robson & Kerslake edition illustration Return of the boys without Oliver (1886). [Click on images to enlarge them.]
Left: Harry Furniss's Oliver trapped by Nancy and Sikes (1910). Centre: Harry Furniss's Bill Sikes (1910). Right: F. O. C. Darley's Sikes, Nancy, and Oliver Twist (1888) [Click on images to enlarge them.]
Related Material
Scanned images and text by Philip V. Allingham. [You may use these images without prior permission for any scholarly or educational purpose as long as you (1) credit the photographer and (2) link your document to this URL in a web document or cite the Victorian Web in a print one.]
Bibliography
Bentley, Nicolas, Michael Slater, and Nina Burgis. The Dickens Index. New York and Oxford: Oxford U. P., 1990.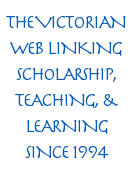 Cohen, Jane Rabb. "George Cruikshank." Charles Dickens and His Original Illustrators. Columbus: Ohio State U. P., 1980. Pp. 15-38.
Darley, Felix Octavius Carr. Character Sketches from Dickens. Philadelphia: Porter and Coates, 1888.
Davis, Paul. Charles Dickens A to Z: The Essential Reference to His Life and Work. New York: Facts On File, 1998.
Dickens, Charles. The Adventures of Oliver Twist; or, The Parish Boy's Progress. Illustrated by George Cruikshank. London: Bradbury and Evans; Chapman and Hall, 1846.
_______. Oliver Twist. Works of Charles Dickens. Household Edition. 55 vols. Illustrated by F. O. C. Darley and John Gilbert. New York: Sheldon and Co., 1865.
_______. Oliver Twist. Works of Charles Dickens. Diamond Edition. 14 vols. Illustrated by Sol Eytinge, Jr. Boston: Ticknor and Fields, 1867.
_______. Oliver Twist. Works ofCharles Dickens. Household Edition. 22 vols. Illustrated by James Mahoney. London: Chapman and Hall, 1871. Vol. I.
_______. The Adventures of Oliver Twist. Works of Charles Dickens. Charles Dickens Library Edition. 18 vols. Illustrated by Harry Furniss. London: Educational Book Company, 1910. Vol. 3.
Forster, John. "Oliver Twist 1838." The Life of Charles Dickens. Ed. B. W. Matz. The Memorial Edition. 2 vols. Philadelphia: J. B. Lippincott, 1911. Vol. 1, book 2, chapter 3. Pp. 91-99.
Grego, Joseph (intro). Cruikshank's Water Colours. [27 Oliver Twist illustrations, including the wrapper and the 13-vignette title-page produced for F. W. Cosens; 20 plates for William Harrison Ainsworth's The Miser's Daughter: A Tale of the Year 1774; 20 plates plus the proofcover the work for W. H. Maxwell's History of the Irish Rebellion in 1798 and Emmetts Insurrection in 1803]. London: A & C Black, 1903. OT = pp. 1-106]. Book in the Rare Book Collection of the University of Toronto.
Kitton, Frederic G. "George Cruikshank." Dickens and His Illustrators: Cruikshank, Seymour, Buss, "Phiz," Cattermole, Leech, Doyle, Stanfield, Maclise, Tenniel, Frank Stone, Topham, Marcus Stone, and Luke Fildes. 1899. Rpt. Honolulu: U. Press of the Pacific, 2004. Pp. 1-28.
Lynch, Tony. "Clerkenwell, London." Dickens's England: An A-Z Tour of the Real and Imagined Locations. London: Batsford, 2012. Pp. 64-65.
---
Created 27 August 2014 Last modified 14 December 2021