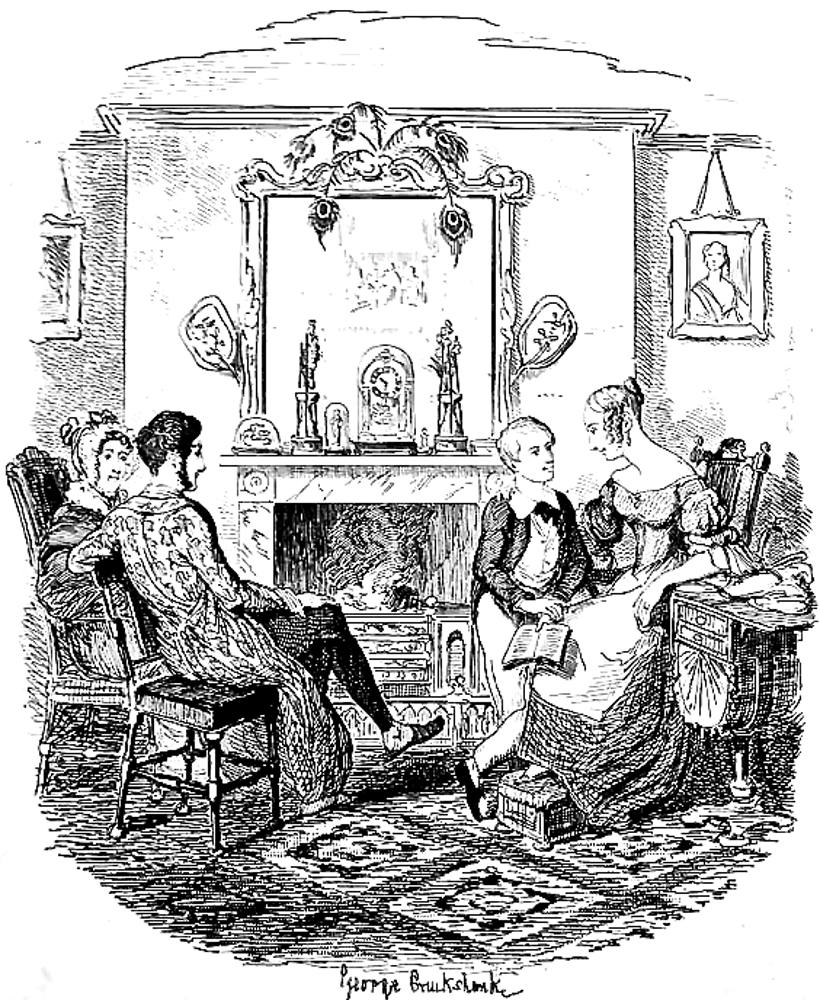 Oliver and His Family — The Fireside Plate
George Cruikshank, 1792-1878
originally intended for Part 24, April 1839
Etching on steel
Originally, the final illustration, The Adventures of Oliver Twist; or, The Parish Boy's Progress
Scanned image and text by Philip V. Allingham.
[You may use this image without prior permission for any scholarly or educational purpose as long as you (1) credit the person who scanned the image and (2) link your document to this URL in a web document or cite the Victorian Web in a print one.].
Passage Illustrated
I would fain linger yet with a few of those among whom I have so long moved, and share their happiness by endeavouring to depict it. I would show Rose Maylie in all the bloom and grace of early womanhood, shedding on her secluded path in life soft and gentle light, that fell on all who trod it with her, and shone into their hearts. I would paint her the life and joy of the fire-side circle and the lively summer group; I would follow her through the sultry fields at noon, and hear the low tones of her sweet voice in the moonlit evening walk; I would watch her in all her goodness and charity abroad, and the smiling untiring discharge of domestic duties at home; I would paint her and her dead sister's child happy in their love for one another, and passing whole hours together in picturing the friends whom they had so sadly lost; I would summon before me, once again, those joyous little faces that clustered round her knee, and listen to their merry prattle; I would recall the tones of that clear laugh, and conjure up the sympathising tear that glistened in the soft blue eye. These, and a thousand looks and smiles, and turns of thought and speech — I would fain recall them every one. [Chapter 53, "And Last," p. 85]
Commentary
Although Dickens's official illustrator for Oliver Twist in the 1837-8 serial, George Cruikshank, felt that the so-called Fireside illustration adequately summed up Providence's rewarding Oliver for his courage and upright character in the face of adversity and moral degradation, Dickens found it trite and conventional.
In it, we look towards a marble Victorian mantelpiece with all its domestic knick-knacks and a roaring fire, a religious painting reflected in the tall pier-glass, and the portrait of Oliver's mother in an alcove to one side. The mantel-clock is protected under a glass dome, flanked by two hyacinths cupped securely in their glasses, growing straight between supportive guide-sticks, an obvious metaphor for child-rearing. Young Oliver is portrayed at the heart of the Maylie family: between old Mrs. Maylie, her newly-wedded son and the fragrant Rose, all comfortably grouped round their happy hearth [the social and spiritual centre of the Victorian home]. [Richardson 293]
John Forster, Dickens's official biographer (and therefore hardly an unbiased commentator) recounts the story of the so-called "cancelled plate" in such a manner that Dickens's high-handedness with veteran illustrator George Cruikshank is mitigated:
when Bentley decided to publish Oliver in book form before its completion in his periodical, Cruikshank had to complete the last few plates in haste. Dickens did not review them until the eve of publication and objected to the Fireside plate ("Rose Maylie and Oliver" [the final plate in vol. III]). Dickens had Cruikshank design a new plate [the Church plate] which retained the same title . This Church plate was not completed in time for incorporation into the early copies of the book, but it replaced the Fireside plate in later copies. Dickens not only objected to the Fireside plate, but also disliked having "Boz" on the title page. He voiced these objections prior to publication and the plate and title page were changed between November 9 [publication date] and 16." The publication had been announced for October, but the third-volume-illustrations intercepted it a little. This part of the story, as we have seen, had been written in anticipation of the magazine, and the designs for it having to be executed "in a lump," were necessarily done somewhat hastily. The matter supplied in advance of the monthly portions in the magazine, formed the bulk of the last volume as published in the book; and for this the plates had to be prepared by Cruikshank also in advance of the magazine, to furnish them in time for the separate publication: Sikes and his dog, Fagin in the cell, and Rose Maylie and Oliver, being the three last. None of these Dickens had seen until he saw them in the book on the eve of its publication; when he so strongly objected to one of them that it had to be cancelled. "I returned suddenly to town yesterday afternoon," he wrote to the artist at the end of October, "to look at the latter pages of Oliver Twist before it was delivered to the booksellers, when I saw the majority of the plates in the last volume for the first time. With reference to the last one — Rose Maylie and Oliver — without entering into the question of great haste, or any other cause, which may have led to its being what it is, I am quite sure there can be little difference of opinion between us with respect to the result. May I ask you whether you will object to designing this plate afresh, and doing so at once, in order that as few impressions as possible of the present one may go forth? I feel confident you know me too well to feel hurt by this enquiry, and with equal confidence in you I have lost no time in preferring it." This letter, printed from a copy in Dickens's handwriting fortunately committed to my [i. e., John Forster's] keeping, entirely disposes of a wonderful story originally promulgated in America, with a minute particularity of detail that might have raised the reputation of Sir Benjamin Backbite himself. Whether all Sir Benjamin's laurels however should fall to the person by whom the tale is told, or whether any part belongs to the authority alleged for it, is unfortunately not quite clear. There would hardly have been a doubt, if the fable had been confined to the other side of the Atlantic; but it has been reproduced and widely circulated on this side also, and the distinguished artist whom it calumniates by attributing the invention to him has been left undefended from its slander. Dickens's letter spares me the necessity of characterizing, by the only word which would have been applicable to it, a tale of such incredible and monstrous absurdity as that one of the masterpieces of its author's genius had been merely an illustration of etchings by Mr. Cruikshank! [Forster, 92-94]
Wisely, when Chapman and Hall approached Dickens with the notion of issuing the novel in ten monthly parts for 1846, Dickens — perhaps feeling a little guilty about the "cancelled" plate — nominated Cruikshank rather than his usual illustrator contain the serial instalments. Significantly, perhaps, in his eleven vignettes on the wrapper Cruikshank alludes to neither the "Fireside" nor the "Church" scene that replaced it. The virtue of the "Church" plate must be that, although its does not enshrine Victorian family values as the "Fireside" plate does, it brings the story full circle, and ends with a serene contemplation of Oliver's mother, victim of the workhouse system, a pauper not even given a proper burial — hence, the memorial rather than a grave or headstone in the "Church" plate that replaced the "Fireside" scene.
Relevant Illustrations from the original Volume Edition (1838), Diamond Edition (1867), Household Edition (1871), and Charles Dickens Library Edition (1910)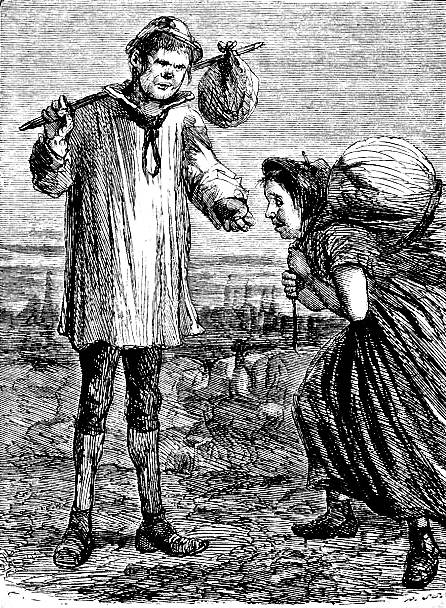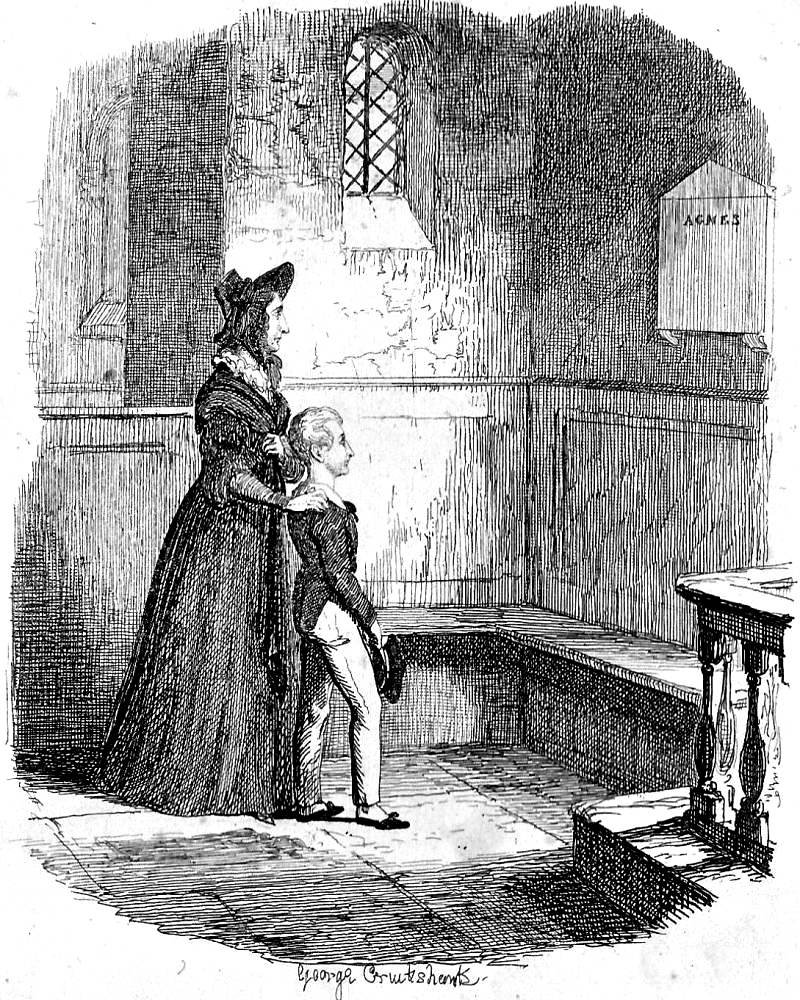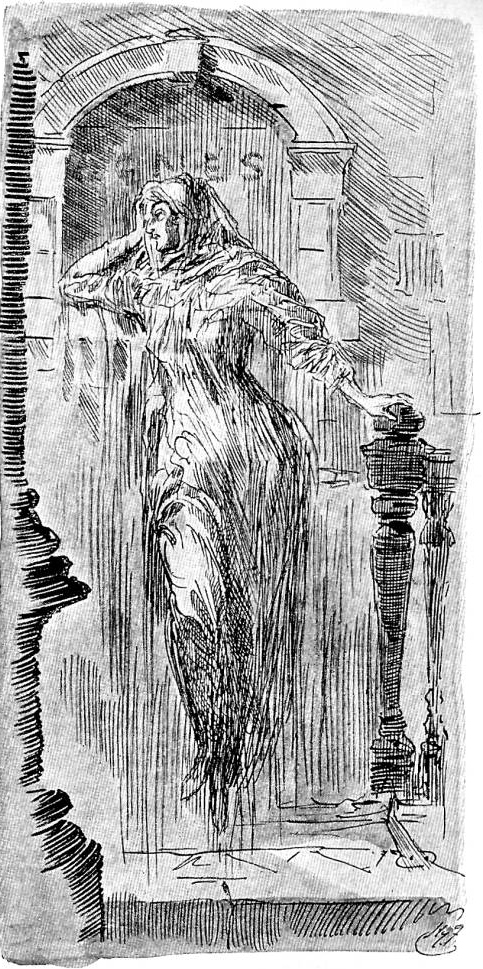 Left: Sol Eytinge, Junior's Noah and Charlotte. Middle left: George Cruikshank's Oliver and His Family [The Fireside Plate]. Middle right: Harry Furniss's Rose Maylie (1910). Right: Harry Furniss's The Shade of Agnes (1910). [Click on the images to enlarge them.]
Mahoney's Household Edition illustration (1871) He sat down on a stone bench opposite the door.
References
Bentley, Nicolas, Michael Slater, and Nina Burgis. The Dickens Index. New York and Oxford: Oxford U. P., 1990.
Cohen, Jane Rabb. "George Cruikshank." Charles Dickens and His Original Illustrators. Columbus: Ohio State U. P., 1980. Pp. 15-38.
Darley, Felix Octavius Carr. Character Sketches from Dickens. Philadelphia: Porter and Coates, 1888.
Davis, Paul. Charles Dickens A to Z: The Essential Reference to His Life and Work. New York: Facts On File, 1998.
Dickens, Charles. The Adventures of Oliver Twist; or, The Parish Boy's Progress. Il. George Cruikshank. London: Bradbury and Evans; ​ Chapman and Hall, 1846.
Dickens, Charles. Oliver Twist. Works of Charles Dickens. Household Edition. 55 vols. Illustrated by F. O. C. Darley and John Gilbert. New York: Sheldon and Co., 1865.
Dickens, Charles. Oliver Twist. Works of Charles Dickens. Diamond Edition. 14 vols. Illustrated by Sol Eytinge, Jr. Boston: Ticknor and Fields, 1867.
Dickens, Charles. Oliver Twist. Works of Charles Dickens. Household Edition. Illustrated by James Mahoney. London: Chapman and Hall, 1871.
Dickens, Charles. The Adventures of Oliver Twist. Works of Charles Dickens. Charles Dickens Library Edition. Illustrated by Harry Furniss. London: Educational Book Company, 1910. Vol. 3.
Forster, John. "Oliver Twist 1838." The Life of Charles Dickens. Ed. B. W. Matz. The Memorial Edition. 2 vols. Philadelphia: J. B. Lippincott, 1911. Vol. 1, book 2, chapter 3.
Richardson, Ruth. "The Subterranean Topography of Oliver Twist," Dickensian Landscapes: 19th Annual Dickens Society Symposium. Domain de Sagnes, Beziers, France: 10 July 2014. Published subsequently in Dickens Quarterly 32, 4 (December 2015): 293-312.
---

Victorian
Web

Illus-
tration

George
Cruikshank

Oliver
Twist

Next
Last modified 5 January​ 2016