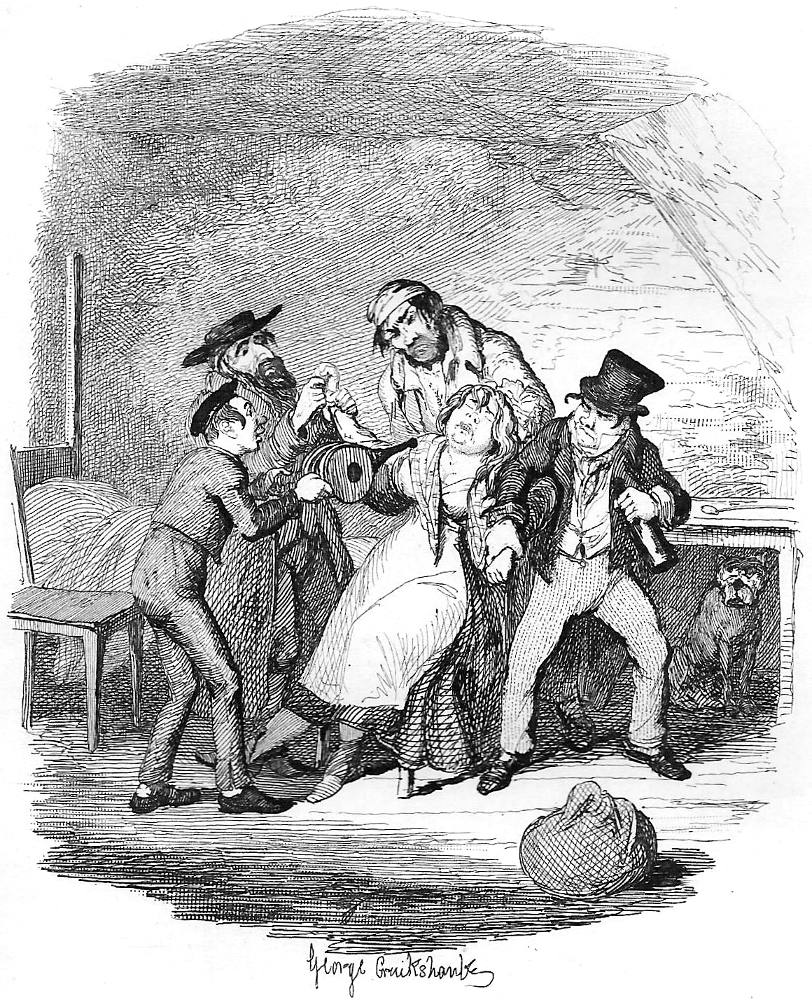 Mr. Fagin and his pupils recovering Nancy
George Cruikshank, 1792-1878
Part 18, October 1838
Etching on steel
Eighteenth monthly illustration, The Adventures of Oliver Twist; or, The Parish Boy's Progress
Scanned image and text by Philip V. Allingham.
[You may use this image without prior permission for any scholarly or educational purpose as long as you (1) credit the person who scanned the image and (2) link your document to this URL in a web document or cite the Victorian Web in a print one.].
Passage Illustrated
"Such a number of nights," said the girl, with a touch of woman's tenderness, which communicated something like sweetness of tone, even to her voice: "such a number of nights as I've been patient with you, nursing and caring for you, as if you had been a child: and this the first that I've seen you like yourself; you wouldn't have served me as you did just now, if you'd thought of that, would you? Come, come; say you wouldn't."
"Well, then," rejoined Mr. Sikes, "I wouldn't. Why, damme, now, the girls's whining again!"
"It's nothing," said the girl, throwing herself into a chair. "Don't you seem to mind me. It'll soon be over."
"What'll be over?" demanded Mr. Sikes in a savage voice. "What foolery are you up to, now, again? Get up and bustle about, and don't come over me with your woman's nonsense."
At any other time, this remonstrance, and the tone in which it was delivered, would have had the desired effect; but the girl being really weak and exhausted, dropped her head over the back of the chair, and fainted, before Mr. Sikes could get out a few of the appropriate oaths with which, on similar occasions, he was accustomed to garnish his threats. Not knowing, very well, what to do, in this uncommon emergency; for Miss Nancy's hysterics were usually of that violent kind which the patient fights and struggles out of, without much assistance; Mr. Sikes tried a little blasphemy: and finding that mode of treatment wholly ineffectual, called for assistance.
"What's the matter here, my dear?" said Fagin, looking in.
"Lend a hand to the girl, can't you?" replied Sikes impatiently. "Don't stand chattering and grinning at me!"
With an exclamation of surprise, Fagin hastened to the girl's assistance, while Mr. John Dawkins (otherwise the Artful Dodger), who had followed his venerable friend into the room, hastily deposited on the floor a bundle with which he was laden; and snatching a bottle from the grasp of Master Charles Bates who came close at his heels, uncorked it in a twinkling with his teeth, and poured a portion of its contents down the patient's throat: previously taking a taste, himself, to prevent mistakes.
"Give her a whiff of fresh air with the bellows, Charley," said Mr. Dawkins; "and you slap her hands, Fagin, while Bill undoes the petticuts."
These united restoratives, administered with great energy: especially that department consigned to Master Bates, who appeared to consider his share in the proceedings, a piece of unexampled pleasantry: were not long in producing the desired effect. The girl gradually recovered her senses; and, staggering to a chair by the bedside, hid her face upon the pillow: leaving Mr. Sikes to confront the new comers, in some astonishment at their unlooked-for appearance. [Chapter 39, "Introduces some respectable Characters with whom the Reader is already acquainted, and shows how Monks and the Jew laid their worthy Heads together," p. 215-216]
Commentary
Part 17, however, in the illustrated monthly periodical edited by Dickens himself for the first two years of its existence, Bentley's Miscellany contained chapters 38 and 39 — and two illustrations, including this somewhat sexist depiction of the distressed Nancy and the down-and-out housebreaker with the soiled nightcap. The plate itself marks a turning point in the plot as Nancy shortly, having been mistreated by Sikes after nursing him through a fever, overhears the plotting of Fagin and Monks, and approaches Rose Maylie with the story of Monks's behind-the-scenes manipulations of Oliver's fortunes. In this second illustration from Part 17 (August 1838), Fagin and his chief juvenile collaborators, Charley Bates and Jack Dawkins, assist the ailing Bill Sikes in recovering Nancy from an hysterical fit.
Although Cruikshank and Furniss focus on Nancy's "hysterics" and the gang's attempting to cure her of them, the other illustrators have dealt instead with the deplorable physical and mental state into which Sikes and his common-law wife have fallen since the botched robbery in Chertsey. Although seven serial instalments and illustrations were yet to appear, already Dickens and Cruikshank were winding up the story for volume (triple-decker) publication by Richard Bentley on 9 November 1838. The last half-dozen illustrations were not scrutinized by Dickens with the result that, returning to town that fall, Dickens requested that Cruikshank substantially revise the final plate (the so-called "Fireside" plate). Reprinted in ten equal monthly instalments between 31 December 1845 and 30 September 1846, Oliver Twist appeared as a single volume with all twenty-four illustrations under the Chapman and Hall imprint in the autumn of 1846 after Dickens, while in Italy and Switzerland, had completely edited the story.
Although undoubtedly intended as a piece of low character comedy, this second August 1838 illustration does not mark a significant moment in the plot or add appreciably to the reader's understanding of the characters. A more pertinent scene would have been Nancy's overhearing Monks and Fagin subsequently in this instalment. Furthermore, Cruikshank's fat, slatternly Nancy does not correspond with Dickens's developing Nancy as the attractive, young harlot with the heart of gold whose tender concern for the persecuted child undermines Monks's carefully laid plot. The illustration may, however, serve to heighten suspense since Nancy's so easily falling into hysterics makes one wonder whether she us equal to the task of holding her emotions in check around Sikes, and slipping away undetected for the fateful meeting with Mr. Brownlow and Rose Maylie beneath London Bridge.
Cruikshank might have detailed the contents of Fagin's "care package" intended to mollify Bill for Fagin's apparent neglect of him over the past month, but, instead of the green tea, two-pound loaves, butter, massive rabbit pie, and Gloucester cheese, all that Cruikshank has included is the sack (in fact, an old tablecloth) in the foreground and the wine-bottle in the Dodger's hand. The only significant piece of detailing is the bellows. In the illustration as opposed to the text, Sikes's dog plays no active role in the scene, being consigned to the area under the table (right). Cruikshank usefully, however, in this Newgate farce foregrounds the semi-conscious Nancy, and makes her the subject of the scrutiny of Fagin and Sikes, although the composition of the tableau is hardly likely to "rewive the drayma," despite the waggish Master Bates's assertion.
Illustrations from the Diamond Edition (1867), Household Edition (1871), and Charles Dickens Library Edition (1910)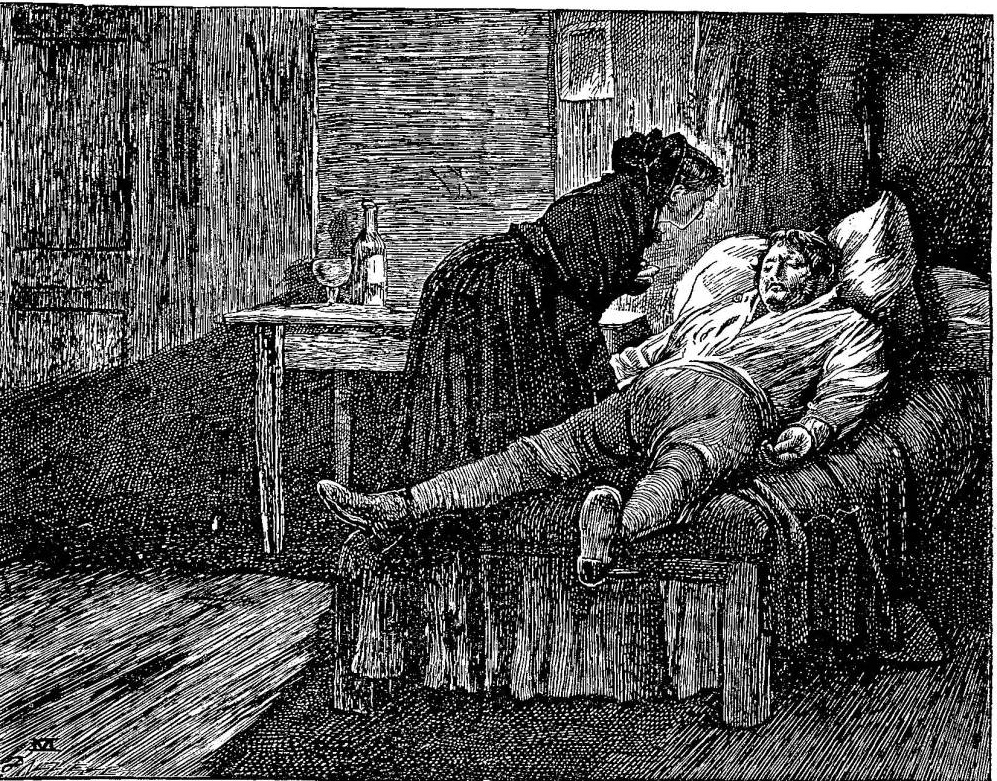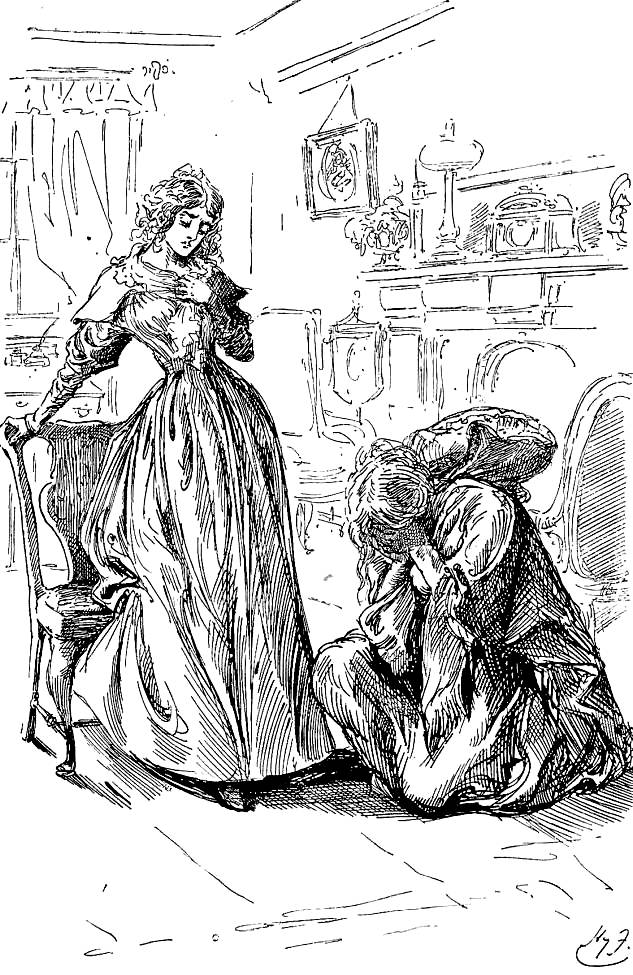 Left: Sol Eytinge, Junior's "Bill Sikes and Nancy". Center: James Mahoney's "Then, stooping softly over the bed, she kissed the robber's lips". Right: Harry Furniss's Charles Dickens Library Edition illustration (1910) "Nancy in Hysterics". [Click on images to enlarge them.]
References
Bentley, Nicolas, Michael Slater, and Nina Burgis. The Dickens Index. New York and Oxford: Oxford U. P., 1990.
Cohen, Jane Rabb. "George Cruikshank." Charles Dickens and His Original Illustrators. Columbus: Ohio State U. P., 1980. Pp. 15-38.
Darley, Felix Octavius Carr. Character Sketches from Dickens. Philadelphia: Porter and Coates, 1888.
Davis, Paul. Charles Dickens A to Z: The Essential Reference to His Life and Work. New York: Facts On File, 1998.
Dickens, Charles. The Adventures of Oliver Twist; or, The Parish Boy's Progress. Il. George Cruikshank. London: Bradbury and Evans; Chapman and Hall, 1846.
Dickens, Charles. Oliver Twist. Works of Charles Dickens. Household Edition. 55 vols. Il. F. O. C. Darley and John Gilbert. New York: Sheldon and Co., 1865.
Dickens, Charles. Oliver Twist. Works of Charles Dickens. Diamond Edition. 14 vols. Il. Sol Eytinge, Jr. Boston: Ticknor and Fields, 1867.
Dickens, Charles. Oliver Twist. Works of Charles Dickens. Household Edition. Il. James Mahoney. London: Chapman and Hall, 1871.
Dickens, Charles. The Adventures of Oliver Twist. Works of Charles Dickens. Charles Dickens Library Edition. Il. Harry Furniss. London: Educational Book Company, 1910. Vol. 3.
Forster, John. "Oliver Twist 1838." The Life of Charles Dickens. Ed. B. W. Matz. The Memorial Edition. 2 vols. Philadelphia: J. B. Lippincott, 1911. Vol. 1, book 2, chapter 3. Pp. 91-99.
Kitton, Frederic G. "George Cruikshank." Dickens and His Illustrators: Cruikshank, Seymour, Buss, "Phiz," Cattermole, Leech, Doyle, Stanfield, Maclise, Tenniel, Frank Stone, Topham, Marcus Stone, and Luke Fildes. 1899. Rpt. Honolulu: U. Press of the Pacific, 2004. Pp. 1-28.
---

Victorian
Web

Illus-
tration

George
Cruikshank

Oliver
Twist

Next
Last modified 9 December 2014