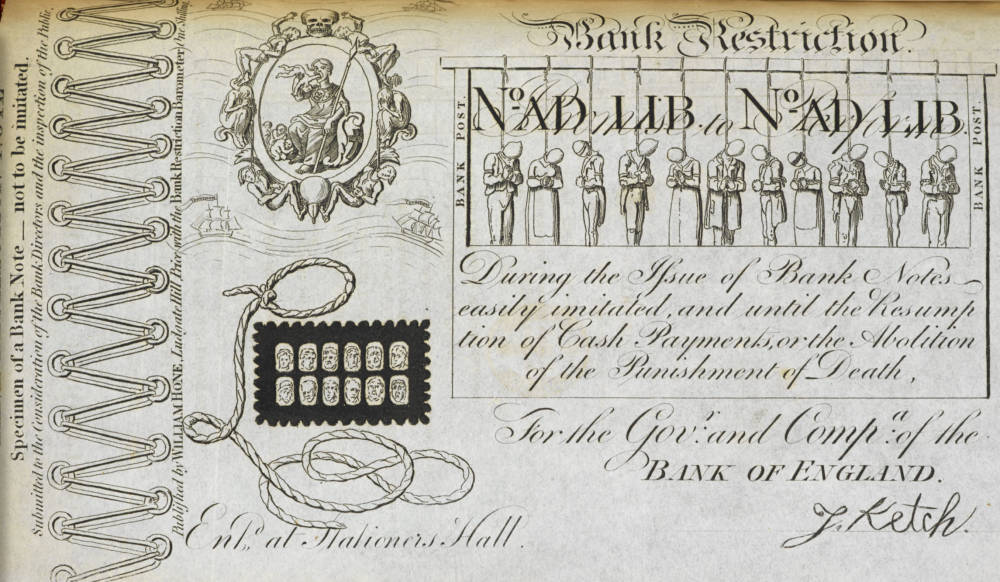 George Cruikshank and William Hone's satirical Bank Restriction Note. Click on image to enlarge it. The British Library website explains,
By the late 1790s the cost of war with France placed great strain on the Bank of England's ability to circulate banknotes and bills of exchange that were convertible to gold or silver coins backed by gold bullion reserves. In a bid to ease pressure on government finances the Bank embarked on measures to restrict the flow of money. Following several runs on independent banks in the North of the country the Bank of England was eventually forced to suspend cash payments entirely, effectively rendering large banknotes worthless. In May 1797 the government passed the Bank Restriction Act which promised to underwrite paper currency's conversion to gold or silver coinage in the future, and authorised the issuing of smaller denominations of notes in order to free up the circulation of coins. These new notes were quickly and crudely issued, offering temptation to forgers who found them relatively easy to reproduce. With the forgery of notes remaining a capital offence until 1832 a marked increase in convictions for the offence of 'uttering false bank notes' consequently increased.
The images shown here demonstrate clearly how this monetary policy was considered to be responsible for an increase in forgery and thus a rise in capital punishments. The illustration of an invented bank note by artist George Cruikshank shows 11 people on the gallows, highlighting the human cost of the Government's Bank Restriction policy.
Related material
Bibliography
Cruikshank, George. Facetiæ and Miscellanies ... With one hundred and twenty engravings, drawn by G. Cruikshank. Second ed. London: 1820. Courtesy of the British Library website. BL Shelfmark: 8135.ccc.18. 11 July 2017.
---
Last modified 11 July 2017