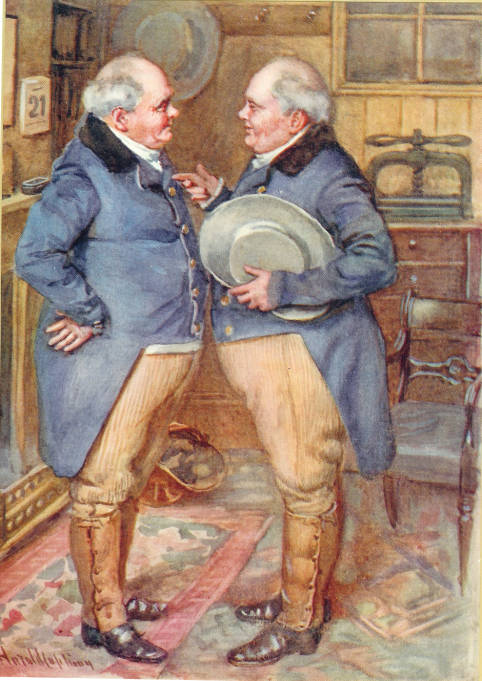 The Brothers Cheeryble
Harold Copping
1924
Colour lithography
17.8 cm. by 12.3 cm.
From Character Sketches from Dickens, facing p. 50 (illustrating Nicholas Nickleby)
Scanned image, caption, and commentary below by Philip V. Allingham
[You may use this image without prior permission for any scholarly or educational purpose as long as you (1) credit the person who scanned the image and (2) link your document to this URL in a web document or cite the Victorian Web in a print one. ]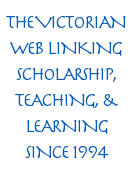 The twins of humanitarian activity, of benevolence, and private charity, the merchant Cheeryble brothers, Charles and Edwin [Ned], represent the kind individual and therefore heart-felt philanthropy that Dickens advocated, in stark contrast the covetousness and parsimony of another pair of early nineteenth-century capitalists given life by Charles Dickens's pen, Jacob Marley and Ebenezer Scrooge of A Christmas Carol, written just a few years after Nicholas Nickleby. The extraordinarily large-brimmed hats, the matching suits, and Tweedle Dum/Tweedle Dee similarities in the pair seen in Copping's illustration come directly from one of Phiz's original illustrations, " Mr. Linkinwater Intimates His Approval of Nicholas" (ch. 37), installment his employers appears to be the focus:
"Where is Tim Linkinwater?" said brother Ned.
Stop, stop, stop!" said brother Charles, taking the other aside. "I've a plan, my dear brother, I've a plan. Tim is getting old, and Tim has been a faithful servant, brother Ned, and I don't think pensioning Tim's mother and sister, and buying a little tomb for the family when his poor brother died, was a sufficient recompense for his faithful services." [chapter 37]
The moment that Copping has realized in "The Brothers Cheeryble" could be taken as a close-up of that same scene, but the fact that no others are present (except by implication Nicholas), that the brothers are facing one another, and that neither is wearing a hat, implies the earlier scene when, in Chapter 35, Charles Cheeryble takes Nicholas back to his counting-house to have the youth "inspected" by their trusted and venerable clerk, Tim Linkinwater.
According to The Dickens Index (1990), the novelist based these excessively cheerful and benevolent characters on the affluent, philanthropic Manchester merchants David and William Grant. They are instrumental in the plot of the novel in that they offer Nicholas a situation, take up Madeline Bray's cause (later making possible her marriage to Nicholas), and frustrate the malignant schemes of Ralph Nickleby. Their nephew, Francis, marries Nicholas's sister, Kate. As characters who resolve so many strands of the story's plot, they are introduced comparatively late in the story, in Part Eleven (February 1839), when Nicholas encounters Charles at an employment office after leaving Dotheboys Hall:
He was a sturdy old fellow in a broad-skirted blue coat, made pretty large, to fit easily, and with no particular waist; his bulky legs clothed in drab breeches and high gaiters, and his head protected by a low-crowned broad-brimmed white hat, such as a wealthy grazier might wear. He wore his coat buttoned; and his dimpled double-chin rested in the folds of a white neckerchief — not one of your stiff-starched apoplectic cravats, but a good, easy, old-fashioned white neckcloth that a man might go to bed in and be none the worse for. [Ch. 35, "Smike becomes known to Mrs. Nickleby and Kate. Nicholas also meets with new Acquaintances, and brighter Days seem to dawn upon the Family"]
Based on their appearance and their business in the vicinity of Threadneedle Street, Nicholas assumes that the "Cheeryble, Brothers" proclaimed by the sign on their door-post are "German-merchants," or immigrants (or immediate descendants of immigrants) who began to set up merchant houses in Manchester around 1820. Thus, Copping combines the earlier outdoors scene in which Dickens describes the clothing and general appearance of Charles Cheeryble with the later scene in their office (suggested by the off-white hat hanging against the wall mentioned in the text, the calendar to the left, and the press to the right). Whereas in Phiz's illustration for chapter 37 the twins are both wearing their characteristic headgear, Copping in realizing the moment in chapter 35 has Charles holding his hat since he has just entered the counting-house from the square, while the other brother's hat hangs on a peg in the background. He has intimated by their wrinkles and smile lines their sanguinary natures, but has failed to suggest the peculiar quality of their eyes which initially strikes Nicholas: "clear, twinkling, honest, merry" (Ch. 35). The later illustrator has, however, captured their "comical expression of mingled slyness, simplicity, kind-heartedness, and good-humour. . . " rather better than Phiz. In contrast to the starkly furnished counting-house of Scrooge and Marley, the Cheerybles' in Copping's plate (but not Phiz's) reflects taste, charm, and even modest opulence, as characterized by the furnishings and carpet. This comfortable interior is quite a departure from the traditional counting-house scene, complete with bow-window, high stools, and ledger desk, given by Phiz in the original series; in "Mr. Linkinwater Intimates His Approval of Nicholas," the bare wooden-plank floor is much more believable, for example, than the rosey-hued carpet in front of the fireplace and fender in Copping's illustration.
Bibliography
Bentley, Nicholas, Michael Slater, and Nina Burgis. The Dickens Index. Oxford and New York: Oxford U. P., 1990.
Hammerton, J. A. The Dickens Picture-Book: A Record of the Dickens Illustrations. London: Educational Book, 1910.
Matz, B. W., and Kate Perugini; illustrated by Harold Copping. Character Sketches from Dickens. London: Raphael Tuck, 1924. Copy in the Paterson Library, Lakehead University.
Bibliography
Matz, B. W., and Kate Perugini; illustrated by Harold Copping. Character Sketches from Dickens. London: Raphael Tuck, 1924. Copy in the Paterson Library, Lakehead University.
---

Victorian
Web

Illus-
tration

Harold
Copping

Next

Charles
Dickens
Last modified 3 April 2009