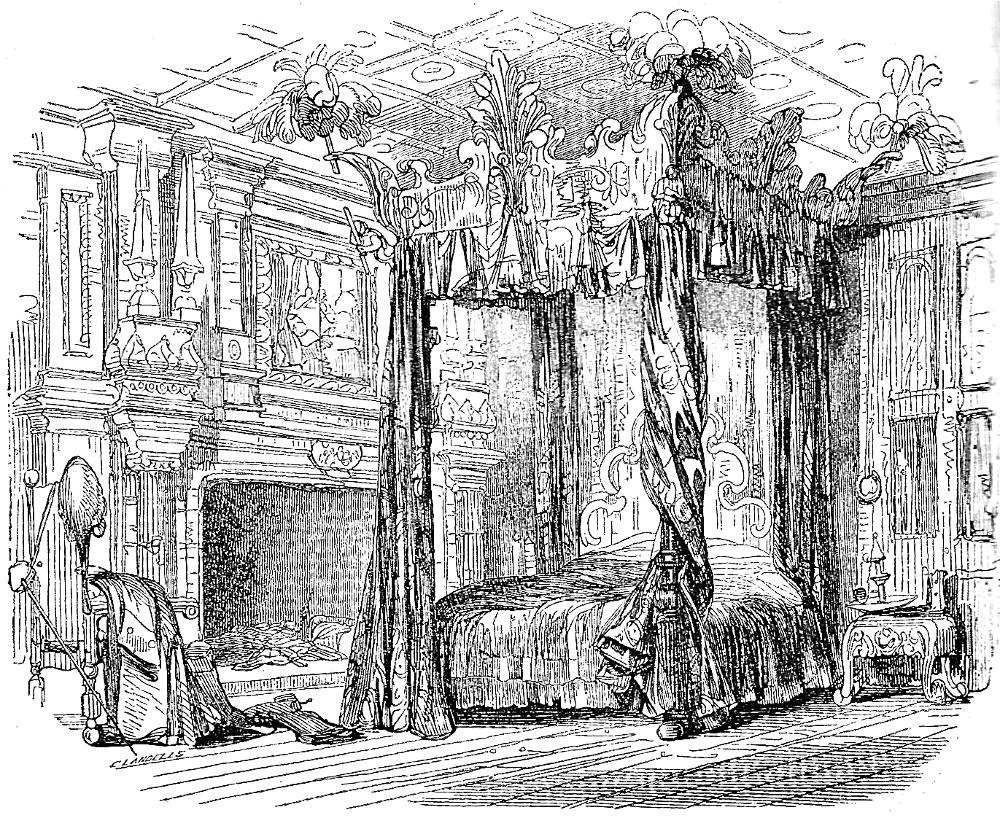 The Maypole's State Couch by George Cattermole. 3 ¾ x 4 ½ inches (9.1 cm by 11.4 cm). Vignetted, wood-engraved tailpiece for Chapter 22, Barnaby Rudge. 1 May 1841 in serial publication (twenty-third plate in the series). Part 12 in the novel, serialised in Master Humphrey's Clock, Vol. III (part 55), 60. [Click on the image to enlarge it.]
Initial Passage Illustrated: The Formidable Room of State (An Allusion)
"And now, Willet," said Mr. Chester, "if the room's well aired, I'll try the merits of that famous bed."
"The room, sir," returned John, taking up a candle, and nudging Barnaby and Hugh to accompany them, in case the gentleman should unexpectedly drop down faint or dead from some internal wound, "the room's as warm as any toast in a tankard. Barnaby, take you that other candle, and go on before. Hugh! Follow up, sir, with the easy-chair."
In this order — and still, in his earnest inspection, holding his candle very close to the guest; now making him feel extremely warm about the legs, now threatening to set his wig on fire, and constantly begging his pardon with great awkwardness and embarrassment — John led the party to the best bedroom, which was nearly as large as the chamber from which they had come, and held, drawn out near the fire for warmth, a great old spectral bedstead, hung with faded brocade, and ornamented, at the top of each carved post, with a plume of feathers that had once been white, but with dust and age had now grown hearse-like and funereal. [Vol. II, Chapter the Twelfth, 305-6]
Comment
However, the placement of the illustration, serving as a tailpiece for Chapter the Twenty-Second, Vol. III, 60, points to Dickens's much later allusion to the best bedroom in the Maypole: "But Mrs. Varden, whose practical religion (as is not uncommon) was usually of the retrospective order, cut him short by declaiming on the sinfulness of such junketings, and holding that it was high time to go to bed. To bed therefore she withdrew, with an aspect as grim and gloomy as that of the Maypole's own state couch; and to bed the rest of the establishment soon afterwards repaired."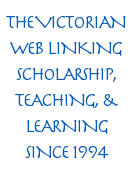 Related Material including Other Illustrated Editions of
Barnaby Rudge
Scanned image, colour correction, sizing, caption, and commentary by Philip V. Allingham. [You may use this image without prior permission for any scholarly or educational purpose, as long as you (1) credit the person who scanned the image, and (2) link your document to this URL in a web document or cite the Victorian Web in a print one.]
Bibliography
Dickens, Charles. Barnaby Rudge. Illustrated by Hablot K. Browne ('Phiz') and George Cattermole. London: Chapman and Hall, 1841; rpt., Bradbury & Evans, 1849.
Vann, J. Don. "Barnaby Rudge in Master Humphrey's Clock, 13 February 1841-27 November 1841." Victorian Novels in Serial. New York: MLA, 1985. 65-6.
---
Created 4 January 2006

Last modified 15 December 2020