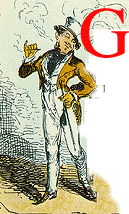 eorge Cattermole, who was born in Dickleburgh on 10 August 1800, the youngest son of a Norfolk squire, was a dozen years older than the brilliant young writer who would become his relative by marriage — Charles Dickens. In his early teens, Cattermole trained as a draghtsman for John Britton (1771-1857), a York mediaevalist and antiquarian publisher whose illustrated books on Britain's mediaeval architecture (1807-36) brought the young artist early fame. A prominent member of the highly exclusive Society of Painters in Water Colours, Cattermole by the mid-1830s was already regarded as "England's foremost painter of scenes commemorating bygone times" (Cohen, 125). One of the most significant moments in the artist's life was his introduction to the young and upcoming writer "Boz" (Charles Dickens) at some time in 1836 at the Gore House (London) salon of Countess of Blessington. The twenty-four-year-old Dickens was much impressed with the dashing, fun-loving, stagecoach-driving thirty-six-year-old bachelor whose rooms in The Albany had once been occupied by Lord Byron (who apparently had left some of his furniture behind). Perhaps because he was already a well-established artist when Boz was still a struggling writer of sketches, and perhaps because in 1839 he had declined a knighthood for his oils and watercolours on mediaeval subjects, Charles Dickens was always slightly in awe of Cattermole, who on 20 August 1839 married Clarissa Elderton, a distant relative of Dickens's mother (Elizabeth neé Barrow), at St. Marylebone, London.
From 1837 to 1841 Dickens and Cattermole often celebrated 'convivial occasions' together at their homes, and with members of the Shakespeare Club (until it disbanded in December 1839) and the Portwiners (a group, including Forster, Thackeray, Bulwer-Lytton, Charles and Edwin Landseer, Macready, Lemon, and Maclise, who assembled in Cattermoles' drawing-room). Cattermole gave sumptuous dinners in the elaborately decorated rooms of the house on Clapham Rise into which he and his bride had moved, and, though increasingly reclusive and nervous [as the 1840s drew to a close], he could host such occasions splendidly. . . . [Despite Cattermole's deteriorating health and spirits, there was a brief flare-up of conviviality when Cattermole consented to play Wellbred in Dickens's 1845 amateur theatrical production of Ben Jonson's Every Man in His Humour. (Patten 69)
Since Cattermole had already illustrated Architectural Antiquities of Great Britain (1821-23), Leitch Ritchie's analysis of the works of Sir Walter Scott (Scott and Scotland, 1833), and the earlier "period" novels of Sir Edward G. D. Bulwer-Lytton, Dickens felt that sentimental and tender-hearted "Kittenmoles" (to use Boz's 1841 nickname for him) would be the ideal companion-illustrator for Phiz (Hablot Knight Browne), who was perfectly suited to the execution of the numerous rascals, rogues, and scape-graces of the story. Responding to the sentiments thereby aroused rather than to the designs themselves, Dickens constantly praised Cattermole's contributions to The Old Curiosity Shop, and, despite the artist's occasional tardiness in delivering the required designs for the weekly serialisation, always treated him with deference. After the conclusion of The Old Curiosity Shop, Cattermole contributed highly effective interior and architectural scenes for its successor, the historical romance Barnaby Rudge. "Cattermole drew with a painter's hand and an antiquarian's fancy" (Patten 69), so that two of his finest paintings he executed are the watercolours which Dickens commissioned after the novel's conclusion, of Nell's grave and the Old Curiosity Shop's interior, the latter reflecting the fascinating jumble of mediaeval tapestries, armour, and weapons in the artist's Bedford Terrace studio. Although, as Jane Rabb Cohen has remarked, his Gothic buildings are so distinct and lifelike that they acquire the status of characters, Cattermole's uninspired mob scenes in the second Clock novel, Barnaby Rudge, are less effective, perhaps reflecting the fact that Cattermole was frequently ill during the later stages of the book, and perhaps also reflecting his chafing under Dickens's micro-managing of his illustrations.
In the 1850s Cattermole turned exclusively to oil painting, but his efforts were generally poorly received. His abandoning of book illustration (to which it appears he was never whole-heartedly committed) placed his family under financial constraints that Dickens, mindful of their former friendship, sought to alleviate by petitioning both the Royal Academy and the government for pensions. Depressed by the deaths of two of his five children some five years earlier, Cattermole died in London on 24 July 1868, just two years ahead of his famous relative the novelist. In those final years of his life, Dickens tried in vain to raise private funds for the support of Cattermole's widow and surviving children. Ironically, Cattermole's enduring legacy has little to do with his largely now-forgotten mediaeval pictures; according to Jane Rabb Cohen, Dickens was thinking of Cattermole's humorous imitation of the Cockney patter of the alcoholic London-Clapham omnibus driver (whom the artist nicknamed "Sloppy") when the thirty-year-old writer created the memorable character of Sairey Gamp in the transatlantic novel Martin Chuzzlewit.
Bibliography
Chilvers, Ian, ed. The Oxford Dictionary of Art. 3rd edition.Oxford: Oxford U. P., 2004.
Cohen, Jane Rabb. "George Cattermole. " Charles Dickens and His Original Illustrators. Columbus, Ohio: Ohio U. P., 1980. Pp. 125-134.
Hammerton, J. A. The Dickens Picture Book: A Record of the Dickens Illustrators. "Ch. XIII. The Old Curiosity Shop." The Charles Dickens Library. London: Educational Book Co., 1910. Pp. 171-211.
Lester, Valerie Browne. Phiz: The Man Who Drew Dickens. London: Chatto & Windus, 2004.
Patten, Robert L. "Cattermole, George." In Schlicke, Paul, ed. Oxford Reader's Companion to Dickens. Oxford: Oxford U. P., 1999.
Vann, J. Don. Victorian Novels in Serial. New York: Modern Language Association, 1985. Pp. 68-69.
Stone, Harry, ed. "The Old Curiosity Shop (1840-1841)." Dickens' Working Notes for His Novels. Chicago and London: U. Chicago Press, 1987. Pp. 1-13.
---
Last modified 4 January 2006