Mr. Tappertit's Jealousy by George Cattermole. 3 ½ x 4 ½ inches (9 cm by 11.2 cm). Vignetted wood-engraving. Chapter 4, Barnaby Rudge. 27 February 1841 in serial publication (sixth plate in the series). Part 3 in the novel, serialised in Master Humphrey's Clock, Vol. III (part 45), 260. [Click on the images to enlarge them.]
Passage Illustrated: The Jealous Apprentice
. . . Sim, to his daily duty in the workshop, to which retreat he carried the big look, although the loaf remained behind.
Indeed the big look increased immensely, and when he had tied his apron on, became quite gigantic. It was not until he had several times walked up and down with folded arms, and the longest strides he could take, and had kicked a great many small articles out of his way, that his lip began to curl. At length, a gloomy derision came upon his features, and he smiled; uttering meanwhile with supreme contempt the monosyllable "Joe!"
"I eyed her over, while he talked about the fellow," he said, "and that was of course the reason of her being confused. Joe!"
He walked up and down again much quicker than before, and if possible with longer strides; sometimes stopping to take a glance at his legs, and sometimes to jerk out, and cast from him, another 'Joe!' In the course of a quarter of an hour or so he again assumed the paper cap and tried to work. No. It could not be done.
"I'll do nothing to-day," said Mr Tappertit, dashing it down again, "but grind. I'll  grind up all the tools. Grinding will suit my present humour well. Joe!" [Chapter the  Fourth, accompanying the tailpiece, 260]
Tappertit's Jealousy in a Scene from the Charles Dickens Library Edition (1910)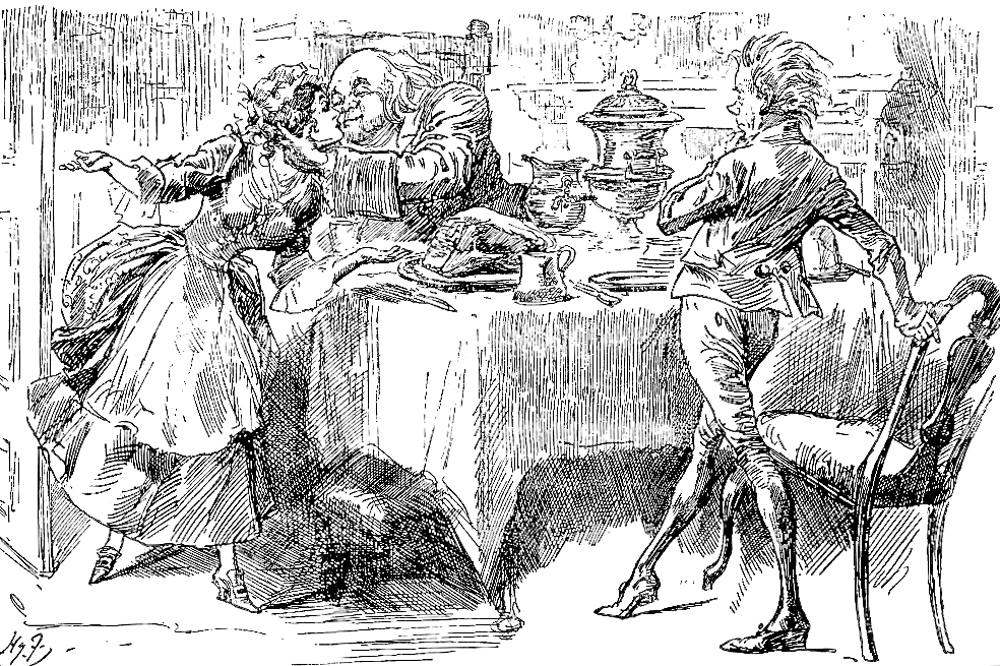 Above: Harry Furniss's more animated realisation of the scene in which the illustrator communicates Sim's infatuation with Dolly, The Temptation of Sim Tappertit.
Related Scene from the Phiz Sequence: Chapter IV
Related Material including Other Illustrated Editions of
Barnaby Rudge
Scanned image and text by George P. Landow, with additional commentary by Philip V. Allingham. [You may use this image without prior permission for any scholarly or educational purpose as long as you (1) credit the person who scanned the image, and (2) link your document to this URL in a web document or cite the Victorian Web in a print one.]
Bibliography
Dickens, Charles. Barnaby Rudge. Illustrated by Hablot K. Browne ('Phiz') and George Cattermole. London: Chapman and Hall, 1841; rpt., Bradbury & Evans, 1849.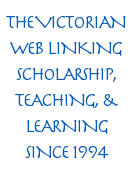 ________. Barnaby Rudge. Illustrated by Harry Furniss. The Charles Dickens Library Edition. London: Educational Book Company, 1910. VI.
Vann, J. Don. "Barnaby Rudge in Master Humphrey's Clock, 13 February 1841-27 November 1841." Victorian Novels in Serial. New York: MLA, 1985. 65-6.
---
Created 4 January 2006

Last modified 26 December 2020