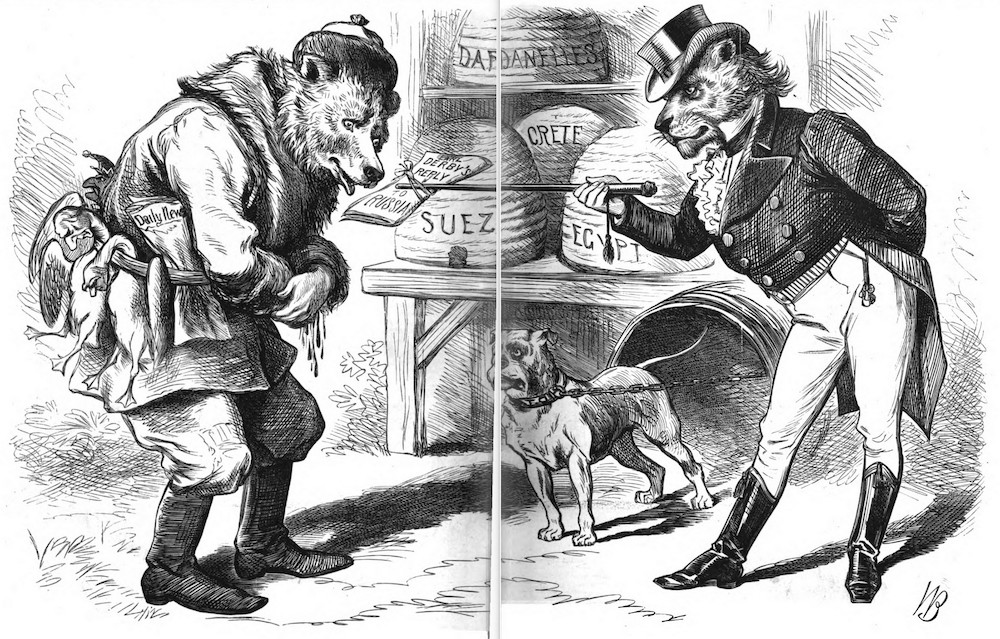 Coming to an Understanding, by William Henry Boucher (1837-1906). Judy, 16 May 1877, pp. 44-45. Click on image to enlarge it
'Coming to An Understanding' sees a hybrid British Lion/John Bull character, together with his British Bulldog, having cowed a predatory Russian Bear. Russia - imagined as a poacher - cradles his bleeding paw, having been frustrated in his efforts to steal honey from the beehives of 'Dardanelles', 'Suez', 'Crete', and 'Egypt'. He also looks forlornly at the paper shoved under his nose 'Derby's Reply to Russia', which alludes to the hoped-for firm response to Russia by the Foreign Secretary, Edward Henry Stanley, 15th Earl of Derby, but which did not eventuate. Derby (son of the former Prime Minister), actually took a more pro-Russian line, and shared diplomatic secrets with the Russian ambassador, resigning when it was decided to deploy the fleet to halt the Russians in 1878. Boucher includes some of Judy's Liberal political enemies in the cartoon for good measure: the poached ducks in Russia's belt bear the features of Gladstone and Lord Granville, and the Daily News was then the leading Liberal paper.
Commentary by Richard Scully. Image scan and formatting by Jacqueline Banerjee. You may use this image without prior permission for any scholarly or educational purpose as long as you (1) credit the person who scanned it and the Hathi Trust, and (2) link your document to this URL or cite it in a print document. [Click on the image to enlarge it.]
Links to related material
Bibliography
Judy, or the London serio-comic journal. Vol. 21 (1877): 44-45. Hathi Trust, from a copy in Harvard University library. Web. 31 January 2022.
---
Created 31 January 2022