"As an exquisite embodiment of the poet's visions, and a realisation of human intellectuality, gilding with a refulgent light our dreamy moments, and laying open a new and magic world before the mental eye, the drama is gone, perfectly gone," said Mr. Curdle. — Chap. xxiv, p. 157, from the Household Edition of Charles Dickens's The Life and Adventures of Nicholas Nickleby, illustrated by Fred Barnard with fifty-nine composite woodblock engravings (1875). 9.5 cm high by 13.7 cm wide (3 ¾ by 5 ⅜ inches), framed. Running head: "Decline of the Drama" (157). [Click on the images to enlarge them.]
Passage Illustrated: Canvassing the fashionable Curdles for Miss Snevellicci's Bespeak
Miss Snevellicci made a graceful obeisance, and hoped Mrs. Curdle was well, as also Mr. Curdle, who at the same time appeared. Mrs. Curdle was dressed in a morning wrapper, with a little cap stuck upon the top of her head. Mr Curdle wore a loose robe on his back, and his right forefinger on his forehead after the portraits of Sterne, to whom somebody or other had once said he bore a striking resemblance.
"I venture to call, for the purpose of asking whether you would put your name to my bespeak, ma'am," said Miss Snevellicci, producing documents.
"Oh! I really don't know what to say," replied Mrs. Curdle. "It's not as if the theatre was in its high and palmy days — you needn't stand, Miss Snevellicci — the drama is gone, perfectly gone."
"As an exquisite embodiment of the poet's visions, and a realisation of human intellectuality, gilding with refulgent light our dreamy moments, and laying open a new and magic world before the mental eye, the drama is gone, perfectly gone," said Mr. Curdle.
"What man is there, now living, who can present before us all those changing and prismatic colours with which the character of Hamlet is invested?' exclaimed Mrs. Curdle.
"What man indeed — upon the stage," said Mr. Curdle, with a small reservation in favour of himself. "Hamlet! Pooh! ridiculous! Hamlet is gone, perfectly gone."
Quite overcome by these dismal reflections, Mr. and Mrs. Curdle sighed, and sat for some short time without speaking. At length, the lady, turning to Miss Snevellicci, inquired what play she proposed to have. [Chapter XXIV, "Of the Great Bespeak for Miss Snevellicci, and the first Appearance of Nicholas upon any Stage," pp. 157-158]
Further 'Backstage' Scenes by Phiz, Darley, Eytinge, Reinhart, and Furniss.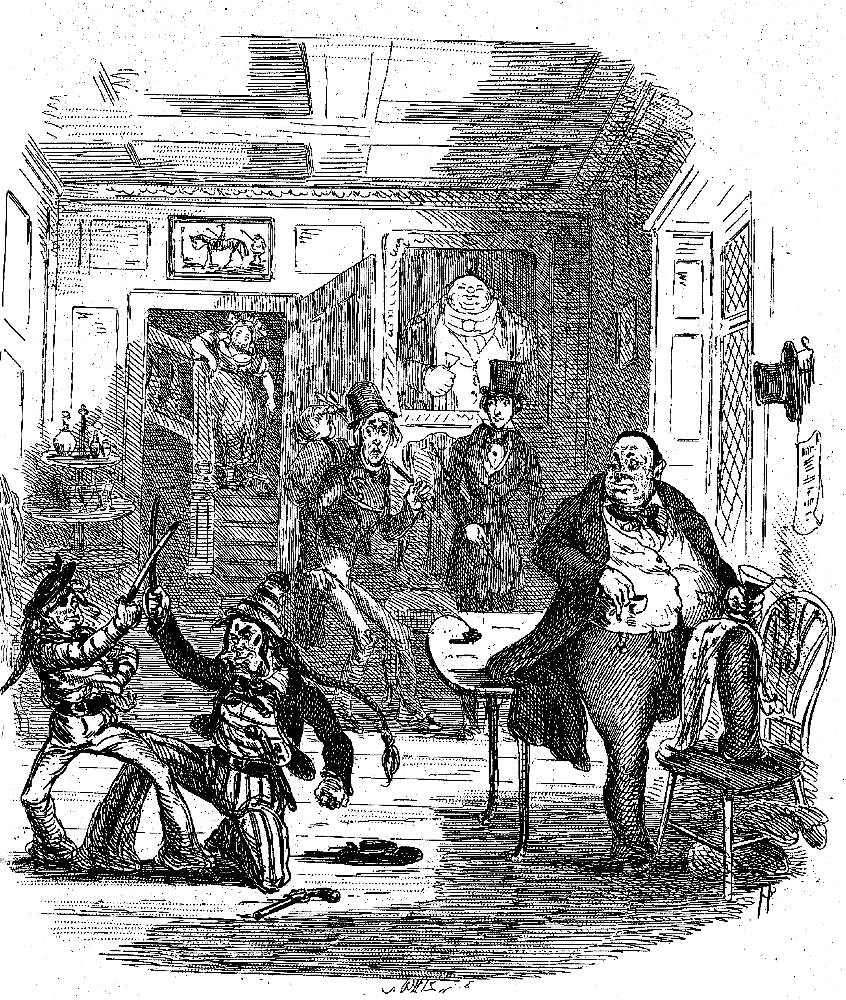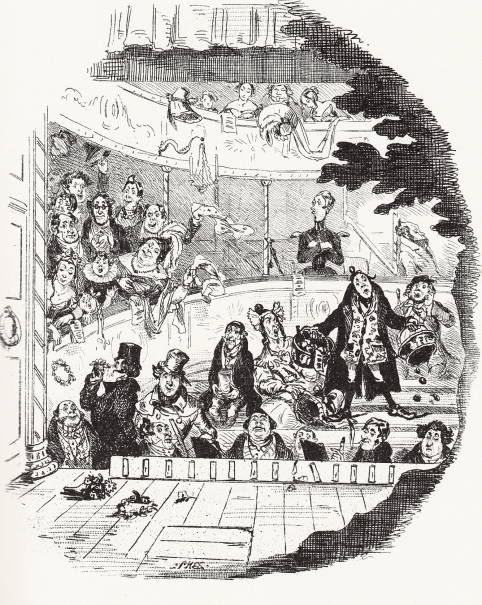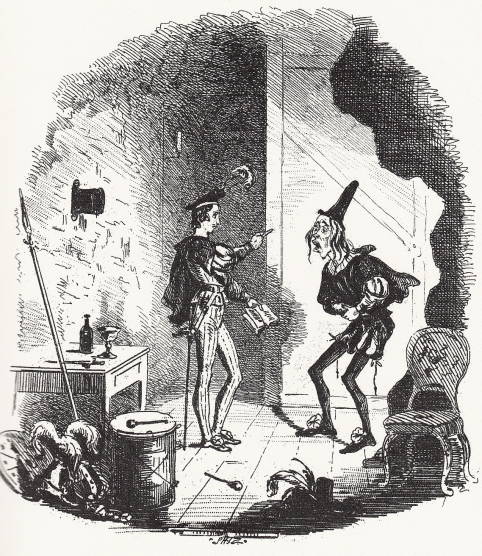 Left: The Country Manager Rehearses a Combat (October 1838), in which Phiz introduces Nicholas, Smike, and the reader to the Victorian theatre behind the scenes. Centre: The Great Bespeak for Miss Snevellici, in which the reader must adopt the actors' perspective of the ragtag provincial audience. Right: Nicholas Instructs Smike in the Art of Acting, in which Nicholas's caricatured companion struggles to learn his minor part, despite his friend's best efforts (November 1838).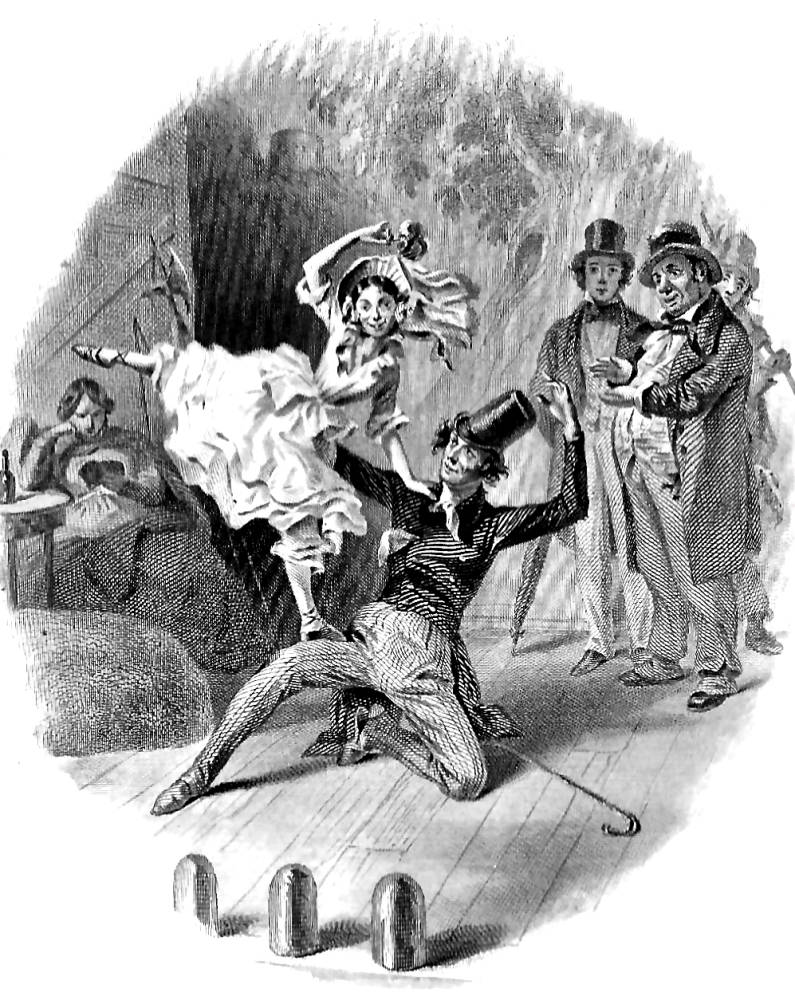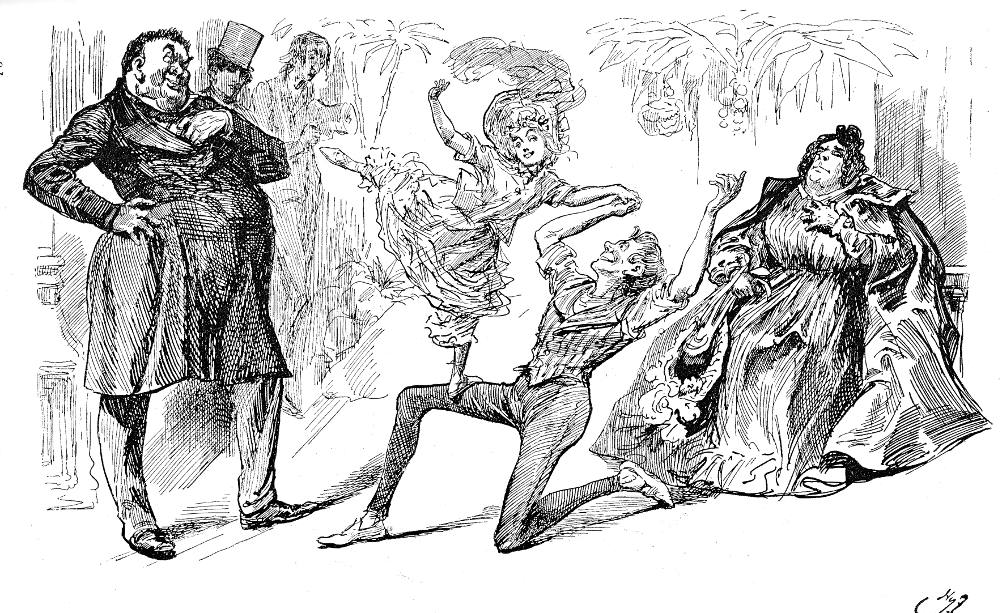 Left: Felix Octavius Carr Darley's 1861 lithographic frontispiece The Rehearsal (1861). Right: Harry Furniss's 1910 lithograph representing the same scene, Nicholas and Smike behind the Scenes, in the Charles Dickens Library Edition.
Left: C. S. Reinhart's 1875 Household Edition composite woodblock engraving of another chapter 24 scene: "What do you mean to do for me, old fellow?" asked Mr. Lenville, poking the struggling fire". Right: Harry Furniss's study of the tragedian's jocose companion during his interview his "Mr. Johnson": Mr. Folair, the Pantomimist (1910).
Commentary: Dickens Satirizes the Tawdry State of the Early Victorian Stage
Both illustrations for the twenty-fourth chapter in the British and American Household Editions underscore Dickens's satirical expos@eacute; of the early Victorian stage, using Vincent Crummles's (T. D. Davenport's) itinerant company as the vehicle. Having accepted Crummles' offer of employment as both an actor and a resident dramatist, translating plays fron the French, Nicholas under the pseudonym "Johnson" accompanies the company's leading lady, Miss Snevellicci, and the juvenile lead, Crummles' daughter ("The Infant Phenomenon") on a canvassing expedition. Among the wealthy potential patrons the thespians look for a donation from the fashionable Curdles of Portsmouth: he is a would-be critic who decries the moribund state of the contemporary theatre, and she cultivates a reputation for being knowledgable about London theatres.
Related material, including front matter and sketches, by other illustrators
Scanned image, colour correction, sizing, caption, and commentary by Philip V. Allingham. [You may use this image without prior permission for any scholarly or educational purpose, as long as you (1) credit the person who scanned the image, and (2) link your document to this URL in a web document or cite the Victorian Web in a print one.]
Bibliography
Barnard, J. "Fred" (il.). Charles Dickens's Nicholas Nickleby, with fifty-eight illustrations. The Works of Charles Dickens: The Household Edition. 22 vols. London: Chapman and Hall, 1875. Volume 15. Rpt. 1890.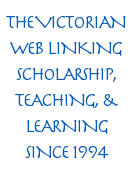 Bentley, Nicolas, Michael Slater, and Nina Burgis. The Dickens Index. Oxford and New York: Oxford U. P., 1988.
Davis, Paul. Charles Dickens A to Z: The Essential Reference to His Life and Work. New York: Facts On File, 1998.
Dickens, Charles. The Life and Adventures of Nicholas Nickleby. With fifty-two illustrations by C. S. Reinhart. The Household Edition. New York: Harper & Brothers, 1872. I.
__________. Nicholas Nickleby. With 39 illustrations by Hablot K. Browne ("Phiz"). London: Chapman & Hall, 1839.
__________. Nicholas Nickleby. Illustrated by Harry Furniss. The Charles Dickens Library Edition. 18 vols. London: Educational Book, 1910. Vol. 4.
__________. "Nicholas Nickleby." Scenes and Characters from the Works of Charles Dickens, being eight hundred and sixty-six drawings by Fred Barnard et al.. Household Edition. London: Chapman and Hall, 1908.
---
Created 3 August 2021