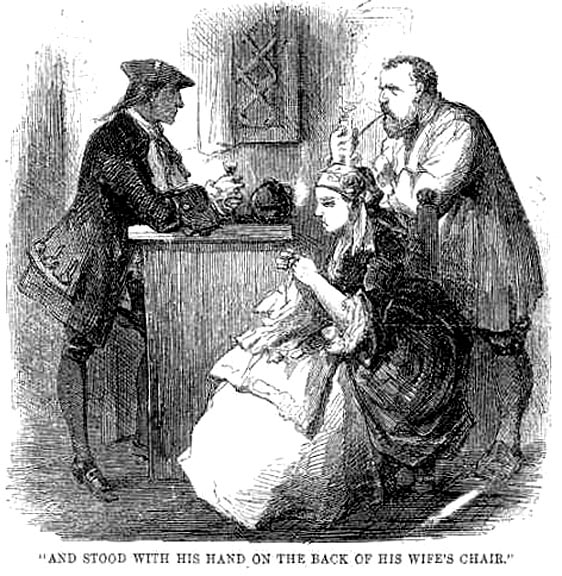 "And stood with his hand on the back of his wife's chair" by John McLenan. Illustration for Dickens's A Tale of Two Cities,Book II, Chapter 16, "Still Knitting." [The spy, John Barsad, drinks a glass of cognac with Defarges]
McLenan's second illustration for the fifteenth installment appeared in Harper's Weekly (Saturday, 13 August 1859): 517; the novel appeared previously in UK on Saturday, 6 August in All the Year Round]. Scanned image by Philip V. Allingham; text by PVA and George P. Landow. [You may use this image without prior permission for any scholarly or educational purpose as long as you (1) credit the person who scanned the image and (2) link your document to this URL in a web document or cite the Victorian Web in a print one. .]
Passage Illustrated
"It is all the same," said the spy, airily, but discomfited too: "good day!"
"Good day!" answered Defarge, drily.
"I was saying to madame, with whom I had the pleasure of chatting when you entered, that they tell me there is — and no wonder! — much sympathy and anger in Saint Antoine, touching the unhappy fate of poor Gaspard."
"No one has told me so," said Defarge, shaking his head. "I know nothing of it."
Having said it, he passed behind the little counter, and stood with his hand on the back of his wife's chair, looking over that barrier at the person to whom they were both opposed, and whom either of them would have shot with the greatest satisfaction.
The spy, well used to his business, did not change his unconscious attitude, but drained his little glass of cognac, took a sip of fresh water, and asked for another glass of cognac. Madame Defarge poured it out for him, took to her knitting again, and hummed a little song over it.
"You seem to know this quarter well; that is to say, better than I do?" observed Defarge.
"Not at all, but I hope to know it better. I am so profoundly interested in its miserable inhabitants."
"Hah!" muttered Defarge.
References
Dickens, Charles. A Tale of Two Cities: A story of the French Revolution. Project Gutenberg e-text by Judith Boss, Omaha, Nebraska. Release Date: September 25, 2004 [EBook #98].
---

Last modified 27 November 2007