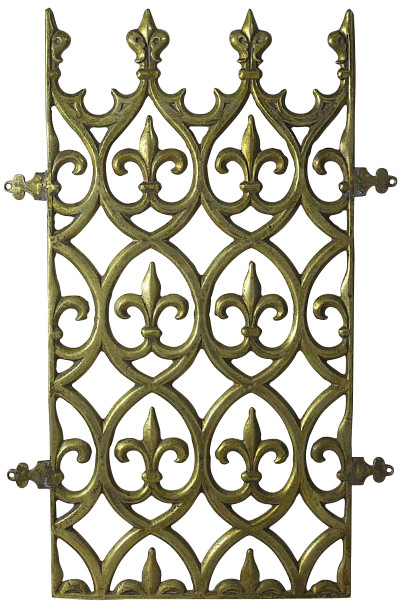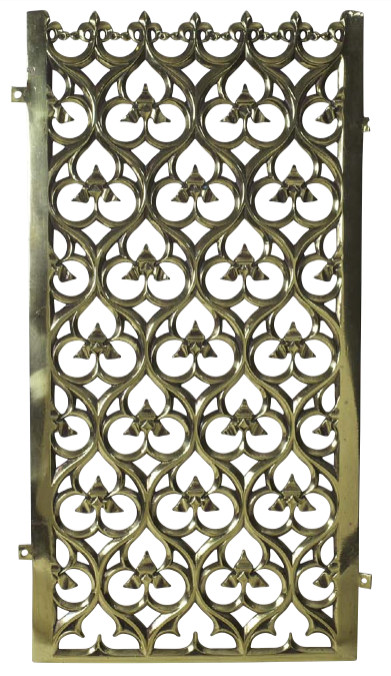 Brass door grills for the Palace of Westminster, designed by A. W. N. Pugin (1812-52), both in about 1845. The one shown on the left is 21" inches (53 cm) high, and 10.5" (27 cm) wide. The other one, according to the catalogue from which the illustration is taken, shows a pair of door grills 21" (53 cm) high and 11" (28 cm) wide. [Images and captions © copyright The Fine Art Society with Haslam & Whiteway Ltd. Commentary and formatting by Jacqueline Banerjee. Click on both images for larger pictures.]
Pugin must have flooded the Hardman firm with orders for metalwork details for all the many doors in the new Houses of Parliament building. These included hinges, finger-plates, lock-plates, handles — and grills like these to protect glass panels. They were all "of robust yet delicate craftsmanship ... with subtle gradations of finish defining the various areas and purposes of the rooms to which they allowed access" (White 71). The zenith of the Pugin-Hardman collaboration of this kind was probably reached in the magnificent studded brass gates in the Peers Lobby, which he first modelled in wax and wood (see Wilson 16). It is hard to conceive of the mental energy that all this painstakingly meticulous detail must have required.
Related Material
References
White, Lisa. "Metalwork and Gilding." Interior Finishes and Fittings for Historic Building Conservation. Ed. Michael Forsyth and Lisa White. Chichester/Oxford: Wiley-Blackwell, 2012. 61-75.
Whiteway, Michael. A. W. N. Pugin 1812-1852: An Exhibition Catalogue. London: The Fine Art Society with Haslam & Whiteway Ltd., 7-23 December 2011.
Wilson, Robert. The Houses of Parliament. Stroud: Pitkin, 1994.
The Fine Art Society, London, has most generously given its permission to use information, images, and text from its catalogues in the Victorian Web. This generosity has led to the creation of hundreds and hundreds of the site's most valuable documents on painting, drawing, sculpture, furniture, textiles, ceramics, glass, metalwork, and the people who created them. The copyright on text and images from their catalogues remains, of course, with the Fine Art Society.
---
Last modified 26 May 2014