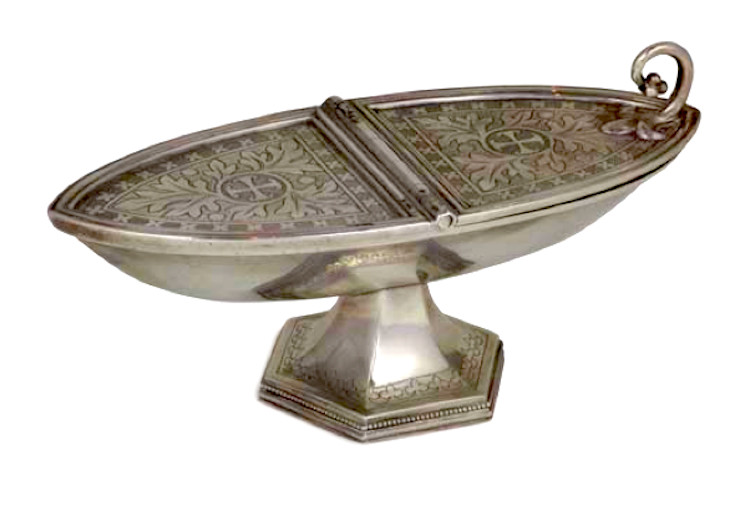 Incense Boat, designed by A. W. N. Pugin (1812-52), and silver marked for John Hardman, Birmingham. 1847–48. Height 3.5" (9 cm), length 7" (17 cm) and width 3" (7.6 cm). Image and caption material © copyright The Fine Art Society with Haslam & Whiteway Ltd. Commentary and formatting by Jacqueline Banerjee. [Click on the image for a larger picture.]
This was a vessel on the medieval pattern, for storing incense for religious rituals — just the kind of ecclesiastical accessory that Pugin wanted, in order to make worship totally authentic. He often refers to these vessels simply as "ships." For example, in his Glossary of Ecclesiastical Ornament and Costume he refers to: "seven silver Thuribles, and two silver ships to carry incense" (207) when describing the holdings of a medieval monastery's treasury. Incense was important to Pugin, and its vessels were to be as precious and finely wrought as possible. He was helped here by the fact that "[o]ne of the first licensees of Elkington's new electroplating technology was Hardman," and "this made it considerably easier to produce church silver within a limited budget" (Whiteway).
The Fine Art Society, London, has most generously given its permission to use information, images, and text from its catalogues in the Victorian Web. This generosity has led to the creation of hundreds and hundreds of the site's most valuable documents on painting, drawing, sculpture, furniture, textiles, ceramics, glass, metalwork, and the people who created them. The copyright on text and images from their catalogues remains, of course, with the Fine Art Society.
References
Pugin, A. Welby, Architect. Glossary of Ecclesiastical Ornament and Costume: Compiled and Illustrated from Ancient Authorities and Examples. London: H. G. Bohn, 1844. Internet Archive. Uploaded by the Research Library, Getty Research Institute. Web. 26 May 2014.
Whiteway, Michael. A. W. N. Pugin 1812-1852: An Exhibition Catalogue. London: The Fine Art Society with Haslam & Whiteway Ltd., 7-23 December 2011.
---
Last modified 26 May 2014