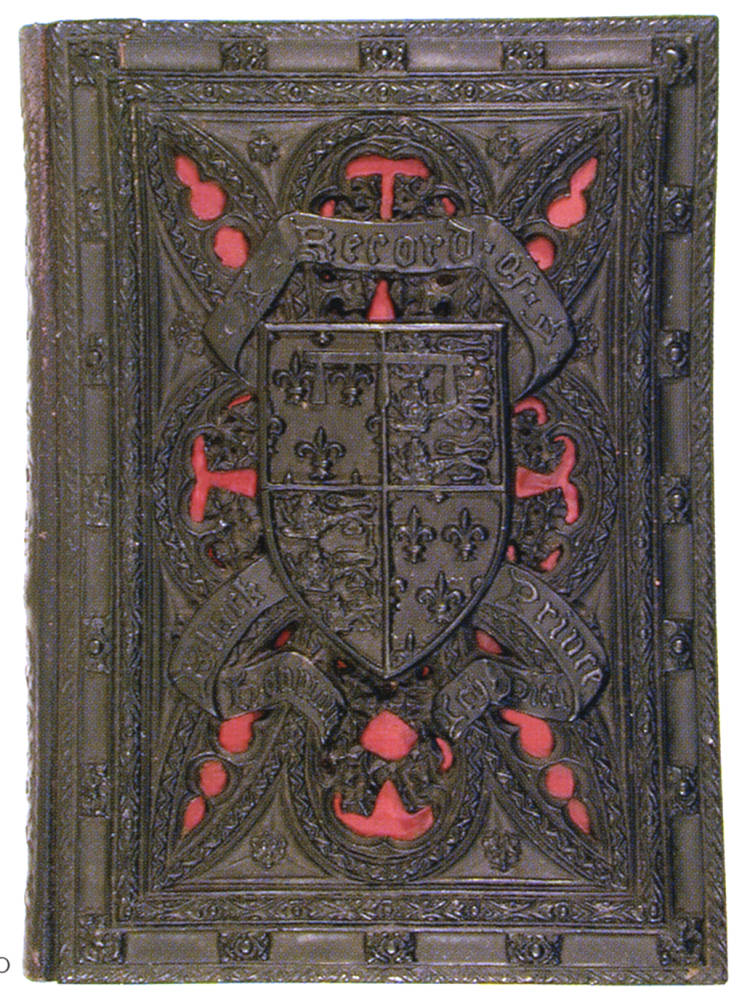 Left: Front Cover. Right: The Battle of Poictiers by Henry Noel Humphreys, compiler, editor, and illuminator. 1849. 19.6 x 13.6 cm. Source: A Record of the Black Prince, p. 48. Beckwith, Victorian Bibliomania catalogue no. 63. Collection: Ellen K. Morris. With thanks to the Center for Digital Scholarship and Digital Production Services in the Brown University Library for producing the color image used at right this web version. [Click on images to enlarge them.]
Commentary by Alice H. R. H. Beckwith

dward of Woodstock (1330-1376), the Black Prince, was the eldest son of the English king Edward III and his Flemish queen, Philippa of Hainaut. The name Black Prince was not given to him until the sixteenth century, and it supposedly referred to his practice of wearing black armor. His many spectacular military victories made him a hero of the fourteenth century. Queen Philippa was the patroness of the Flemish historian Jean Froissart (1338- 1410?), who chronicled for her many of the battles in which her son was victorious. Henry Noel Humphreys was quite familiar with Froissart, having published facsimiles of the illumination and miniatures from two fifteenth-century versions of the historian's works in 1844 and 1845 (cat. 62). Humphreys assembled his biography ot the Black Prince from these Froissart manuscripts and several other sources, including an English manuscript translation of The Chronicle of Albans, Holinshed's Chronicles of 1578, a poem from Chandos Herald, and the Black Prince's epitaph at Canterbury Cathedral.
From his introduction we learn that Humphreys hoped to acquaint the general public with selections from medieval manuscripts that possessed the interest and excitement of eyewitness accounts. He described Froissart as a "great word painter" and praised his "passages wrought with such vivid colouring, full of such varied and graphic detail, and such lifelike local tone." Froissart did not interpret the eyewitness accounts he recorded, nor did he question the validity of tales told after the fact. He did portray in compelling detail the chivalric ethos, with its emphasis on honor, valor, and charity. Froissart's texts contributed to the vision of John Ruskin and William Morris, who hoped to inspire and elevate their fellow Britons through knowledge of the days of chivalry.
The book is a mixture of popularized medieval history and machine craft. The black papier-mâché cover is modeled after a plaque from the Black Prince's tomb. Gothic Revival architectural sculpture is echoed in the trefoils and shield of the deeply pierced cover, which is strikingly accentuated by red paper set behind the openings. Such a binding made readers feel as if they held an object from the world of the Black Prince himself.
The text is set in Figgins full-bodied Gothic type and is ornamented with initial letters, marginalia, and miniatures done after fifteenth-century illuminated versions of Froissart's and the original grant of the principality of Aquitaine to the Black Prince. Woodcuts and chromolithography were both used by Humphreys to capture "old book charm." His placement of miniatures and text blocks in his color plates indicates that he was aware of how manuscript artists composed their pages with margins of varying widths. But he was not averse to mixing his sources; for instance, in his "Battle of Poictiers" [Detail] he took a miniature of the battle scene from a Froissart manuscript in the Bibliothèque Nationale and combined it with marginalia from the manuscript in the British Museum, being careful, however, to tell the reader about this piecing together in an attached index. As in his other efforts at chromolithography, this page is a vibrant example of color and design.
References
Beckwith, Alice H. R. H. Victorian Bibliomania: The Illuminated Book in Nineteenth-Century Britain. Exhibition catalogue. Providence. Rhode Island: Museum of Art, Rhode Island School of Design, 1987.
Friedman, Joan. Color Printing in England, 1486-1870. New Haven: Yale Center for British Art, 1978.
Humphreys, Henry Noel. A Record of the Black Prince Being a Selection of Such Passages in his Life as Have been Most Quaintly and Strikingly Narrated by Chroniclers of the Period, Embellished with Highly Wrought Miniatures and Borderings Selected from Various illuminated MSS Referring to Events Connected with English History. Henry Noel Humphreys, compiler, editor, and illuminator. London: Longman, Brown, Green, & Longmans, 1849. Printer: Vizetelly Brothers.
Morris, William. Collected Letters. Ed. Norman Kelvin. 4 vols. Princeton: Princeton University Press, 1984.
---
Last modified 27 December 2013