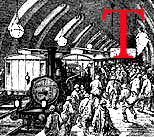 he Industrial Revolution had a dramatic impact on interior design in the Victorian Age, increasing the prosperity of the middle class and allowing them, along with other new opportunities, the chance to change the decoration and ornamentation of their homes. Some, unsure of how to best portray their new status and wealth, chose to use architecture and furnishings that had previously been used only by aristocracy and the upper class. In these homes, the owners crammed in as many pieces of furniture, fabrics, and knickknacks as possible, due to both an attempt to showcase new cultural interests, prosperity, and status, as well as the fashionable belief that bareness in a room was a sure sign of poor taste.
Color schemes in the period varied depending on the location of the home. For example, houses in the city were generally not painted with light colors, because of the prevailing pollution. Color choices were also limited by the availability of pigments; paints were mixed on location. Taking these two limiting factors into consideration, the color schemes of the era could be divided into two periods. In the first half, walls tended to be light, the exception being dining rooms and libraries. The second half saw the emergence of more vibrant, earthy colors like green and mahogany. The Grammar of Ornament, a handbook published in 1856 by architect and theorist of color and ornament Owen Jones, stated that it was aesthetically correct to use a complex patter of one main color and many supplementary colors. David Ramsay Hay had two theories of color. The first was "harmony by analogy", using adjacent colors on the color wheel. The other was "harmony by contrast", using the colors on opposite sides of the color wheel. The latter was more popular in the 1850-70s. It was considered important to achieve the right balance of color and texture between the walls, molding, ceiling, and woodwork. Texture was created by using wallpaper, stenciling, and various paint finishes (i.e. sponging, marbleizing, spattering, or wood-graining).
Popular wallpapers in the early and mid-Victorian period had backgrounds of red, blue, and green printed with intricate scrolled floral pattern in shades of cream and tan. Later, rich, earthy tones with stylized plants became common. Embossed paper was used on ceilings and friezes to counterbalance the busy wallpapers. William Morris was the most well known designer of wallpaper and at the time. He was renowned for mixing strong, pure colors harmoniously, and giving a flat pattern an unsurpassed narrative quality. Other popular designs included landscape pictures, historical scenes, and papers imitating cut stone or fabric, and "fresco", which imitated panels, cornices, friezes, moldings, and columns. The 1870s saw the emergence of geometric patterns and Japanese motifs. Well known designers of this time were Tiffany, Dresser, Christian Herter, and Walter Crane.
Decor in the dining rooms passed through three notable stages: the Georgian tradition of restrained, dignified ornamentation; a heavier, more masculine based on François Premier and the Renaissance Revival; and a lighter, brighter, more feminine style. Walls were dark paneled with mahogany, walnut, or stained oak up to a dado rail, above which papers patterned with tangled lilies, brambles, or vines like those designed by William Morris were popular. Tapestries and fabric were also used as wall coverings. Ceilings were unobtrusively stenciled or paneled with wood. Drapes were heavy velvets, often looped back with gold tassels. An atmospheric light, which Victorians considered most appropriate for dining, was provided by chandeliers, wall sconces, and candles.
References
"Interior Design." Victorian Station. Viewed November 2004.
Gloag, John. "The Changing Color Schemes of Victorian Homes." Victorian Web.
---
Last modified 22 November 2004