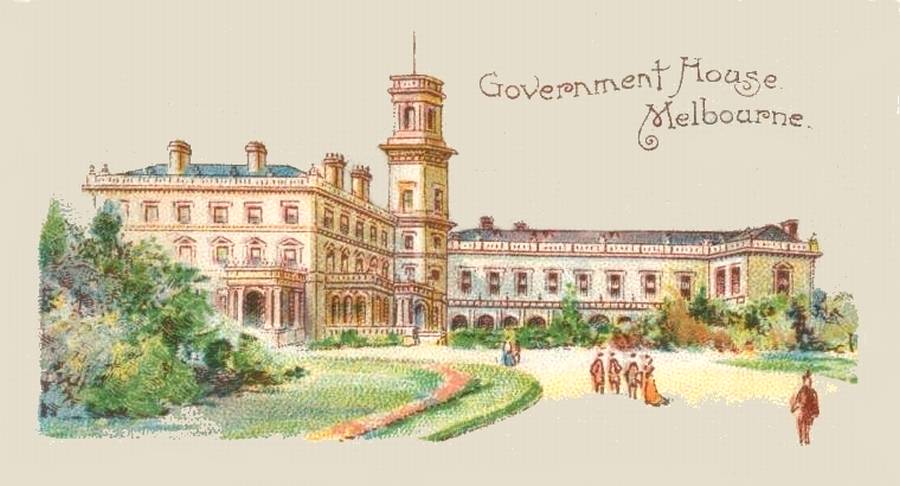 Government House, Melbourne, Australia, by William Wilkinson Wardell (1823-1899). Wardell's biographer, A. G. Evans, takes up Anthony Trollope's description of this building as "magnificent," and agrees that "it certainly is grand," especially when first seen from the drive with "its cream stucco and classical design caught by the late afternoon sun." He feels that it has confidence and beauty "unequalled by any other vice-Regal residence in Australia" (173).
Most of Wardell's work up to this point had been in the Gothic style, but in this case the Minister had wanted the building to be in the classical style. It is often thought to be patterned on Osborne House on the Isle of Wight, but, according to Evans, the design was more likely directly influenced by the Italian Renaissance palaces that Wardell probably saw on his recent leave in Europe. For example, the tower which seems so reminiscent of the tower at Osborne House is also similar to Michelangelo's Campidoglio in Rome (see Evans 160, 174).
One commentator feels that Wardell's adoption of an Italianate style, here and elsewhere, "compromised his commitment to Gothic" (Evinson). Another way of looking at it is that he was more flexible than the architect to whom he is so often compared — A. W. N. Pugin. Looked at in this way, Government House, Melbourne, is splendid proof of Wardell's versatility, as well as being surely the most impressive example of his secular work.
Commentary by Jacqueline Banerjee. Image Source: New York Public Library Digital Gallery ID: 1647447. "Government House, Melbourne, No. 1 (ca. 1901-1914)." Background modified by the present author. [You may use this image without prior permission for any scholarly or educational purpose as long as you (1) credit the New York Public Library Digital Gallery and (2) link your document to this URL. Click on the image to enlarge it.]
Sources
Evans, A. G. William Wardell: Building with Conviction. Leominster, Herefordshire: Gracewing, 2011. Print.
Evinson, Denis. "Wardell, William Willkinson (1823-1899)." Oxford Dictionary of National Biography. Online ed. Web. 26 June 2012.
---
Last modified 26 June 2012