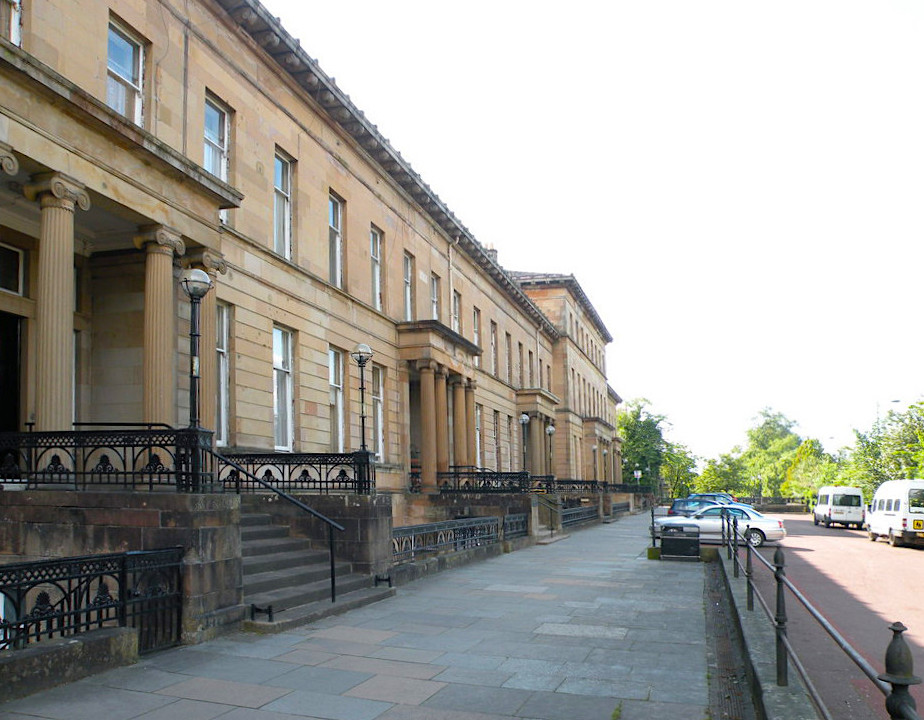 Great Western Terrace, Glasgow, by the Glasgow architect Alexander "Greek" Thomson (1817-1875). Built in 1867-73. Elegant and restrained in design, Thomson's residential terraces dot both the South Side suburban districts and the fashionable West End. He himself lived with his family in one of the two larger end-blocks of Moray Place (1859-60) in Strathbungo on the South Side. Also on the South Side are Walmer Crescent in Cessnock (1857) and Millbrae Crescent in Langside (1875); in Hillhead and the West End, Eton Terrace (1862) on Oakfield Avenue (1865), Great Western Terrace (1867-73), and Westbourne Terrace (1870-71).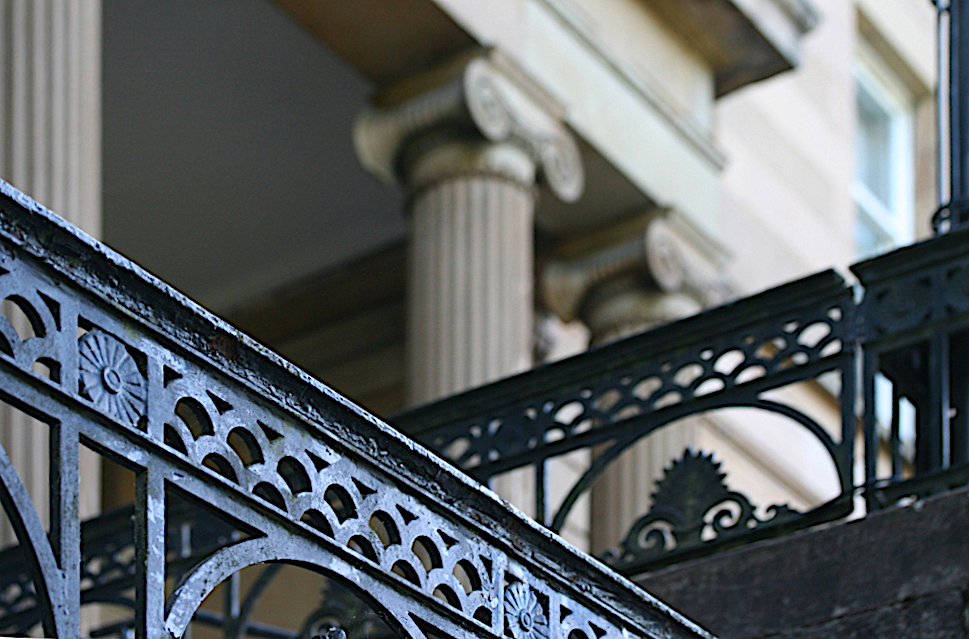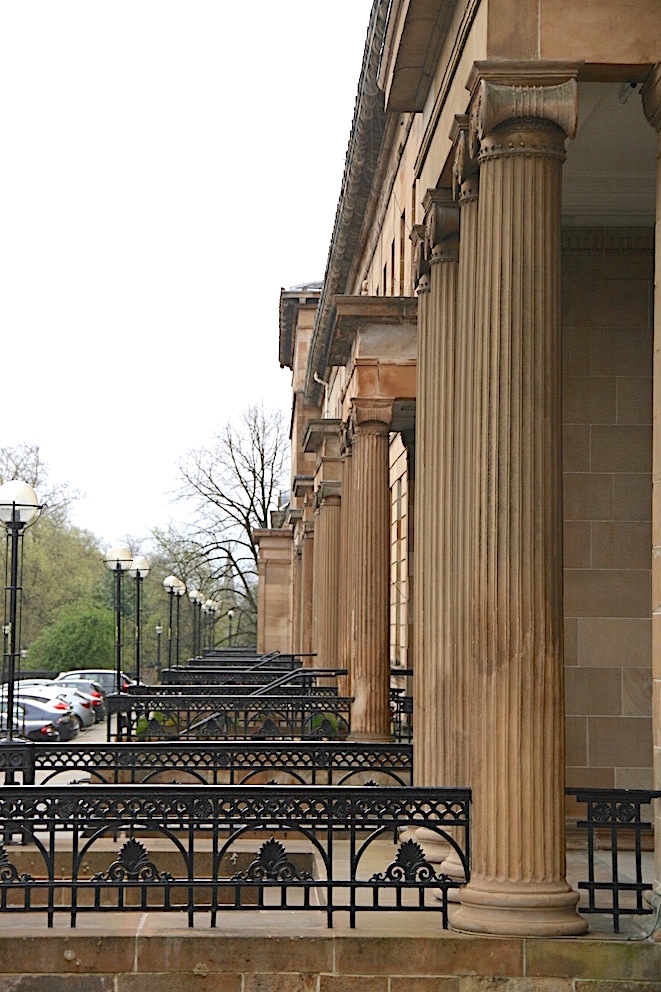 Left: Ironwork and columns. Right: The terrace seen from the other end.
Note the contribution here of the ironwork. Ballantine Castings, a Scottish firm with a long history, replaced the original ironwork here in the 1990s because of damage, but it is of exactly the same design, and made in exactly the same way, as the original would have been.
In general, the "lengthy and imposing Great Western Terrace" and "other extended tenement perspectives on Great Western Road," are very impressive (Crawford 287). Robert Crawford continues, "Horizontality, for Thomson, had a religious allure. Invoking the art of Turner and of the Edinburgh-born David Roberts, who painted architectural scenes from ancient Egypt, he hymned 'the mysterious power of the horizontal element in carrying the mind away into space, and into speculations upon infinity.' Such rhetoric suggests that [these perspectives] are not there just to provide housing for the well-off; they are there to inspire religious experience" (287). This might seem overly mystical but such an attitude permeates this architect's thinking and his art, and was not uncommon at this time. Another architect who saw a spiritual dimension in his work was W. R. Lethaby in England, author of Architecture, Mysticism and Myth (1891).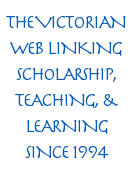 Main photograph by Keith Edkins, posted on the Geograph website, and kindly made available for reproduction on the Attribution-NonCommercial-ShareAlike 2.0 Generic (CC BY-NC-SA 2.0) Licence. It has been slightly corrected for perspective here. Other photographs © Alexander Thomson Society, reproduced here by kind permission, the one of ironwork also corrected for perspective. Click on all the images to enlarge them. Text by Lionel Gossman, with the last two paragraphs added by Jacqueline Banerjee.
Bibliography
The Alexander Thomson Society.
Crawford, Robert. On Glasgow and Edinburgh. Cambridge, Mass.: Harvard University Press, 2013.
"Our History." Ballentine Castings. Web. 27 November 2020.
---
Last modified 27 November 2020